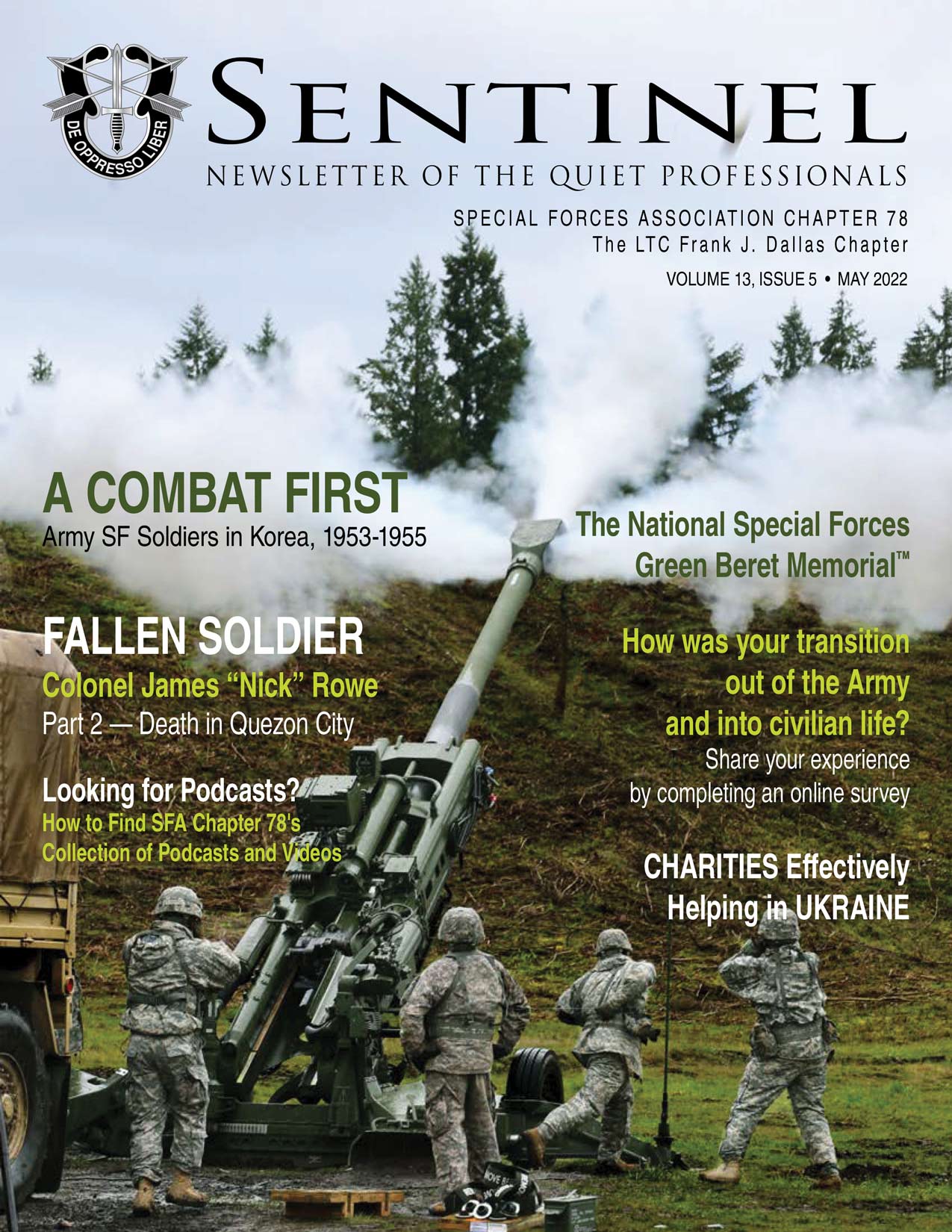 Awarded best Special Forces Association Monthly Newsletter at SFA National Convention June 2011 and 2014
Awarded Golden Quill at SFA National Convention June 2015 and June 2016
Best Newsletter Award for 2017 from Special Forces Association National Board of Directors at the International Convention in Fayetteville, NC
Special Forces Association (SFA) Cross Arrow Award for Excellence, 2018, First Award Presented by SFA in this category
The War Reporters Award, Presented by Alex Quade – (War Reporter and Film Producer) for Chapter 78 Sentinel's Commitment documenting Special Forces History, July 2018
The Golden Arrows for Excellence in Newsletters 2019 awarded by SFA National
The Golden Arrows for Excellence in Newsletters 2020 awarded by SFA National
In this issue:
On the cover: Guardsmen from 2nd Battalion, 146th Field Artillery Regiment, 81st Stryker Brigade Combat Team fire their new M777 Howitzers for the first time on April 12, 2017 at Joint Base Lewis-McChord. (Photo Credit: U.S. Army)
On April 21, 2022, the Pentagon announced another $800 million in security assistance headed to Ukraine. Included in this 8th drawdown package are 72 155 mm howitzers with 144,000 artillery rounds. This shipment is addition to 18 howitzers, including 40,000 artillery shells sent the previous week — a total of 90 howitzers with ammunition.
This month's cover photo depicts some "newbies" learning the 155mm M777, such as many Ukrainians will be. Spc. Brianne Kim's Army.mil 2017 story about the Redlegs of the 81st Stryker Brigade Combat Team gets us quite a bit closer to the experience. They will be trading off increased setup time for superior capabilities.