The Special Forces Association is a non-profit veterans' fraternal organization formed in 1964, at Fort Bragg, North Carolina, and is chartered in the State of North Carolina.
The purpose for which the Association was formed was to unite, fraternally, all men who are now or ever have been assigned to the United States Army Special Forces, to perpetuate Special Forces traditions.
Other purposes for which the Association is formed are as follows:
To commemorate fittingly the memory of Special Forces troops who have given or shall give their lives in defense of the Free World.

To educate its members and the citizens of the United States in the proper development of Special Forces and to keep them abreast of new developments in the field of Special Forces as is consistent with Security regulations.

To assist in keeping Special Forces units adequate and powerful for the defense of the United States and the Free World by supporting the establishment of Special Forces in an appropriate relationship with the rest of the Army.

To encourage every member of the Association toward a closer personal relationship and a friendly spirit of cooperation.

To forward and promote the general welfare and prosperity of the members and to improve by all lawful means their status and conditions.

To be a source of inspiration and esprit de Corps for all Special Forces Units.
Membership Qualifications are as follows: Membership may be granted to a person who is or has been a member of the United States Army Special Forces, to include the U.S. Army Reserve and U.S. Army National Guard, and have been awarded a Prefix "3", Suffix "S", 5G or 18 Series Qualification, and if discharged, has received an Honorable Discharge. There is no time requirement for Membership. No person is barred from joining the association because of race, color, religion, sex, or political affiliation.
The Association publishes a quarterly magazine, The Drop, which depicts the activities of its members, active SF units, Reserve and NG units, and Chapters. The Association has eighty-two chapters located in the Continental United States, Afghanistan/Qandahar, Thailand, Guam, Australia, Panama, Korea, Germany, Philippines, Okinawa, and Hawaii. The National Association sponsors an annual convention and individual chapters meet in their areas and conduct meetings and social functions for their members.
SFA Chapter Definition and Purpose
A Special Forces Association Chapter is a group of members who live, work or is stationed in a particular locality and who, as a matter of geographic convenience, organize themselves to promote the purposes of the Special Forces Association cooperatively. Chapters can engage only in activities that conform to the Special Forces Association's purposes.
DO YOU JUST BELONG?
Are you an active member, the kind that would be missed?
Or are you just content that your name is on the list?
Do you attend the meetings and mingle with the crowd?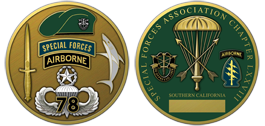 Or do you stay at home and crab but long and loud?
Do you ever call or visit a member who is sick?
Or leave the work to just a few and talk about the clique?
There are some tasks scheduled that mean success if done.
And it can be accomplished with the help of everyone.
So attend the meetings regularly and help with hand and heart
Don't be just a member, but take an active part
Think this over carefully. Are we right or are we wrong?
Are you an active member, or do you just belong?
Just one small job done by many people can accomplish the largest of tasks!
–Author Unknown
There are about 720-744 hours in a month. Is it unreasonable to spend just two or three of those hours with your Special Forces brothers?
Support YOUR Special Forces Chapter by at least attending the monthly meetings and if inclined volunteer to help with upcoming plans and events.Your assistance is needed and central to developing a chapter worthy of its membership. Come prepared to offer your experience, ideas, ingenuity and yes, genius to achieve the goals of the chapter. Collectively we can make it happen![/callout]