Join VFAI and our partners at the Evacuate Our Allies Coalition for Congressional advocacy days Monday June 12th to Friday, June 16th to urge Congress to pass the Afghan Adjustment Act. To join us and participate, please RSVP here by Wednesday, May 31st.
The bipartisan Afghan Adjustment Act will provide a pathway to permanent residence for Afghans who were given a temporary status after the fall of Kabul. It will also expand the Afghan Special Immigrant Visa program and create an interagency taskforce to better facilitate the continued relocation of at-risk Afghans.
We need you to urge legislators to pass the Afghan Adjustment Act.
How to Participate
To meet with your Members of Congress and help further protect our Afghan allies, please fill out this form. Your responses will help us with scheduling meetings with your Senators and Members of Congress (or their staff) during the advocacy days.
How to Prepare
Training ahead of your legislative meetings will be held virtually, and EOA will schedule group in-person or virtual meetings (per participants availability) with your Senators and/or Members of Congress. Participants will receive:
Training on Virtual Legislative Meetings — (the week of June 5th, exact day TBD).
Schedule of your meetings with your legislators or their staff — June 12 to 16.
Sample Talking Points and Asks for Your Meeting — you will receive resources to help guide your meetings and we encourage you to share your personal stories and experiences.
Evacuate Our Allies Coalition Support — each meeting will include an accompanier (experienced legislative advocate) to provide support.
Advocacy and Social Media Toolkit — the toolkit will include a call-in action, sample social media posts and graphics, and additional advocacy resources that you can share
No matter where, when, or how you served, we need veterans to stand up with the men, women, and families that stood with us for twenty years. We need you to continue fighting for the Afghan Adjustment Act. Time is running out.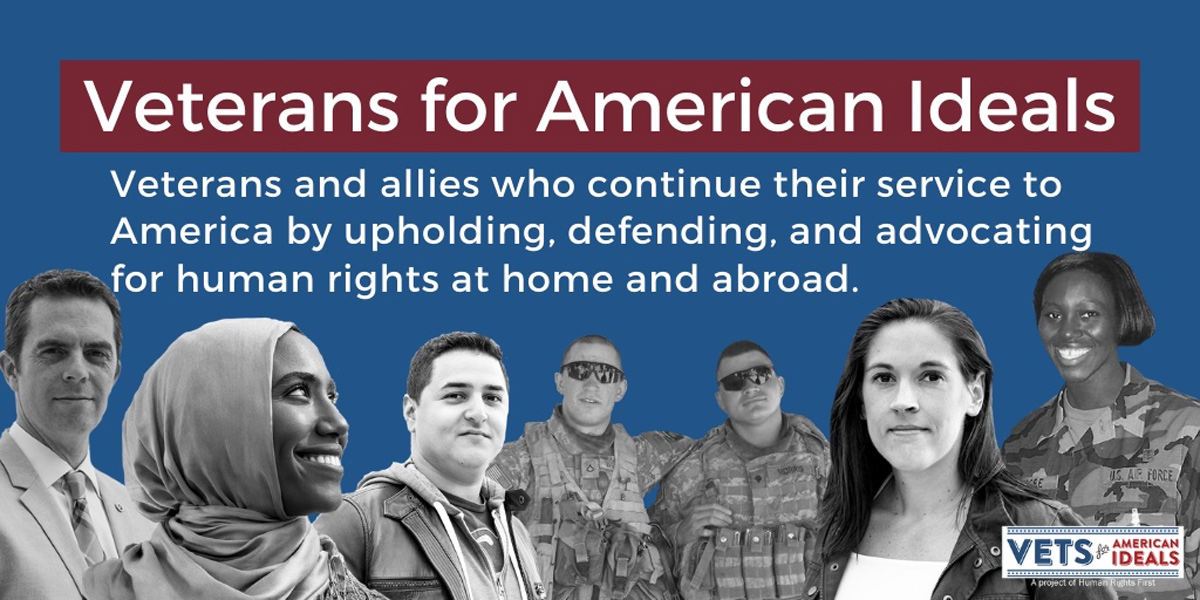 Veterans for American Ideals is a project of Human Rights First, a nonpartisan, 501(c)(3), international human rights organization based in New York and Washington, DC. We do not favor or oppose any candidate for public office.
Visit www.vfai.org to learn more.