The First



Afro-Native American
MAC-V Recondo Advisor
— Part One
By John Nesbitt

Viet Nam: An account of the experiences of Sgt. John E. Nesbitt, 16-844-233,
Detachment B-52 Delta Project
From September 18 through December 1966 and
from December 1967 through May 1968
at the MAC-V RECONDO School,
RECONDO STUDENT # 114,
RECONDO ADVISOR #135
From June through October 1968 at
Detachment A-401 DON PHUC, Mekong Delta,
CIDG Company 43, 44 and 46 MIKE FORCE
I did not go home in June of 1966. I was a platoon guide all the way through training, and now I would go to Leadership Training School at Fort Gordon, Georgia, for two weeks instead of going back to New York City. Within the next ten days would be jump school at Fort Benning, GA. My number as a jump student, the infamous #711, and then to Vietnam.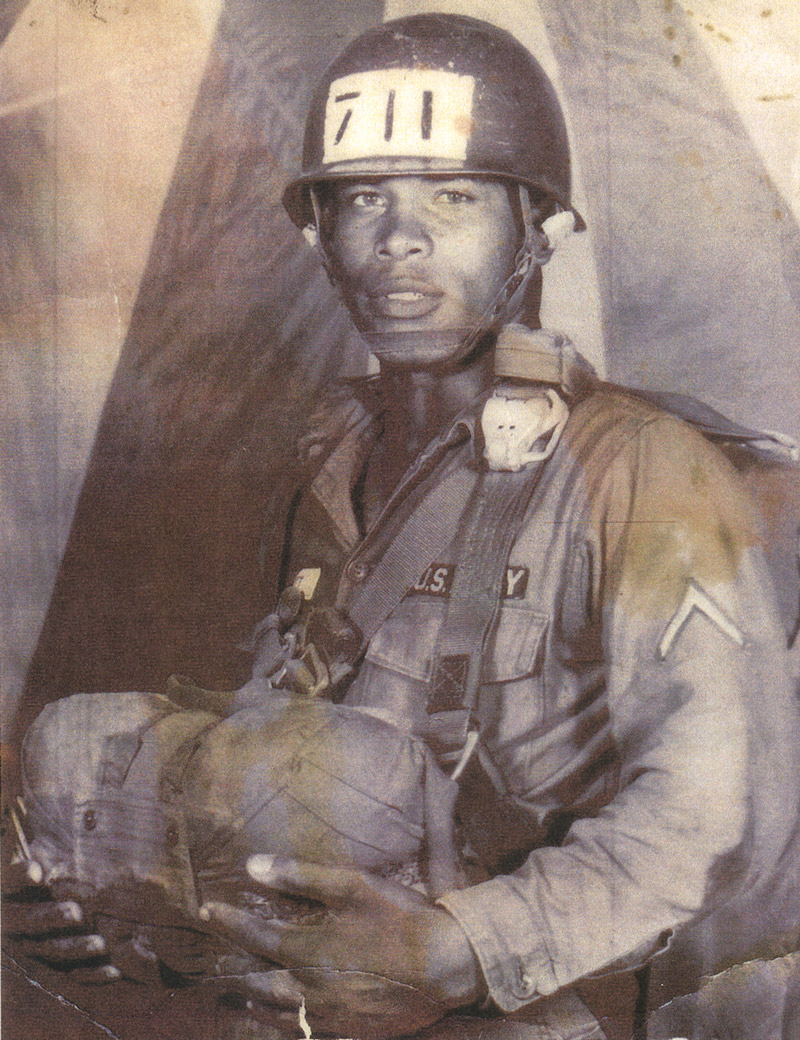 AUGUST 18, 1966, IN COUNTRY, my brother David's birthday: heat, dust, and humidity; an acute sense of my flesh surface awakening over the next three days. I was recruited out of Ben Hua, Repo Depo and sent to the 5th Special Forces Forward Operations Base [SFOB] in Nha Trang for examinations for two weeks. I was tested each day; one day equaled a month block of instruction; no test failures allowed, or you were shipped out! Theater-to-battalion-level operations orders and Secret Operation orders comprised the curriculum, along with night duty and security assignments on the perimeter, where we received probing fire and periodic Sapers, began my September of 1966. My green beret was awarded, and I was assigned to Detachment B-52, Delta Project, along with Robert Crenshaw, of Yuba City, California.
Within hours after graduation, I was reluctantly signed in by my 1st Sergeant at Delta Project; the ole-timers resentment was immediate:
1. A college boy
2. A Nigger and,
3. Not from training group stateside.
"What the fuck we comin' to?" voices rattled through the office as I left to my hooch.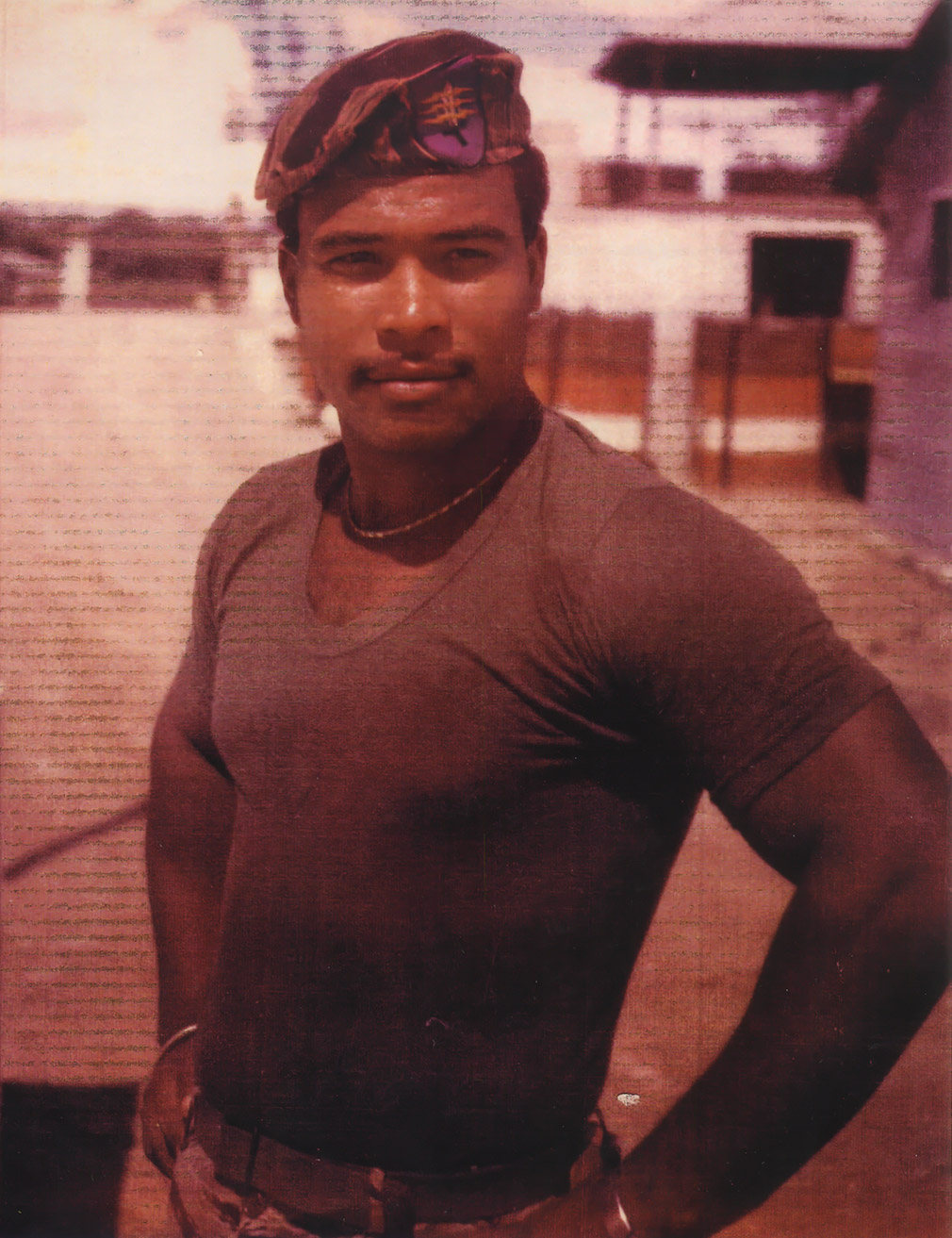 1st Action
After returning from my first seven-day mission, in which I was almost kicked out of SF for firing my weapon accidentally, I was called to the Opns room, "Bring your weapon!! You're going on a break through at Phu Bai, A-102 South of the DMZ, in I Corps."
The Viet Cong is preparing to overrun the camp. We ride a chopper to Da Nang refuel and pick up two assets one ARVN and one LLDB Lieutenant. Things felt bad from the beginning. I was new, and still taken with the country side, the colors, as an artist I was caught by the lush beauty. Our briefing plan was to spear a path into the A-camp and open an E&E route out of the camp at 180 degrees. We were prepared for sixty people to exit by our penetration. There were two LZs to use in tandem: (A) LZ was primary at 180 degrees from the camp, and (B) LZ was at a 90-degree angle from the penetration point.
The LLDB lieutenant took charge immediately on the ground; we had 34 total reaction forces, including five Americans. 1st Lt. Nuk led the column and gave the ARVN the azimuth to follow; he then began dropping back. The terrain was moderate to thick, so we had to stick close. Speed to the penetration point was the focus, and swiftly and as quietly as possible, we moved. I could feel everyone at once—not any one specifically, but all of us at the same time. In the distance, I could now hear the small arms rattle and the deep grunts of heavy mortars. I no longer felt anything except my breath and movement itself. The closer, the louder the sounds, the more off the azimuth we went. We dropped down into a gulch—not good, I thought. I slowed to check the azimuth on my compass. We're off!!! And why is Lt. Nuk next to me? And moving away? I'm about 16th or 17th in line. I heard a B40 rocket go off, along with screams and some words in Vietnamese and American voices, and like raindrops, the sounds of AK47 pops flooded the gulch. A crescendo of small arm fire lasted about five seconds, and the voices were Vietnamese, all yelling at this time. I was in a complete, flat-out run back to the rally point.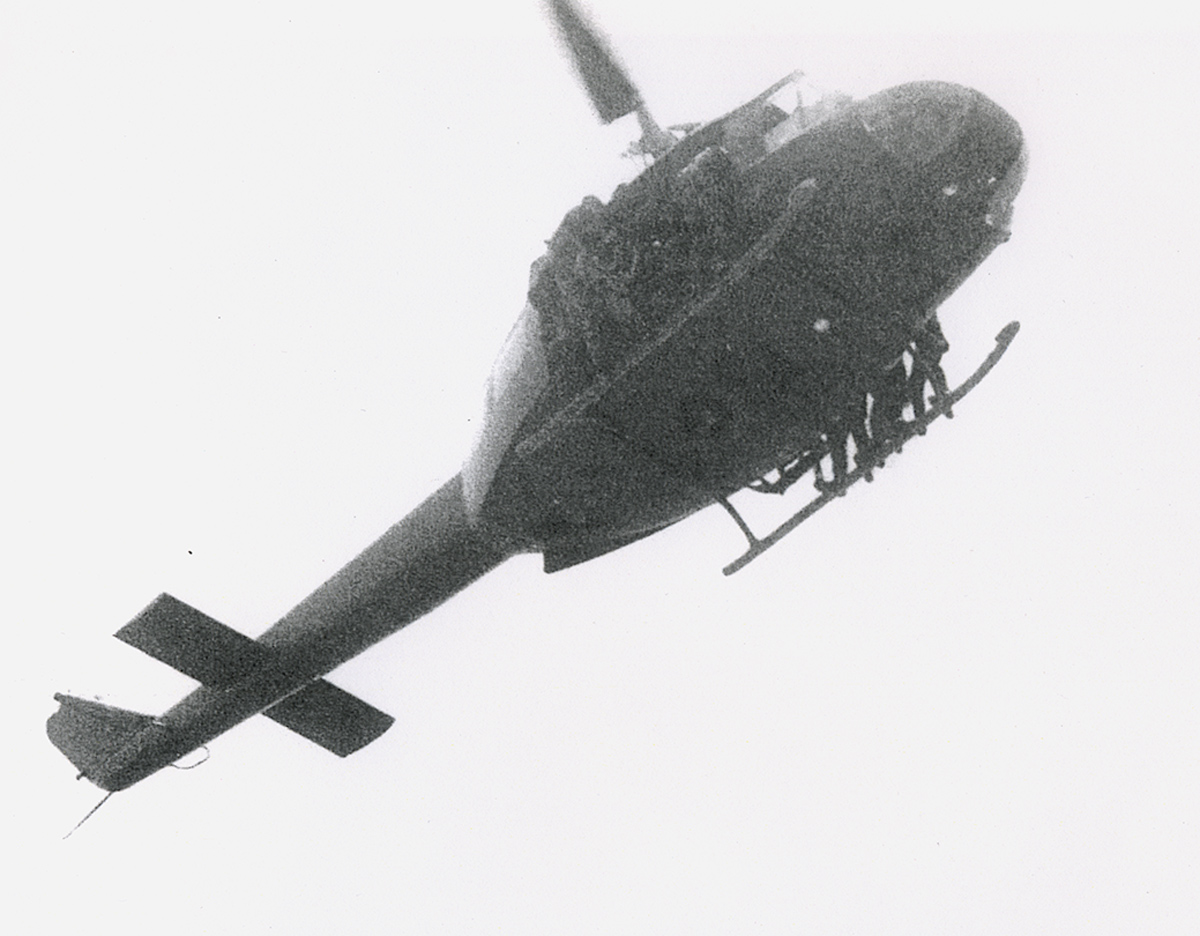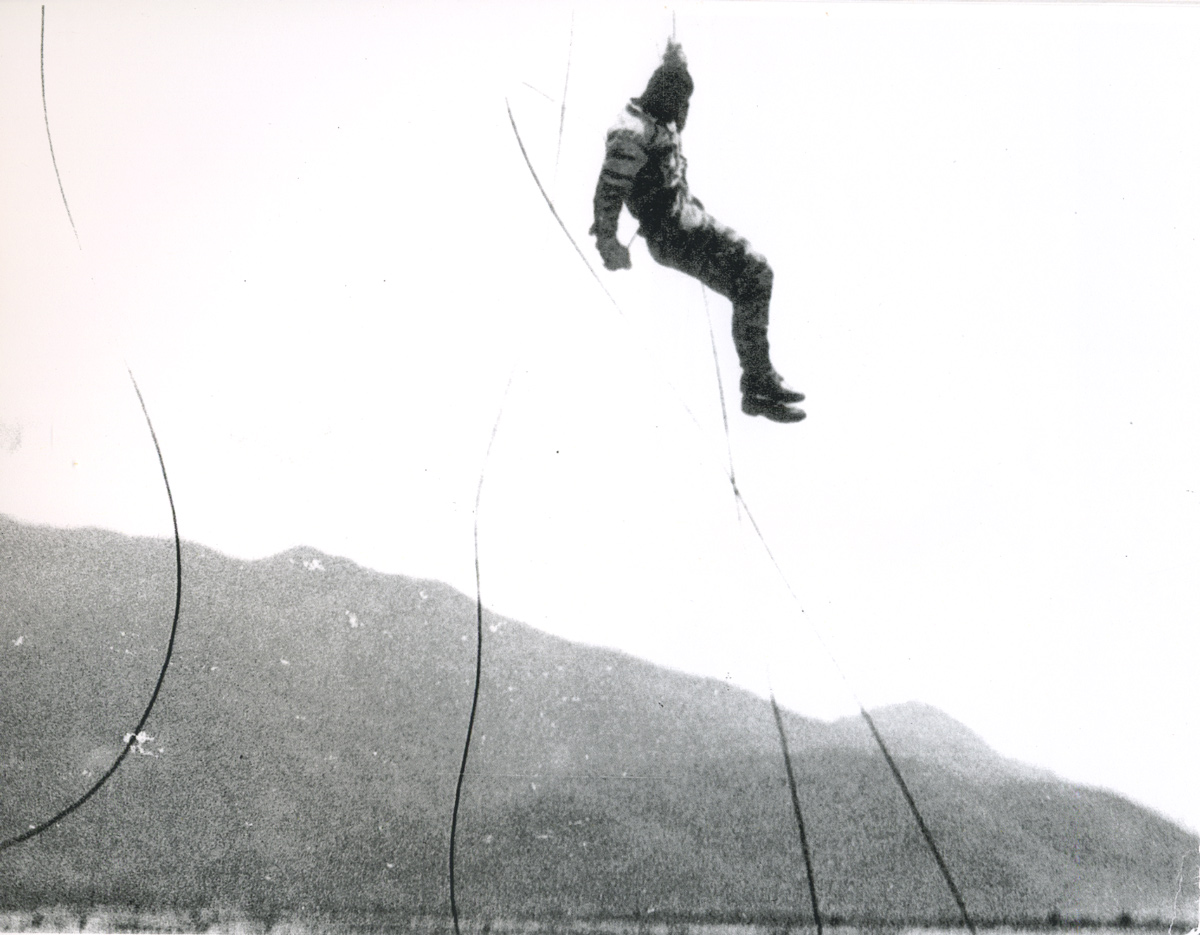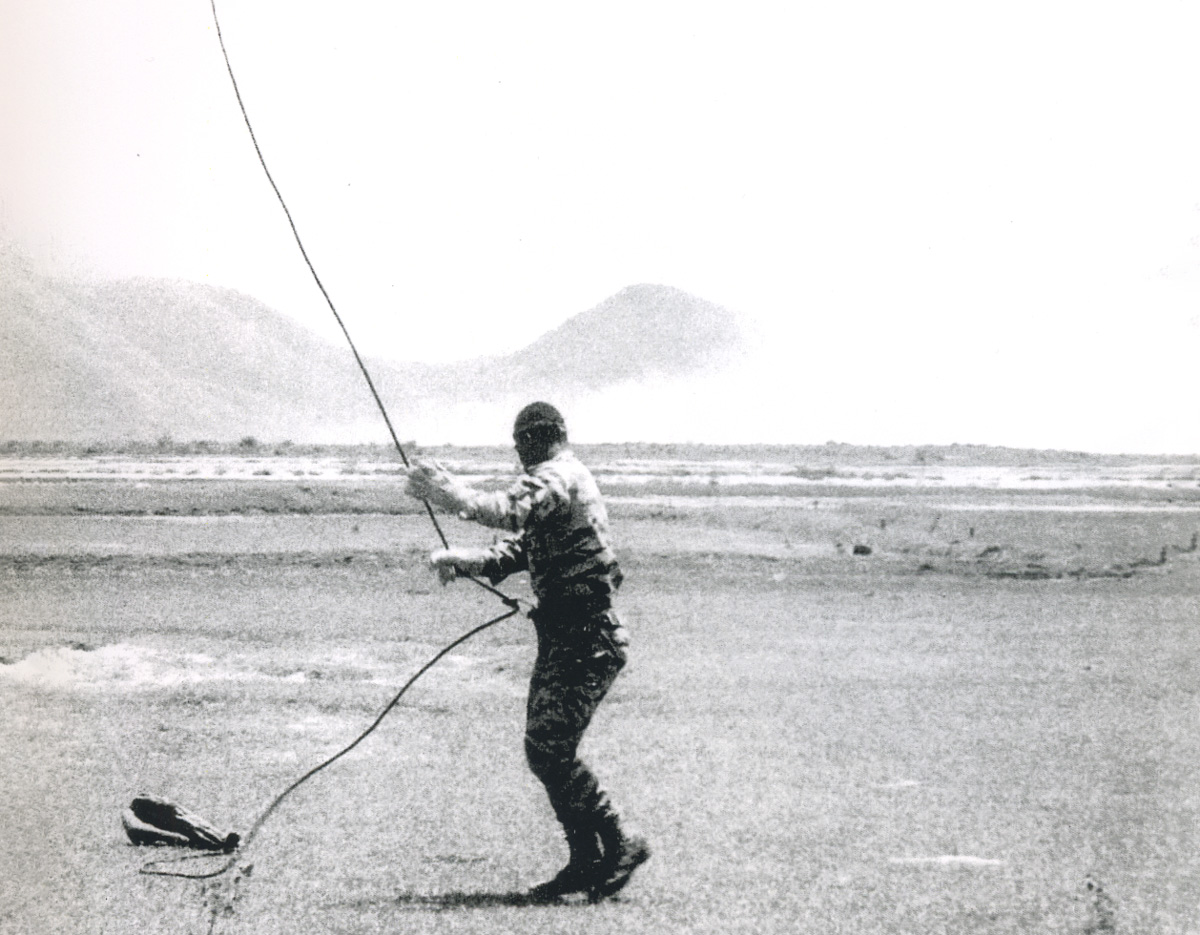 Team infiltration, by rappel, ropes out. (Courtesy John Nesbitt)