Chapter 78 SENTINEL — the Newsletter of the Quiet Professional
Each and every month, in addition to Chapter 78 news, the Sentinel features stories of interest to the entire SF Community.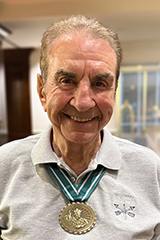 Featured Member:
Richard Simonian
Richard Simonian, an SF Original, a decades-long member of Chapter 78, long-time treasurer for the Chapter, and publisher of the Sentinel, was recently honored with the St. Philip Neri Award at the SFA Convention in 2022. His career as an Original Green Beret took him from the streets of Boyle Heights in South Los Angeles to being a highly successful, God-fearing, self-made businessman.
Richard has worked diligently over the years to assist veterans, and, most recently, Afghan refugees. He formed Veterans Affordable Housing, Affordable Community Living (ACL) and American Veterans Assistance Group (AVAG), all dedicated to helping veterans and families, promoting affordable housing without government assistance.
In addition to his member's profile on this website, learn more about Richard at:
Richard Simonian was interviewed by the Angel Light Academy when they honored AVAG at their annual Above and Beyond Awards Gala in September, 2021.