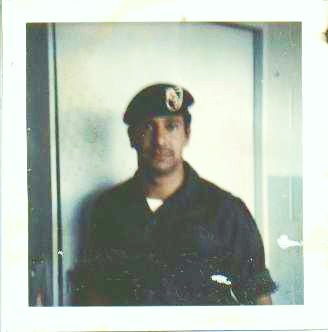 Terry Cagnolatti
Name and Rank: Terriel J. Cagnolatti, Sergeant (E-5)
Year graduated from Jump School: 1973
Years in service and MOS:
3 years active duty
11B2S-Weapons Specialist
12B4S-Combat Engineer
Assignments:
Company C, 2nd Bn., 5th Special Forces Group
(Airborne), Fort Bragg, N.C.
Operational Detachment A-563
Awards/Decorations/Special Forces schools attended:
Outstanding Leader Trainee (Basic Combat Training, Ft. Ord, CA.)
Honor Graduate, Airborne 4th Student Bn., Class #11
Special Forces, Engineer /Demolitions School
Special Forces Weapons School
Redeye Gunner School (Stinger Missile)
Rough Terrain Jump School
Iranian Jump Wings (jumps made in Iran)
Why I joined the Special Forces: My intentions were to join the US Army Military Police Service. However, I was introduced to SFC. Robert Nelson, one of the Son Tay Raiders. After speaking with him for a while, I realized that Special Forces was the only unit for me.
My favorite story: I never took off my life preserver for the entire flight to Iran. Didn't matter if we were over land or not. I had never seen that much water before in my life.
The story I never told anyone: The day I was awarded the Green Beret with the 5th Group Flash, the first person I called was my Mom. She was very proud. Hey, where would we be without our Moms.
The guys I never forgot: Sgt. Mike Reynolds, Sgt. Randy Goerndt, PS6 Elvin F. Bye. (Bye was my Senior Tac NCO at Jump School. He never was able to pronounce my name–he called me everything under the Sun). Lastly, all the Team Members of SFOD A-563.
The best thing to happen to me in the Service: Going to Iran.
The worst thing: Training at Ft. Polk during the summer months. I was born in New Orleans. If a native-born Lousianian tells you it was hot at Ft. Polk, guaranteed it was hot!!!
After the Service: I began a career in Law Enforcement. I have completed 27 years of service and plan to retire in two or three years.
Miscellaneous: I am proud to be a member of the Special Forces Association, and very proud to be in Chapter 78. It's like being on an A Team again.