ROTC Awards given in 2019
Following chapter tradition we continue to support five local university ROTC programs with the Special Forces Award for outstanding achievement. These universities are, University of California at Los Angeles, University of Southern California, California State University Fullerton and Claremont/McKenna College. Many of these programs are actually composite ROTC classes consisting of cadets from other local schools, such as Biola for CSU Fullerton, California State University Long Beach with USC, and California State University San Bernardino with Claremont. There are many more, but too numerous to list.
This years' awards included the Special Forces Certificate for Excellence, The Special Forces Medal of Merit, and a Chapter 78 Challenge Coin.
2019 SPECIAL FORCES ASSOCIATION CHAPTER 78
ROTC AWARDS ROSTER
School / Presenters

POC

Recipient Date / Location

USC Presenters:

Len Fein len@atvls.com
6416 Corsini Place
Rancho Palos Verdes CA 90275
(310) 880-9133

Hans Fritz Hunt airbornerangermp@gmail.com
401 S. Palm St La Habra, CA 90631
Work: 562-266-2101
Fax: 562-266-2040
Cell: 913-702-6140

Ms. Cathy Ioki
USC Army ROTC PED 115 A 3560 Watt Way
Los Angeles 90089-0653
(213) 740-2770
cioki@rotc.usc.edu

Ms. Agnes Orudzhyan
Administrative Assistant
Military Science USC
3560 Watt Way, PED 110
Los Angeles, CA 90089-0653
(213) 740-9096
Agnes.Orudzhyan@ROTC.USC.EDU

Recipient:
Cadet Andrew Crider
(CSU Long Beach)
Date: 04/12/2019 1900 hrs.
Location: The Reef 800 Harbor Scenic Drive
Long Beach 90802

UCLA Presenters: Kenn Miller Corvid75@gmail.com 8704 E. Duarte Rd. San Gabriel, CA 91775
(626) 287-1748

Victoria Sanelli
Dept. of Military Science
1205 Student Activities Center
Box 951609
Los Angeles 90065
(310) 825-7381
vksanelli@ucla.edu

Recipient:
Cadet Steven Zuniga
Date: 04/26/2019 1730 Hrs.
Location: Grand Horizon Room Covel Commons
200 De Neve Drive
UCLA Campus
Los Angeles
School / Presenters

POC

Recipient Date / Location

Claremont McKenna College Presenters:

Mike Keele Mikeymade1@aol.com 8301 La Senda Rd. Rancho Cucamonga 91701
(909) 215-6699

Steve Bric steve@hiberniawool.com 2209 Pine Ave Manhattan Beach 90266 (310) 245-8704

SSG Jontrel Evans-Brown Military Science Instructor (ROTC)
Claremont McKenna College Comm: (909) 607-7750
Cell: (760) 885-7733 Jontrel.evansbrown.mil@mail.mil

Recipient:

Cadet Andrew Olivo
(Azusa Pacific University)
Date: 26 April 2019 1800 Hrs.
Location: Pomona College Campus
170 East 6th Street
Claremont 91711

Cadet Montanna Macias-Young
(CSU Riverside)
Date: 26 April 2019 1800 Hrs.
Location: Pomona College Campus
170 East 6th Street
Claremont 91711
School / Presenters

POC

Recipient Date / Location

CSU Fullerton Presenters:

Gary MacNamara ltcmac@earthlink.net 5281 Pembury Drive La Palma, CA 90623
(714) 994-2043

Kristie S. Bolden
SSG, USA
S1 NCOIC
California State University Fullerton
AROTC
Phone: (657) 278-5119
Fax: (657) 278-7001
Email: kbolden@fullerton.edu

Recipient:

Cadet Darren Meier
Date: 2 May 2019 0800 Hrs.
Location: Titan Student Theater
University of California
Fullerton Campus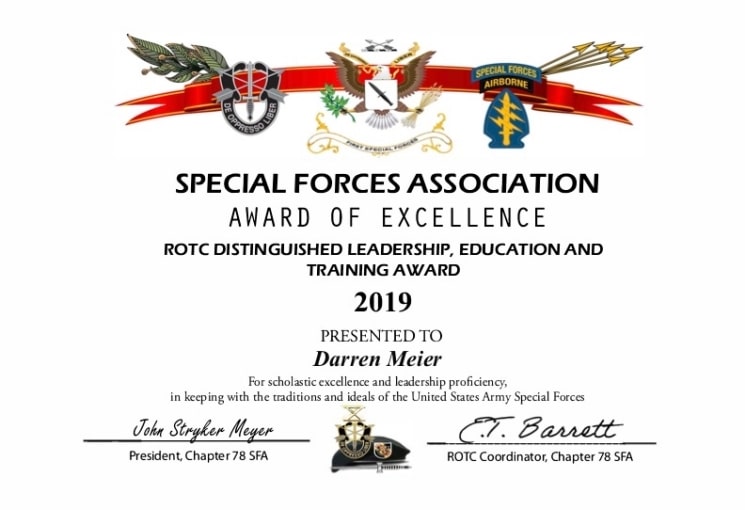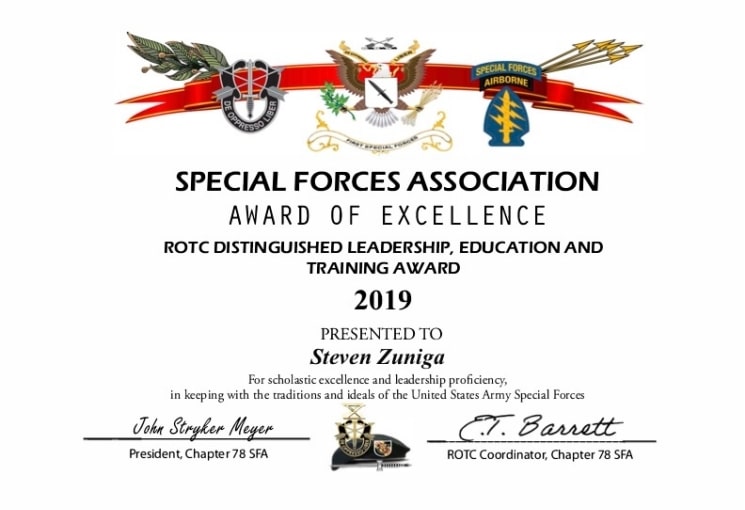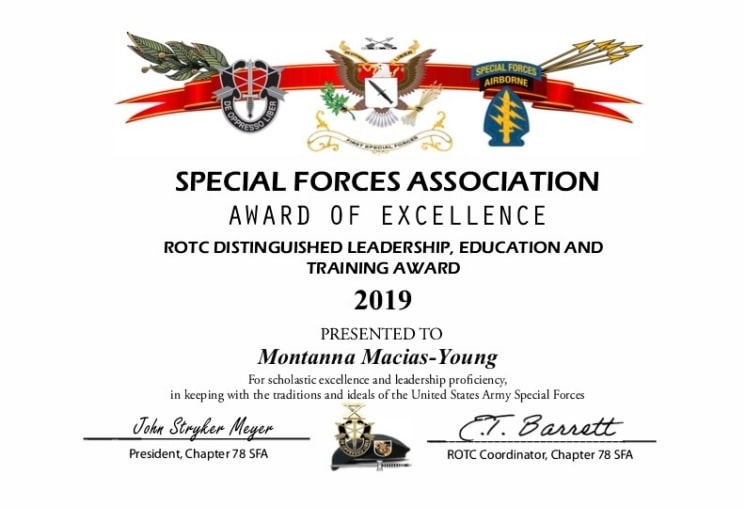 A special thanks to chapter member Edmont Barrett for his dedication in the organizing of the ROTC Awards Ceremonies each year. Ed has been putting in countless hours of his own time on the ROTC program for the chapter since 2006. Each year Ed reaches out to the person of contact (POC) at the participating colleges to obtain the information needed to put together the Awards Roster for each college. Ed, also seeks out volunteers from the chapter to attend the ceremonies as presenters. The chapter presenters are given a Special Forces Association Medal along with a certificate to be awarded to the cadets. His hard work makes it possible for the website to post the ROTC awards Roster's which lists the names of the cadets and presenters from the participating colleges each year. A-tip of the Beret to Ed.