[headline h="3″]ROTC Awards given in 2006.[sub_title]Click each cadet's name for more information[/sub_title][/headline]
[toggle_content title="Christopher David Wilson"]
Challenge Team (2004); Member of Ranger Challenge Team (2002-5); Member
of Claremont McKenna College Men's Swim Team (2003, 2004); Biology Lab
Assistant, Joint Sciences Department, Claremont McKenna College (2004
and 2005). [headline h="4″]Highest Cadet Rank:[/headline] Cadet Battalion Commander [headline h="4″]Honors:[/headline] ROTC Distinguished Military Graduate (DMG)
Cadet Christopher D. Wilson is innovative, decisive and possesses an
incredible attitude; he's exactly who we want leading, training and caring for soldiers and their families. He will make a brilliant officer and combat leader.
Cadet Wilson is an outstanding scholar. He excels in academics at
Claremont McKenna College, ranked in the top 13 of liberal arts colleges
by U.S. News and World Report. He is achieving a 3.85 cumulative GPA
and a 4.0 GPA in his major.
Cadet Wilson is an exceptional athlete. He has one of the three highest
APFT scores in the battalion (300+). He was a key member of Ranger
Challenge team for three years. In 2004, the team he captained finished
fifth of twenty-two teams in the 14th ROTC Brigade in large part because
of his mental and physical toughness and leadership by example. He was
a member of the highly rated Claremont McKenna Men's swim team from
2003-2004.
Cadet Wilson is an incredibly gifted leader. He is the second best MS IV cadet in the battalion (2 out of 15). He was selected as the Cadet Battalion Sergeant major in a junior class regarded as one of the best in recent memory at Claremont McKenna College. His performance as a leader among the MS IVs has been excellent and he has brought the battalion to new heights as evidenced by the performance of the cadets at the fall marksmanship range, Fall FTX, numerous events run for college athletic teams and the local community, weekly labs and at last year's Ranger Challenge competition as the Team Captain.[/toggle_content]
[headline h="4″]ROTC Class Standing:[/headline] Number 2 of 15 [headline h="4″]Campus offices held/college activities:[/headline] Captain of ROTC Ranger
[toggle_content title="Enrique Monreal"]
Enrique Monreal
MS 3 Cadet Sgt
University of Southern California[bulleted_list style="disc-gray"]
Position: Charley Co 3rd Squad Leader
Studies Major: Associate's in Administration of Justice, currently a JR working on B/S in Criminal Justice @ Cal State Dominguez Hills
GPA 3.5
Language(s) English and Spanish
Military Achievements: Parachutes Badge, Expert Infantry Badge, Combat Infantry Badge
Branch Assignment: Infantry
[/bulleted_list]
Enlisted in then the Army in the summer 1999, went to Airborne school in Dec 1999 then joined the ranks of Delta Company 2-504 Parachute Infantry Regiment, Fort Bragg North Carolina as a driver for the Anti Armor Company. In March 2002 I deployed to Afghanistan in support of Operation Enduring Freedom till January 2003 as an M 249 SAW, Mk 19, and Tow Missile Gunner. Also receiving a field promotion to SGT. Upon returning from my deployment I was given a honorable discharge an am currently working to receive my Bachelors of science degree in Criminal Justice along side with the ROTC program to receive my commission to 2nd LT in Fall 2007, where I will proudly continue to serving my country in the National Guard.[/toggle_content]
[toggle_content title="Cadet Command Sergeant Major Butt"]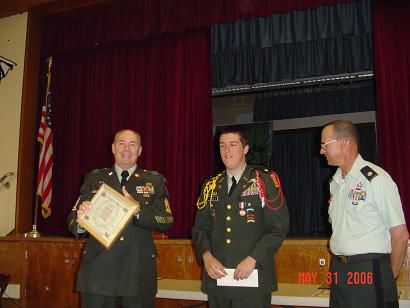 Chapter Members CSM Robert Crebbs and LTC Marc Breslow present the 82nd ABN Association certificate and medal to Cadet Command Sergeant Major Butt at the awards ceremony at J.F. Kennedy High School on May 31, 2006.[/toggle_content]
[toggle_content title="Cadet Lieutenant Colonel Adams"]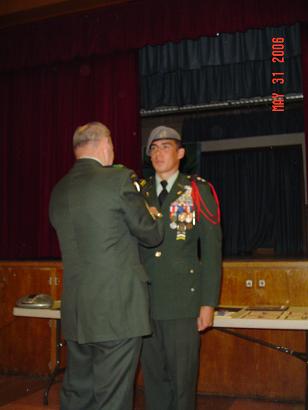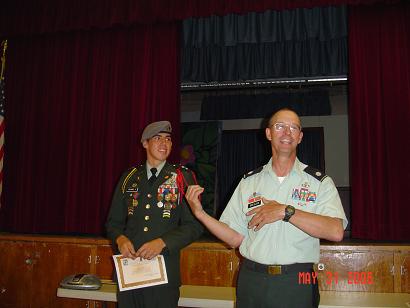 On May 31, 2006 SFA78 member CSM Robert Crebbs presented the SFA "JROTC" certificate and medal to Cadet Lieutenant Colonel Adams of the J.F. Kennedy High School in LaPalma, Calif. Association member LTC Marc Breslow, the senior military instructor at J.F. Kennedy High School also participated in the presentation.[/toggle_content]
[toggle_content title="Cristian Barajas"]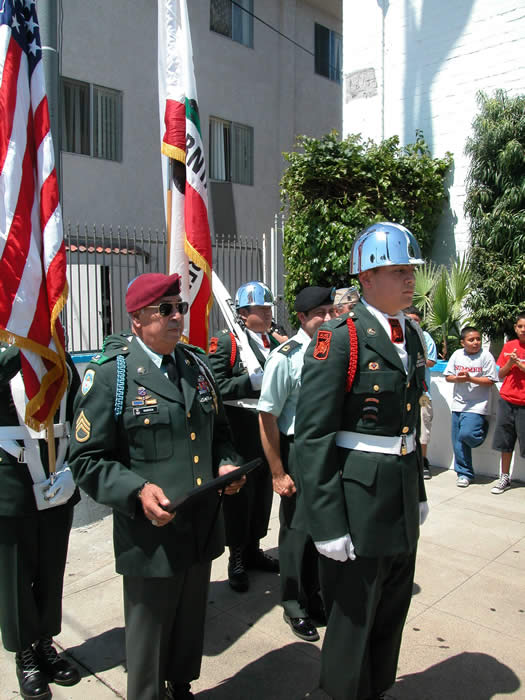 Cadet Cristian Barajas received the award for Lincoln High School.
No bio information available at this time.[/toggle_content]
[toggle_content title="Bryce Matson"]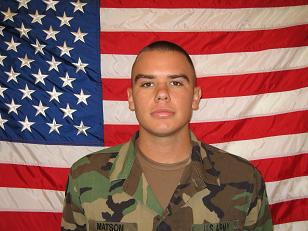 Bryce Matson is a native of Southern California. He graduated from North High School in Torrance, California, in 2003 where he played basketball and baseball, and was an honors student. He then attended El Camino College where he received an AA in political science in 2005. Upon graduation he transferred to UCLA as a political science major. At UCLA he joined the Army ROTC program. During his tenure there he attended the Leadership and Development Course, as well as the Basic Airborne Course. As a senior he held the positions of Cadet Battalion Commander and S-3 in charge of Training and Operations. Bryce will commission next December, and after completing his initial training as an intelligence officer, he will report to the 416th Civil Affairs Battalion in San Diego. As a civilian, he will work as a Special Agent in the ICE division of the Department of Homeland Security.[/toggle_content]