Jim Duffy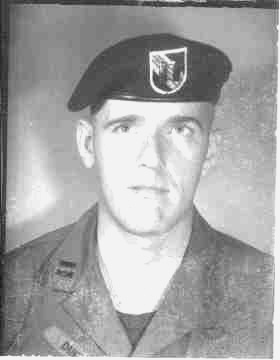 Date of Service:

1964-1987

Unit of Service: Army Aviation, Artillery, Special Forces, Intelligence
Military Schools Attended:

W.O. Flight Training, Air Traffic Controller, OCS, Airborne, Special Forces, Command & General Staff College, Defense Intelligence College, Defense Language Institute

Highest Rank Attained:

Lieutenant Colonel

Civilian Career: Corporate Security, Investigator, FFL, Firearms Instructor, Self Defense Instructor
Education: Northeastern University, University of Maryland, University of North Carolina, University of Pineland, University of Vietnam, San Fernando Valley State College (B.A.), University of Southern California (M.A.), U.S. Embassy School of Chinese Language and Culture, U.S. State Department Language School
Military Service Remembrances:

Had the privilege and honor as a Army Special Forces "A" Detachment Commander in combat;

service as a Foreign Area Officer – China/East Asia; s

erved in South Korea, Vietnam, Germany, Taiwan and Hong Kong;

traveled on assignments to countries such as the Philippines, Malaysia, Perreng, Singapore, Japan, China, Macau, Austria, Indonesia, Thailand and Burma
Webpage Dedication
This web page is a collective effort of many who served with Detachment A-109 at Thuong Duc District, Quang Nam Province , Vietnam from 1966 through 1970. The webpage is dedicated to them and especially to all those who paid the ultimate sacrifice in combat operations on site or in the surrounding area of operations. It is dedicated to the U.S. Army and Vietnamese Special Forces members as well as the CIDG (Civilian Irregular Defense Group). All served with such great skill, honor, loyalty and courage.
It was by far the best assignment in the U.S. Army to have the privilege to serve on a Detachment "A"team for any Special Forces soldier. The opportunity to serve with a team of American and Vietnamese professional soldiers under very challenging circumstances was truly unique. In retrospect, I am awestruck by the required skills and depth of understanding it takes by everyone on the team to make the primary mission a success.
A-109 Thuong Duc camp was built to monitor and assess enemy activity between the rural areas of the west and the more populated coastal plain. The camp lay west and south of Da Nang . It helped protect Da Nang from an attack from the west. Additionally, it was positioned in a key river valley that enabled its patrols to monitor critical enemy activity.
Det A-109, Thuong Duc, Vietnam – Casualties
The listing is at: http://www.sfahq.com/reg
1967 02 13 E-7 SFC Wolfram W. Bischof 91B4S KIA SVN; A-109, Thuong Duc, Quang Nam Prov., mine, with Goodman
1967 02 13 E-4 SP4 Barry J. Goodman 11B2S KIA SVN; A-109, Thuong Duc, Quang Nam Prov., mine, with Bischof
1967 11 04 E-6 SSG Leroy A. Hayes 11B4S KIA SVN, A-109, Thuong Duc, Quang Nam Prov.
1968 03 8 E-4 SP4 John M. Tomkins 91B4S KIA, DOW SVN; A-109, Thuong Duc, Quang Nam Prov., convoy returning from Da Nang , w/ Beals
1968 03 12 E-7 SFC Estel D. Spakes 05B4S KIA SVN; A-109, Thuong Duc, Quang Nam Prov., his CIDG patrol was overrun
1968 05 2 E-6 SSG Lawrence J. Englander 05B4S MIA-PFD SVN; A-109, Thuong Duc, Quang Nam Prov., ZC040450, heliborne 16k SW of camp
1969 10 11 E-5 SGT John J.W. Roden 11B4S DNH, drowned/suffocated SVN, A-109, Thuong Duc, Quang Nam Prov.,
1967 12 7 E-7 SFC Richard D. Osborn 12B4S KIA, DWM SVN; 1 MSFC, 112 Company, just outside A-109 Thuong Duc, Quang Nam Prov., with Von Kleist (Note: SFC Von Kleist DOW on 16 Dec.)
1967 12 16 E-7 SFC Austin Von Kleist 11F4S KIA, DOW SVN; 1 MSFC, 112 Company, near A-109 Thuong Duc, Quang Nam Prov., with Osborn WIA on 07 Dec
1968 02 25, E-7 SFC Lawrence F. Beals, 11F4S KIA SVN, 1 MSFC, Quang Nam Prov., convoy returning from Da Nang, w/ Tomkins
1968 05 30 WO-2 John T. Durrington AATTV KIA SVN; 1 MSFC, at A-109, Thuong Duc, Quang Nam Prov.
1968 05 30 WO-2 Fred G. Hammersley AATTV KIA SVN; 1 MSFC, at A-109, Thuong Duc, Quang Nam Prov.
1968 05 30 E-5 SGT Michael A. Joseph 11B4S KIA SVN; 1 MSFC, at A-109, Thuong Duc, Quang Nam Prov., shrapnel from a B-40
---
Det A-109, Thuong Duc , Vietnam
IN MEMORIAM
Adamski, Gerald, M., E-8 MSGT, Team Sergeant, 1970
Blais, Gerald, J., E-7 SFC, Intel , 1969-1970
Hernasy, Kenneth, W., "Chief", SGT, Weapons, 1969-1970
Harlan, Timothy, S., SP5, Demo, 1969-1970
---
Detachment A-109 Memories
From Jim Duffy
I have many positive experiences of my tour at A-109, Thuong Duc, Vietnam in 1970. My assignment there was the most rewarding personally and professionally out of a twenty three year Army career. It was by far the best assignment in the U.S. Army to have the privilege to serve on a Detachment "A" team for any Special Forces soldier. The opportunity to serve with a team of American and Vietnamese professional soldiers under very challenging circumstances was truly unique. In retrospect, I am awestruck by the required skills and depth of understanding it takes by everyone on the team to make the primary mission a success. The fact that all detachment team members survived the sixty day siege and their tour was by far the best memory of all.
During the spring 1970 siege the camp was repeatedly receiving NVA mortar fire from the plateau. I spoke with Dai Uy Diep, my Vietnamese counterpart, about sending a force up there to try and stop it. I advised him that it would have to be an entirely Vietnamese operation as all members of the American team had been going 24/7 and needed some recovery time. He agreed and ordered a CIDG recon platoon up to the plateau .We monitored the operation closely and provided fire support as needed to cover their retreat. As I recall the recon platoon despite being outnumbered inflicted NVA casualties and damage to the mortars while returning unscathed. I mentioned to Ski (Team Sergeant Gerald Adamski –RIP) at that time that maybe, just maybe we could look forward to packing our bags. Little did I know at that time I would be leaving earlier than expected being medevaced just as I was getting ready to extend my tour and take an R & R to Australia . I would spend the next year recovering from the almost deadly affects of staph septicemia that had been unknowingly infecting me for several months due to a prior wound.
One of my funniest memories was again during the siege when everyone was sleep deprived. I decided to catch up on some sleep but remained fully dressed and ready to go. Laying on my bed in the bunker I shared with Intel Sergeant Gerald Blais (RIP) I just threw a blanket over me. Later in the night I heard something and saw an outline of someone standing over me. There was a strange sound as well and quickly realized that Blais was standing there just finishing up pissing on me. He buttoned up, turned around and went back to his bunk without a word. At that point I realized he had been sleep walking and had got up to go the bathroom. I never said anything to Blais but Ski and I had a big laugh about it.
Jim Duffy, Detachment Commander A-109, 1970
---
About Sergeant Major Clyde
In early December of 1967, I was assigned to Detachment A-109, at Thuong Duc. Upon my arrival I was surprised to find a horse wandering inside the US inner perimeter. I couldn't tell you the breed but it was dark in color and a little larger than a pony in size. I asked one of the team members about the horse and was told the following story:
HQ Company C (C-1) sent a message that a horse was being sent to A-109. They wanted to test the feasibility of using it as a pack animal on patrols. The horse subsequently arrived on a military air transport. Its appearance at the airfield scared the hell out of the Vietnamese who had never seen a horse before. The reaction must have been similar to the first time the Aztecs saw the Spanish conquistadors on their mounts. Anyway, the Vietnamese were very leery of the horse.
The horse was taken up to the camp. It wasn't long before someone tried to ride the horse. To everyone surprise the horse would not move when prompted. A carrot was produced to encourage the horse to walk forward. The horse would extend its neck and/or take one (1) step towards the carrot but that was all. Revelation #1.
For the feasibility trials the Vietnamese carpenters had designed a wooden pack tray for the animal. It was strapped to the horse's back and a combat load was added. When the horse was lead away it was discovered that one of its legs was lame. When the load was removed the horse stopped limping. This was no dumb horse. Revelation #2.
With the horse determined to be worthless as a pack animal it became naturally the camp mascot. It was given the rank and name of Sergeant Major Clyde. An Army blanket, that would be used to cover the horse's back, was taken to a village seamstress. The rank and name was sewn in beautiful yellow block lettering on the left and right sides. Centered below the name was a large yellow Sergeant Major rank insignia. Below this in more yellow block lettering and in quotes was the declaration, "THE WONDER HORSE". The blanket was thrown over the horse whenever VIPs came to visit. It always generated laughs and comments.
Initially, Clyde had freedom to move about and eat grass on the barbed wire. An incident occurred where one of the CIDG soldiers took a shot at Clyde. The horse took off at a full gallop back to the US compound where he stayed. That was when we discovered that Clyde did not like any loud noises or gunfire. Any test firing of weapons or enemy in-coming rounds had Clyde running back and forth across the compound in a panic. Clyde could also gallop at night because he memorized where all the open trenches and perimeter wire was located. Revelation #3.
Newly assigned personnel to A-109, would be told during their in briefing that if the camp received in-coming fire they should stay down in the trenches. It was not to protect them from shrapnel but from being run over a galloping horse. Nobody wanted to die of hoof and mouth. I believe, Sergeant Major Clyde subsequently was killed during a siege of the camp.
Charlie Inot, Weapons NCO, A-109, 1967-68
---
From Greg Biela:
It was the best of times and it was the worst of times but, I had one hell of a time. I was an 11C who had the privilege of serving on Detachment A-109 Thuong Duc.
I loved that 4.2 mortar but it could get you pissed off at times. We were firing HE and illumination rounds one night and the mortar decided to take a break – I put a HE round down the tube and the damn thing stayed there. How I got the round out is a story worth telling over a cold one.
After I got it out LT Marable came by to see how everything was, he had the jeep so hell lets take this HE round up to the demo pit. I had the round in my lap, fuse and buster in my pocket, C-4 cap and igniter in my other pocket. We drove up to the helipad and the CIDG opened the concertina that went across the gate to the pad.We drove to the end of the pad, got out of the jeep and zig zag through the wire to the pit. I put the round in the pit when off in the distance we heard a bloop. I looked all around the camp, and there isn't a soul in sight. I look at LT Marable and I say :Who do you think their shooting at?" We haul ass through the wire, zig and zag just like in a Sad Sack comic book as the rounds started to fall. We go right, the round goes off to our left. We go left and the round goes off to our right. The CIDG are in the bunker laughing their ass off as we manage to stay about 100 feet away from each burst. We get in the jeep and head for the CIDG trench line but the concertina wire is back across the gate. LT Marable drives through the concertina and stops 1.1 inches in front of the trench. We bail out of the jeep and into the trench. I look up at the underside of the jeep and there must be a roll and a half of wire around the axle drive and every damn thing. We know the NVA are laughing so hard, along with the CIDG that they stop shooting at us. LT Marable and I laughed our ass off the rest of the day. It's times like that, that I will never forget. I am honored to have served with the men of A-109, it was the highlight of my life.
Later, I worked with Red Adair on one occasion, it was a hell of a fire. He looked at me and said "Pretty exciting, don't you think?" I looked at him and said "Shit, you should have been at Thuong Duc during the siege.
Greg Biela, CAPO NCO, A-109, 1969-1970
---
From Ron Huegel:
In 1970 I was a Corporal in the Marine Corps serving as a Field Radio Operator (MOS 2531) with 1st Force Reconnaissance Company in RVN, having arrived in country in January of that year.
By 1970 the Marine Corps was concentrating its reconnaissance assets mostly to the west and southwest of Da Nang . Due to the distance from Da Nang and the mountainous terrain in the RAOR (Recon Area Of Responsibility), it was necessary parent units of the recon teams to establish a radio relay site in order to maintain contact with the teams in the field. Thuong Duc Special Forces Camp was the obvious choice – it was an established base, it was well defended, it was strategically located between Charlie Ridge and the "Tennis Courts," and there was excellent radio reception at the camp.
At the end of May 1970 Corporal Phil "Flip" Clark and I flip-flopped with the previous relay team and settled into our bunker at Thuong Duc. The bunker that was assigned to 1st Force Recon was called the South Fifty. The main feature of this position was the addition of a pedestal-mounted .50 cal. machine gun that had been salvaged from a downed Marine Corps CH-46 helicopter.
We already knew that the SF Camp had caught the attention of its VC/NVA neighbors, so we weren't surprised by the constant "incoming." The camp received a volley of six 122 mm rockets three times a day: at breakfast, lunch and dinner. Harassment fire also came in the form mortars, fired from the Tennis Courts, a plateau across the river from the camp, at various times throughout the day. Other than forcing us to take cover, the incoming was extremely ineffective, causing few injuries and very little damage.
On 3 June the enemy finally scored a hit. All of the rockets had previously been fired from the west. On that day, however, they were fired from the east. As usual, the rockets either missed the camp entirely, or they hit the outer perimeter wire. One of the rockets, though, scored a direct hit on the South 50 bunker. We could tell it was going to hit close to the bunker by the different sound it made as it approached. There were two things in our favor: the bunker was built extremely well and the rocket hit at the base of the wall. I can still clearly see that wall disintegrating. Luckily, Flip and I escaped with only minor scratches and a loud ringing in our ears.
I now work for Vietnam Battlefield Tours and I have recently returned from my eighth trip back to Viet Nam . During two of those trips, I visited the Thuong Duc Camp. All that remains are the concrete foundations of the bunkers. I have also had the opportunity to visit the SF Camps at Lang Vei and Ba To. On future tours I plan to visit some of the camps in II, III and IV Corps.
Vietnam Battlefield Tours (VBT) specializes in travel to Viet Nam and therefore has intimate knowledge of the people, terrain and locations. All guides are Viet Nam combat veterans who have been back to the jungles, mountains, firebases and battlefields many times and pride themselves on their ability to get veterans to the special places they request to visit. They will customize current tours to the participants' needs and will create new tours specific to any group needs. In addition, VBT tours are all-inclusive with no hidden costs. For more information see their website at www.vietnambattlefieldtours.com .
Ron Huegel, USMC, 1st Force Recon Company, Thuong Duc,A-109, 1970
---
From Gary Lamberty:
I was in the 5th Group's 403rd SOD, which was a forty-four man ASA, aka "Radio Research", detachment of mostly SF qualified operators. Basically, we used various electronic means to gather and disseminate intelligence to both the teams where we were located and to higher echelons. We frequently operated in two-man teams, which would go anywhere the 5th Group went, including the A Teams, Mike Forces, Special Projects, and SOG. That was a lot to cover, so we frequently had guys from the 400th SOD come over TDY from the 1st SFGA in Okinawa . Incidentally, the 8th and 10th Groups also had SODs.
I spent my first tour in II and III Corps, so Thuong Duc (A-109) was my first assignment in I Corps. When my first tour ended on March 6, 1970, I was on my second operation with B-36 (3rd Mobile Strike Force), and we were at Rang Rang in War Zone D. Before that, we were at Bu Dop (A-341) which, like Thuong Duc, was one of the A Teams the bad guys kept trying to overrun. The Rang Rang operation wasn't over when my tour ended but I'd signed up for a six-month extension to stay out in the field until it was, then took my extension leave in Korea from about the third week in March until the third week of April. When I got back in-country I was planning on going back to B-36 but was told all five Mike Forces were being turned over to ARVN Rangers, as part of Nixon's "Vietnamization", and I had to get up to I Corps' Thuong Duc ASAP.
If I recall correctly, the A-109 Team only had about four to five hundred CIDG (I don't think I'd ever been to an A Team with the full 1500 they were able to train and advise), and our intel indicated the NVA were probably going to try, once again, to overrun the camp. There were three to five NVA infantry regiments, plus sapper and rocket battalions poised in their AO, which was composed of mountains on three sides. Mai Loc (A-101), the only A Team north of Thuong Duc was almost overrun earlier in the month with a lot less.
By the time I got to the A camp, around the last week of April, it seemed like all hell was breaking loose. In the beginning, there were hundreds of 122s, 82s, and B-40s raining on the camp with intermittent ground probes. This slowed down to about fifty or sixty strikes a day for the next month-and-a-half. George Shafer, my SOD partner, was already there when I arrived and had secured a concrete reinforced bunker for us to work out of. We had a starlight scope, an M-60 and two M-79s, one loaded with a canister round and the other with either HE or Willie Peter. Unfortunately, the M-60 only had one barrel. George said someone tried to change the other one barehanded and it got warped. I'm not sure if the guy got burned before or after it warped. I'm not sure who the guy was either, but he may have been one of the Marine Force Recon guys. There were only a few, maybe six?, but George was already pretty tight with 'em. As a matter of fact, he may have shared that bunker with one of them before I got there.
One of the things I remember about George was he and one of the Marines were almost obsessed about the alleged sighting of a "Longshadow" in the AO. He was supposedly blonde and much taller than those he was seen with. These guys were trying to figure out a way to find and snatch the guy. Years later, I learned there was a POW camp in Quang Nam Province (where Thuong Duc was located) and some of them may have done things in collaboration with the enemy.
Another thing I remember about my time at Thuong Duc was how the NVA would always start hitting the camp whenever a chopper was coming in. I'm not sure if it was still monsoon season, but I remember it almost always being somewhat overcast and the rockets and mortars would start coming in before I'd ever see or hear a chopper. When a chopper did come in, it would barely touch down then take off again within a few seconds. If you were getting off, you had to throw your gear out and jump before touchdown, and if you were getting on, you had to throw your gear on while running to the chopper then jump in, often while it was already moving. I had to catch a chopper to Danang twice during that siege and, on one occasion, I started trying to help one of the indigenous guys (not sure if he was CIDG or LLDB) get on by holding his wrists during take-off but made a split-second decision to let him go. I knew I wouldn't be able to pull him in once the chopper got more altitude and speed, but I've often wondered if we weren't already too high. One of my less than pleasant memories.
At some point during the siege, George Shafer left and was replaced by Harvel Martin. By the first or second week of June, the NVA apparently abandoned their attempted siege and started pulling back, so I left around the third week of June and got sent down to IV Corps, where I finished my extension tour. Other SOD personnel who worked out of Thuong Duc during that time period were John Phillips, who filled in for me during the two times I had to go to DaNang and Dave Andorka, who replaced me when I left. I'm not sure how much longer Harvel and Dave stayed at Thuong Duc, but I'm pretty sure one of them took my place at Chi Lang (B-43), in IV Corps, when I derosed.
I'm not really sure why the NVA changed their minds about overrunning Thuong Duc when they did. Maybe they figured we had enough support to make a strong defense, with Marine Force Recon, part of the transitioning 1st MSFC (B-16), the still intact 5th MSFC (B-55) ready to move in, and the available air and artillery support? Or maybe they were just practicing for what they planned on doing when Nixon's "Vietnamization" was complete? Regardless, the siege at Thuong Duc proved, once again, that no matter what the odds or how outnumbered, Special Forces was, is, and hopefully will always be a force to contend with. I'm proud and humbly honored to have served with the fighting men of A-109 during the Thuong Duc siege in the Spring of 1970.
Gary Lamberty, 403rd SOD, Thuong Duc 1970
---
From Bob Cierniak:
THUONG DUC, some day in May, 1970…. 1st Mobile Strike Force was flown in to help relieve pressure on this small enclave of tenacious CIDG, Vietnamese LLDB, and their brave American Green Beret counterparts, led by an imposing SF Captain named James Duffy. I use the word 'imposing' because his height is somewhere around 6'5″ or so, and at that time, I was 5'8″.
Captain Duffy introduced himself along with his Team Sergeant, MSGT Gerald Adamski, and immediately I could tell that these fellas were not only good at what they were doing there, but that they were kind and gentlemanly, taking into consideration that they were enduring what was to be a sixty-day siege on the camp. I remember in that intro that day, when Capt. Duffy welcomed us to the camp's facilities, that he had a New England accent, specifically, a Boston accent. I asked him if by chance he was from New England, and he replied, "You betcha". I found this coincidental, as my wife is also from Massachusetts.
Our stay that evening at Al 09 was without incident and the following couple of weeks patrolling Thuong Due's area of operations proved to be an eye-opener, for sure! When the 1st Mike Force returned to Danang after Thuong Duc we had pretty good accommodations at C-Team. We didn't endure 122MM rockets crashing on a daily basis and we didn't have ground probes to worry about. I often wondered how those guys coped with all the danger out there.
Some months later I found out very quickly how Thuong Duc's brave defenders survived. When Mike Force disbanded, I replaced Thuong Duc's commo sergeant, Sgt. Russi, and I was introduced to Sgt. Greg Biela…but that is a tale for another day.
NB: To see photos of Greg and me, Bob Cierniak, on the helipad at Thuong Duc in 1970, and in 2006 and 2007 at the SF Reunions in Fayetteville and Oklahoma City, please visit Jim's SFA Chapter 78 webpage; some things never change!
Bob Cierniak, Commo NCO A-109, 1970