Sgt. (E-5) Don Deatherage
Vice President, Chapter 78 Special Forces Association 2016-2019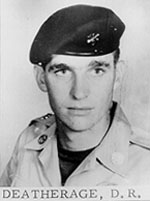 Born and raised in Los Angeles, after high school I was directionless and found college less than fulfilling. Looking for adventure and to support my country, I enlisted with a language school contract for Russian.
After basic at Ft. Ord, I was ordered to Washington, DC to attend the Defense Language Institute. Mid-way through the yearlong class, those of us who had enlisted with the language school option, about 5 of us, were informed that the Military Intelligence track was no longer being offered. Being the young smart-mouthed EM, I asked where they pictured us being assigned upon graduation. The major delivering the order hemmed and hawed then said we'd probably be assigned to the DEW line to monitor transmissions. Not what I signed up for. I had tested well for SF during Basic so after two months of haggling with the school and the Clerk-Typists at Ft. Meyer, I was released from the school and on my way to Camp Crockett at Ft. Gordon, GA for infantry AIT. Special Forces, here I come.
Upon completion of AIT and Jump School, I was ordered to Ft. Bragg to begin training. After Phase 1 finished with a long finalruck, we were busy cleaning our gear when a SFC walked up and asked what school we wanted. After shouting out all our desires, he promptly told us that Commo and Medic were the only schools currently taking personal, so take our pick. Not being good with dit-dah-dits, it looked like I was going to be a medic. I moved on to Medic training Phase II, Ft. Sam Houston for advanced training, OJT at Ft. Sill, Oklahoma and back to Bragg for Phase IV.
At the end of Phase IV, I found I had been assigned to the 6th SFG. After several calls to the Pentagon, Mrs. A advised me that no SF troopers were being assigned to Vietnam for the moment but she could send me as a 'leg' medic. I declined and spent the remainder of my enlistment working at Womak Army Hospital in the OR, manning sick call clinics and assisting in Phase I and IV training out in the field. Tried to get on the Son Tay raid but they were only taking combat vets.
Upon ETSing in 1971, I returned to California started attending college and began working at a hospital in Gardena. I challenged the California nursing boards and earned my license. I continued working in the ER, meeting a beautiful nursing student who became my wife, until moving on to my next career.
I've been either blessed or cursed with a wandering spirit and enjoyed several careers. I've worked in medicine, construction, manufacturing, sales, civil investigations and Information Technology. I've started six independent companies and held positions in several more. I'm blessed with an understanding and loving wife that I adore. We have three children who are now grown with families of their own, and not only do I love them, actually like being around them. My wife did a great job of raising strong independent kids.
I'm honored to be a member of Chapter 78 and even more honored being able to associate with men I truly feel are unsung heroes. It was my privilege to be the Vice President.
Editor's Notes:
Dan has also worked with the LA County Sheriff's Department and the Newport Beach City Police Department.