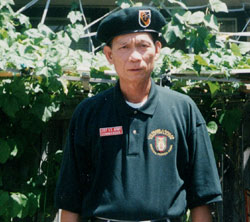 From 1965 to 1972, I lived in the department of the army headquarters in Nha Twang, South Vietnam – Subtree Command APO, 96240.
My title was vice platoon leader, my duty was CIDG "NUNG", security force army camp MC Dermott in Nha Twang, South Vietnam.
From 1972 to March 13, 1973, Ilived in Camp Hollyway Pleiku, South JVietnam and my title was company commander. My duty was CIDG security force army.
On March 13, 1973 it was my last day in camp Hollyway Pleiku, South Vietnam. The reason for this was demobilize.