2019 Awards
School/Presenter(s)
Recipient(s)
Date/Location Presented

USC: Len Fein & Hans Fritz Hunt

Cadet Andrew Crider
12 April 2019
The Reef
Long Beach, CA
UCLA: Kenn Miller
Cadet Steven Zuniga
26 April 2019
Grand Horizon Room, Covel Commons, UCLA
Los Angeles, CA

Claremont McKenna College: Mike Keele & Steve Bric

Cadet Andrew Olivo
(Azusa Pacific University)

Cadet Montanna Macias-Young
(CSU Riverside)

26 April 2019
Pomona College Campus
Claremont, CA

CSU Fullerton: Gary MacNamara

Cadet Darren Meier
2 May 2019
Titan Student Theater
CSU Fullerton Campus
Fullerton, CA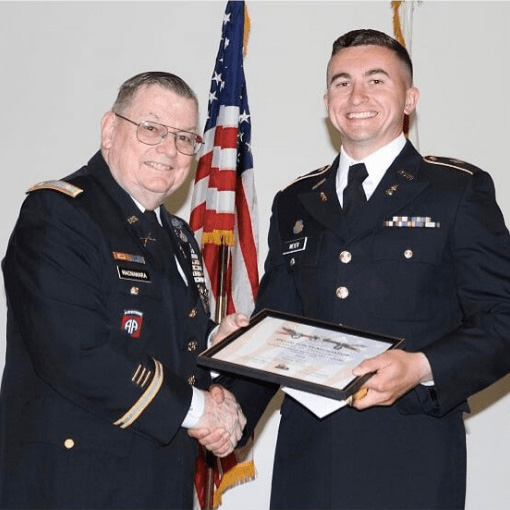 Cadet/2LT Darren Meier (right) with Chapter member Gary MacNamara (left). Cadet Meier, now 2LT Meier, was a four year Army ROTC cadet at California State University Fullerton — an exemplary athlete, not scoring less than a 290 on the Army Physical Fitness Test his junior and senior years. Also a keen scholar, making deans list six semesters straight, he graduated with honors in Criminal Justice. This, coupled with his leadership abilities, contributed to him commissioning as a distinguished military graduate. He is both eager and humbled to serve in the 25th Infantry Division as an Ordnance Officer in the coming months. He is beyond grateful for the recognition given to him from the Special Forces Association, Chapter 78 and hopes to one day bear the very same membership as he navigates his career to completion.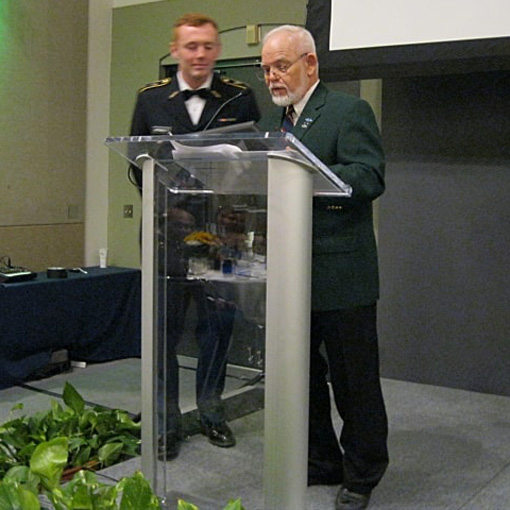 Cadet Dennis Bromber accepted the award for Cadet Steven Zuniga, who could not attend, from presenter, Chapter member Ken Miller.
A special thanks to Chapter member Edmont Barrett for his dedication in the organizing of the ROTC Awards Ceremonies each year. Ed has been putting in countless hours of his own time on the ROTC program for the chapter since 2006. Each year Ed reaches out to the person of contact (POC) at the participating colleges to obtain the information needed to put together the Awards Roster for each college. Ed also seeks out volunteers from the chapter to attend the ceremonies as presenters. A tip of the Beret to Ed.