2018 Awards
School/Presenter(s)
Recipient(s)
Date/Location Presented

USC: Len Fein & Gary MacNamara

Cadet Eric Lee
9 March 2018
Loker Student Union
Carson, CA
UCLA: Kenn Miller
Cadet Darien Reyes
11 April 2018
Strauss Clubhouse, LA Tennis Center at UCLA
Los Angeles, CA

Claremont McKenna College: Mike Keele & Steve Bric

Cadet David J. Cesena

17 April 2018
California Baptist University
Riverside, CA

Claremont/Cal Poly Pomona: Mike Keele & Steve Bric

Cadet San Hong
17 April 2018
California Baptist University
Riverside, CA

CSU Fullerton

:

Gary MacNamara

Cadet Huey Nguyen
4 May 2018
Hallberg Theatre, Clayes Performing Arts Center
CSU Fullerton
Fullerton, CA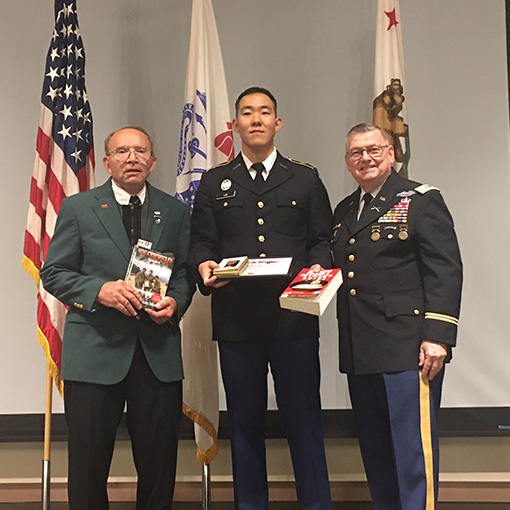 USC Cadet Eric Lee was presented with an autographed copy of the newly released book SOG CHRONICLES, Volume I, authored by current Chapter 78 President John Stryker ("Tilt") Meyer, and former "One-Zero" with MACV-SOG Recon Team Idaho during 1968-69. As was described by USC Alum Len Fein, this book provides a highly detailed accounting of "Operation Tailwind", a top secret 1970 U.S. Army Special Forces mission to distract NVA enemy forces from hindering CIA operations deep in Laos. Additionally, Gary MacNamara (LTC, Retired) presented Eric with a copy of the Army Officer's Guide, after which Cadet Lee formally received his Infantry Branch designation and insignias from USC Professor of Military Science LTC Laura Skinner in a following presentation.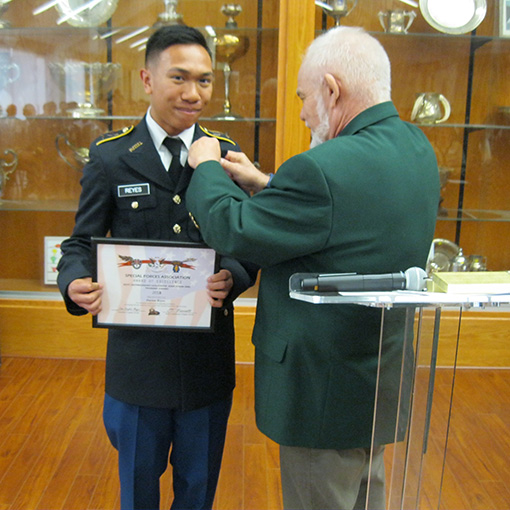 UCLA's Cadet Darien Reyes was the recipient of the SFA Chapter 78 award, presented by Chapter 78 member Kenn Miller. Darien, a graduating senior, to be commissioned an armor officer the following summer, intends to become a Special Forces officer after his time in Armor Branch.
The cadets of the "Bruin Battalion" come primarily from UCLA and Cal State Northridge, with a handful from smaller schools, and, as usual, 2018's graduating cadets were an extremely impressive bunch of physically fit, academically outstanding, and highly motivated young Americans who are eager to serve our nation.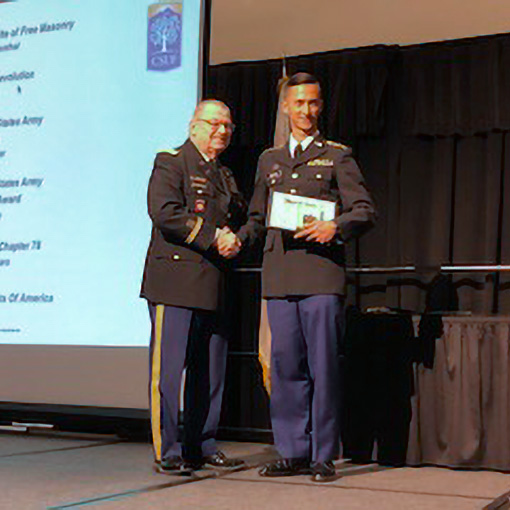 Cal State Fullerton ROTC Cadet Huey Nguyen receiving his award from Gary Macnamara, who represented SFA Chapter 78.
In a note from Tyler Harper, California State University, Fullerton, Communications:
"On behalf of the Titan Family, we thank you for showing to our award ceremony, presenting and awarding Cadet Nguyen of his award. Thank you."