Burying the Dead
with Dishonor

Part II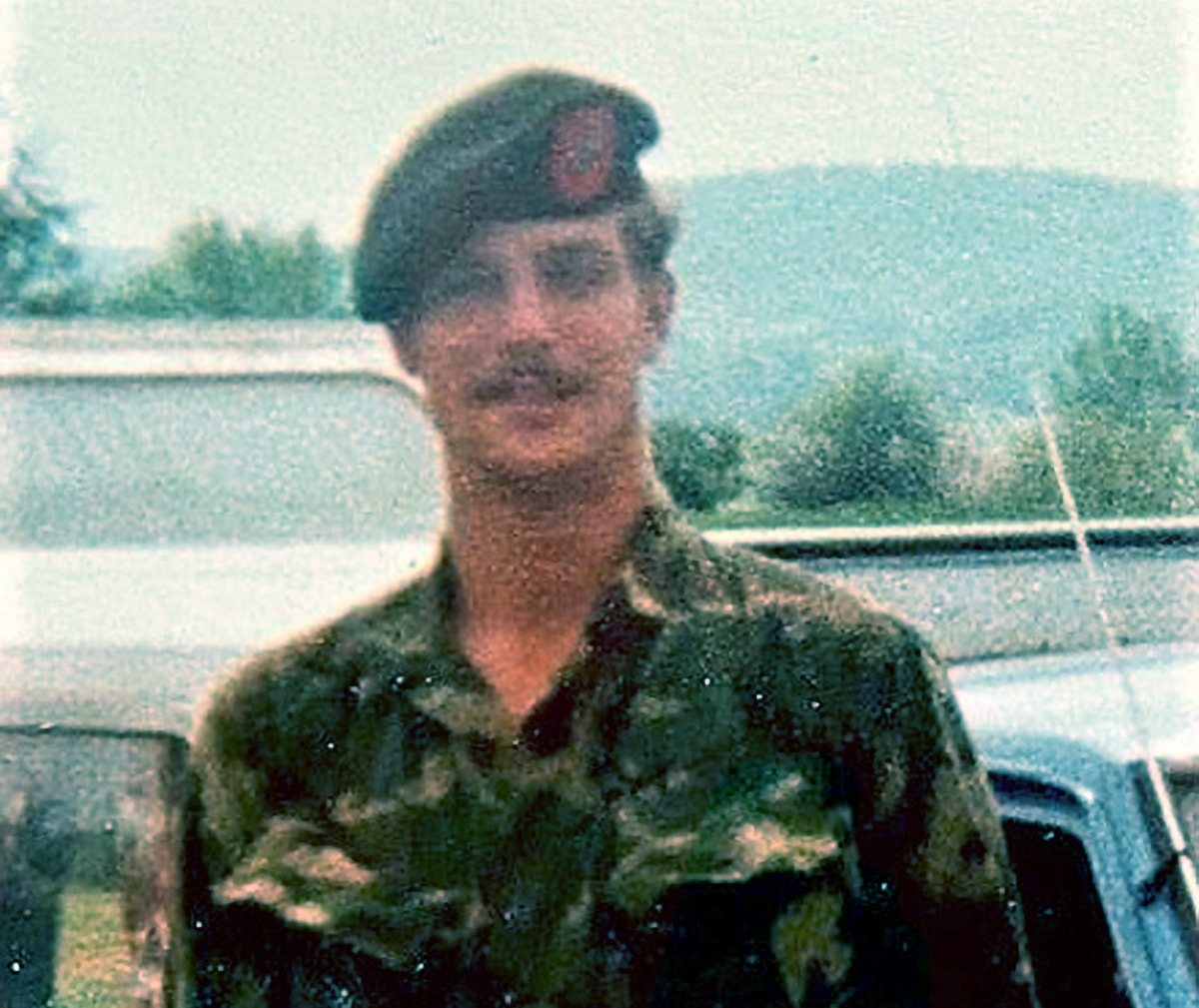 By Greg Walker
The White House
August 5, 1987

Dear Sergeant Hodge:
Nancy and I are thankful that you are in good hands and on the mend. All of us—your family, friends, colleagues in uniform, and Americans everywhere—are praying for your speedy recovery.
When you went to El Salvador to take on this difficult and dangerous assignment, you carried with you the hopes of your fellow citizens. You carried as well the aspirations of the people of Central America for a future of peace and freedom. As Commander in Chief, I want you to know how proud I am of the fidelity and courage with which you did your job.

You must feel especially keenly the deaths of the other [service] members…we are mindful of their sacrifice, and we recognize the grief that is yours at their loss. We will never forget them, and we thank God that we have men like them and like you whose willingness to serve makes all of our liberties possible.

May God bless you and grant you health and strength in the days ahead.

Sincerely,
Ronald Reagan
SSG (ret) Timothy Hodge
United States Army Special Forces

July 21, 2023

"With great respect—reading through this, memories and recollections, really brings home the gravity of the situation I was in. For several years, I never knew anything about the chopper going down and the loss of lives that were in my behalf. When I was told about the chopper going down and everybody dying, I was told the reason for the delay in my knowledge was so that I would not take on the burden of knowledge that they sacrificed their lives for mine. I don't know if it was a fair trade, but I have had 36 years now—36 years and six days. I don't know what to think.

"Please pass my heartfelt gratitude on to everyone who has written narratives of memories and descriptions. People asked me if I ever went and saw any of my old friends from Group…No, they need to know that they are invincible. We all knew we could die. No one, absolutely no one told me I might live."
That others may live
The mission of the U.S. Helicopter Detachment in El Salvador during the war was to provide support to the U.S. Military Group (MilGrp) and U.S. Embassy. Priorities of flights were determined by the U.S. Military Group Operations staff. Missions included day and night extractions of U.S. military advisers from various remote or urban locations and MEDEVAC assistance to U.S. personnel. Pilots were required to be mountain qualified, night vision goggle certified and up-to-date, and deck (naval vessel) qualified.
On July 15, 1987, the Helicopter Detachment standby crew, pilot in command CW2 John D. Raybon, copilot 1LT Gregory Paredes, and crew chief SP4 Douglas Adams, received notification for a MEDEVAC mission from MilGrp Operations. The crew was directed to fly to the Salvadoran training base (CEMFA) at La Union to transport SSG Timothy Hodge, a Special Forces combat adviser, who had been wounded that evening. Chief Raybon was to fly first to the landing zone at the 1st Brigade Headquarters in San Salvador. There he was to pick up two Special Forces medics and two senior U.S. military officers and then to proceed to CEMFA, roughly 75 nautical miles to the east. After departing the Salvadoran air base at Illopango, the crew were given a mission change. They were now to proceed to San Miguel as a Salvadoran MEDEVAC helo and crew were enroute to CEMFA, just 16 minutes from the military hospital at San Miguel. Once there, Chief Raybon was to stand by for further instructions.
Raybon's helo departed Illopango under night vision goggles at 2235 Hours, arriving at the Brigade helipad at 2245H. Picking up the four passengers, Raybon lifted off within minutes and headed toward CEMFA. Within a minute's time, Chief Raybon was redirected to San Miguel. Eight minutes later, at 2255H, MilGrp Operations was advised by Mr. Raybon that they were encountering thunderstorms and were returning to Illopango. At 2256H, Detachment Operations attempted contact with the UH-IH but received no response. Repeated attempts to contact Mr. Raybon failed and the Detachment OIC began calling the tower at Illopango. Also called were U.S. personnel at San Miguel and CEMFA, as well as other locations along the flight path. All attempts to locate the aircraft failed. Detachment Operations then launched additional U.S. helicopter support from Illopango in an effort to locate the missing aircraft.
On July 16, 1987, at 0255H, Detachment Operations was informed that local civilians living near Lake Illopango had discovered the aircraft, confirming it had indeed crashed. At 0305, due to ongoing combat operations elsewhere in the country and an earlier firefight between guerrillas and base security at Illopango, a UH-1 began transporting additional U.S. military advisers, security personnel, and medical personnel to the accident site. One survivor was located and transported down a steep incline to a MEDEVAC aircraft. He was taken to the military hospital in San Salvador and arrived at 0615H. The other U.S. personnel onboard were determined to be deceased and were lifted out of the crash site by helicopter. They would soon afterward be transported to Gorgas Army Hospital's morgue in the Republic of Panama for positive identification and autopsy.
Their deaths would mark the highest number of U.S. military/para-military casualties as a direct result of the war in El Salvador since U.S. military operations began in that country in 1981. All total, in 1987, eight Americans were killed in either direct combat with FMLN guerrilla forces or in aviation crashes flown in support of either extraction or MEDEVAC missions.
Back in the United States, Congress wanted to know what was truly happening in El Salvador.
CEMFA – A modern day Fort Apache
Established in 1984, the military training center at La Union, CEMFA, was a magnet for guerrilla forces in the area. Two Special Forces operational detachments, ODAs 2 and 13, were deployed to La Union from the 3/7th Special Forces Group then stationed in Panama. Almost immediately CEMFA began seeing surveillance activities mounted by the guerrillas, and the first troops in contact (TIC) action between U.S. advisers and their Salvadoran troops resulted in valor awards being authorized (in 1997) for SFC Hubert Jackson and SSG Robert Coughman, both from ODA 13.
In 1985, the base was overrun in a nighttime attack by an estimated force of 300 guerrillas. Over 40 Salvadoran soldiers were killed during the battle. The Special Forces team then stationed at CEMFA and commanded by Captain Danny Eagan managed to rally the troops under their command and repulse the attackers. In 1997, all those "Green Berets" involved in the desperate fight that night were awarded Bronze Stars with Valor devices for their actions under fire.
In the aftermath of their nearly successful attack the FMLN released a statement claiming the primary objective of the assault was to capture or kill the U.S. combat advisers at CEMFA. From that point on guerrilla actions focused on the training base and its surrounding ranges, some upwards of 5 kilometers from the base itself, required the Americans to be on constant alert as well as fully armed.
"I arrived at CEMFA July 5 or 6 July 1987, I believe," recalls Tim Hodge today. "One of the first things we did was familiarize ourselves with the base and the perimeter. I remember making a recommendation for a limiting framework to be set up for the .50 caliber machine guns on the towers. There was great concern of a minimum of 10% of the Salvadorans on the base being insurgents or sleepers. I remember being given the number of 3500 soldiers and personnel on the base at any one given time. It would've been too easy for them to sweep across the inside of the compound with the 50 caliber machine guns positioned as they originally were. The Salvadoran soldiers were armed at all times.
"We alternated nights sleeping and pulling guard duty between the team house and a strong point close by. Occasionally there was the sound of gunfire, and rocket-propelled grenades, or RPG 7s, directed into the base. I never went anywhere unarmed. I would be armed with my 1911-A1 side arm and my CAR-15. At night, during my shift for guard duty at the team house or at the strong point, I would carry a 12 gauge shotgun with 100 rounds in a dump pouch, my CAR-15 with 6, 30-round magazines in ammo pouches, two 180-round bandoliers in a butt pack, and 3 canteen covers. Two of these were filled with water and the third contained five grenades. Hanging on the wall next to my bed was my M-79 grenade launcher with 6 flares in a carrying bag .We anticipated an attack, as we were advised by our Intel people could occur at any time."
Indeed, per the detachment's team sergeant, a Vietnam veteran, individual weapons, in specific the CAR-15s, were always within arm's reach. They were kept ready with a live magazine inserted, no round in the chamber, safety off.
SSG Tim Hodge
Special Forces Communications Sergeant
"On July 15, 1987, I was in the team house, in the medics' room. The medics room and the rest of the team house was in a masonry structure with steel doors. All of this was inside a reconfigured cotton warehouse on CEMFA. It was late in the evening; I have no memory of the clock time. I was in the room with my back to the refrigerator. I was standing and facing the opposite wall where the air conditioner was.
"I remember the sound of the report of a rifle. I remember pain. I remember thinking, 'Where did that come from, and who shot me?' There are long periods of time that are blank. I remember SSG Morgan Gandy, one of the two medics, giving me mouth-to-mouth resuscitation. I remember how sweet the air tasted. I remember a brief period of time looking at the roof of a helicopter. I can remember receiving mouth-to-mouth resuscitation in flight.. I was in and out of consciousness during the flight and only have a vague recollection of the hospital, the nursing staff dressed in white.
"These are the memories that I have until I arrived at a hospital in the United States. I was later told later that I was at Lackland Air Force Base in the ICU. I was there for one year and then transferred to the spinal cord injury ward at a VA hospital in Ohio."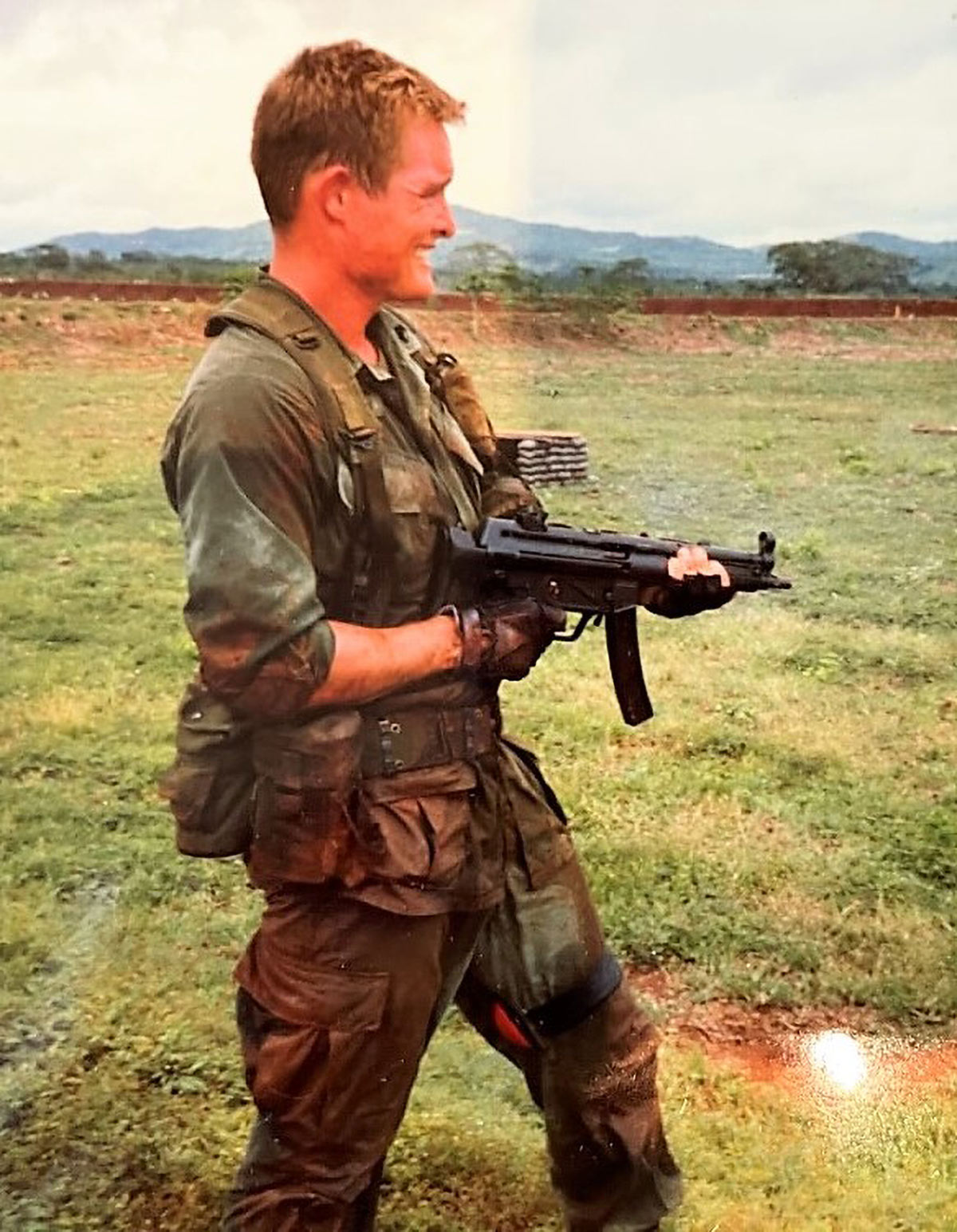 SSG Morgan Gandy
Special Forces Medic – July 15, 1987
"At roughly 2200H, myself and another medic, along with SSG Hodge, were off duty. We were rough housing for about three minutes in our quarters, stopping to help Tim find his watch. He'd taken it off earlier.
"I was standing by my wall locker. SSG Hodge was near our refrigerator and near the center of the room. The other medic on the team came over from his side of the room. He took my CAR-15 off its rest on the wall, chambered a round, and fired in what I considered a swift, violent motion. The bullet struck Tim in the left side of his neck. He fell to the floor. The other medic and I immediately began combat life-saving measures and were able to stabilize Tim. A MEDEVAC was requested to come from San Miguel.
"We had an M-5 medical aid bag positioned on top of the fridge in case of emergency. There was a guard duty cot close by, and my CAR was hanging above it on the wall by its sling, full mag inserted, no round in the chamber. It was SOP to pull a rotating guard from 2200-0600 due to the potential for attack. I remember that SSG Hodge walked into the room with a big smile