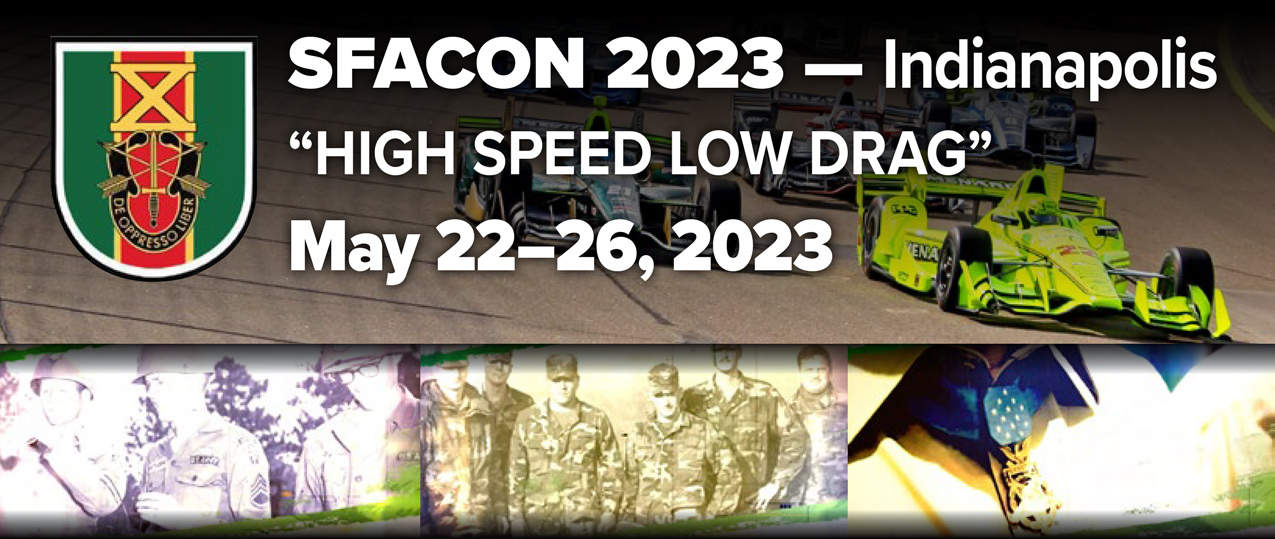 SPECIAL FORCES ASSOCIATION
TEAMHOUSE
SF4LIFE
Tell your story!
Tap for details.
Tell your story at one of 8-10 interview stations for 20-30 minutes will be available to collect everyone's tales. Everyone who comes should participate to the fullest extent possible.
Attend the SF4 Life committee panels and discussions to learn more about:
• How to use the SFA Teamhouse
• How SF4 Life can address veteran transition issues
• How to build a network using the SFA Teamhouse
TOURS & EXCURSIONS
— Something for everyone!
Conner Prarie: Indiana's Living History Museum

Dallara IndyCar Factory

Indianapolis Monuments & Memorials City Tour

Indianapolis Motor Speedway Tour

Indianapolis Museum of Art Galleries

Motorcycle Ride
SPECIAL EVENTS
— more to be announced
Monday Night Comedian
Tap for details.
Monday Night Comedian
From New York to Los Angeles, and Cancun to Hong Kong, Gayle Becwar's "Magic and Humor" entertains and intrigues people of all ages and walks of life. Whether doing "Comedy Stage Magic" at a large event, or "Close-up or Strolling Magic…
Gayle Becwar's high energy, quick wit, excellent memory, fun non-threatening interaction, engaging personality, "clean material," likable style, and his willingness to share the punchlines, make any event special.
Video Interview for Archive
Tap for details.
Video Interview for Archive
Capture the memories and wisdom of the Special Forces community. Connect old teammates, share for future generations of Green Berets, and share stories with the American public to strengthen ties.
There will be small recording setups for SFA members to share some of their stories to be archived for the future historical records of the Association.
Carb Day/Gold Star Memorial Picnic
Tap for details.
Carb Day/Gold Star Memorial Picnic
Friday, May 26 CARB DAY – Gold Star Memorial Picnic (INCLUDES TRANSPORTATION)
At the Indy 500 Speedway – per person General Admission ticket, access to the group hospitality chalet, lunch buffet, entertainment and cash bar.
A great chance for families to get together at the track with great food, fun, and engines!
Indy 500 Parade
Saturday, May 27 at 11:45 am • Downtown Indianapolis— Tap for details.
Indy 500 Parade
More than 200,000 people will line the streets of downtown Indianapolis to experience the larger-than-life floats, giant helium balloons, celebrities and dignitaries, award-winning bands, and all 33 drivers competing in the Indy 500.
The world famous The AES 500 Festival Parade, the Indy 500 annual parade, is one of the original 500 Festival events. One of the nation's largest, most-respected parades, it consistently earns national acclaim alongside the Pasadena Tournament of Roses Parade and the Macy's Thanksgiving Day Parade. The Parade will be telecast to the Indianapolis market on WTHR, Channel 13, and nationally on Peacock.
Wednesday Night Auction
Tap for details.