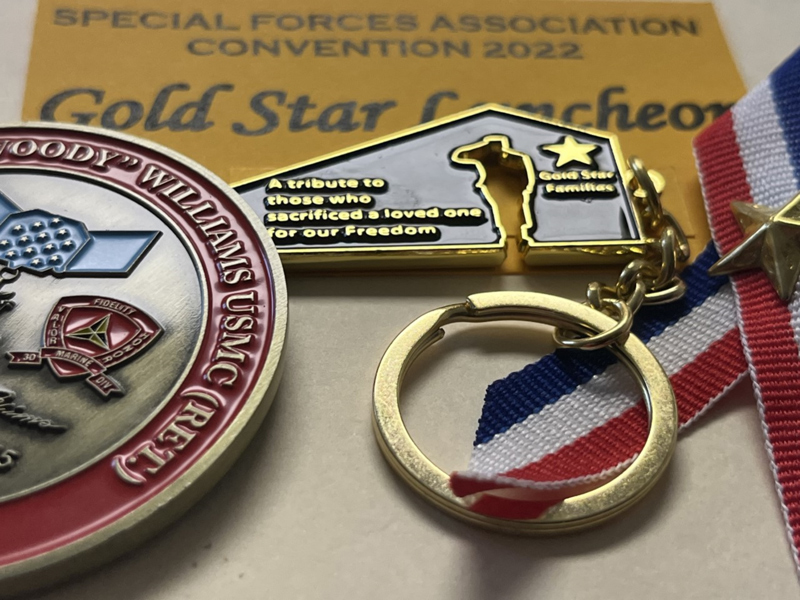 Remembering Our Sacrifices
By Alex Quade
War Reporter & Honorary SFA Natl. Lifetime Member
(Author's disclosure: this reporter gave MOH Gold Star Memorial pins and keychains, given to her by her friend, WW2 MOH recipient, Chaplain Woody Williams — RIP — to each of the Gold Star Family Members she had the honor of spending time with at SFACON 2022.)
The professionally delivered keynote address hid a secret. Few knew that speaker Norma Donlon, and her husband SF MOH recipient COL (ret) Roger Donlon, lost their beloved son just 3-days prior. Justin Donlon had served in the Kansas Army National Guard.
Ms. Norma — a Soldier's widow, Soldier's wife, and Soldier's mother — spoke at SFACON 2022's Gold Star luncheon.
"My first husband, 1LT John W. Irving, Jr. is one of the names on the (Vietnam Memorial) wall. He was a U.S. Army Ranger KIA in an operation airlifting Vietnamese Rangers to the front. We had been married just a year when he volunteered for Shotgun duty on board a Huey helicopter. He was killed one week before he was to come home. At age 22, I became a Gold Star Wife'," Ms. Norma began.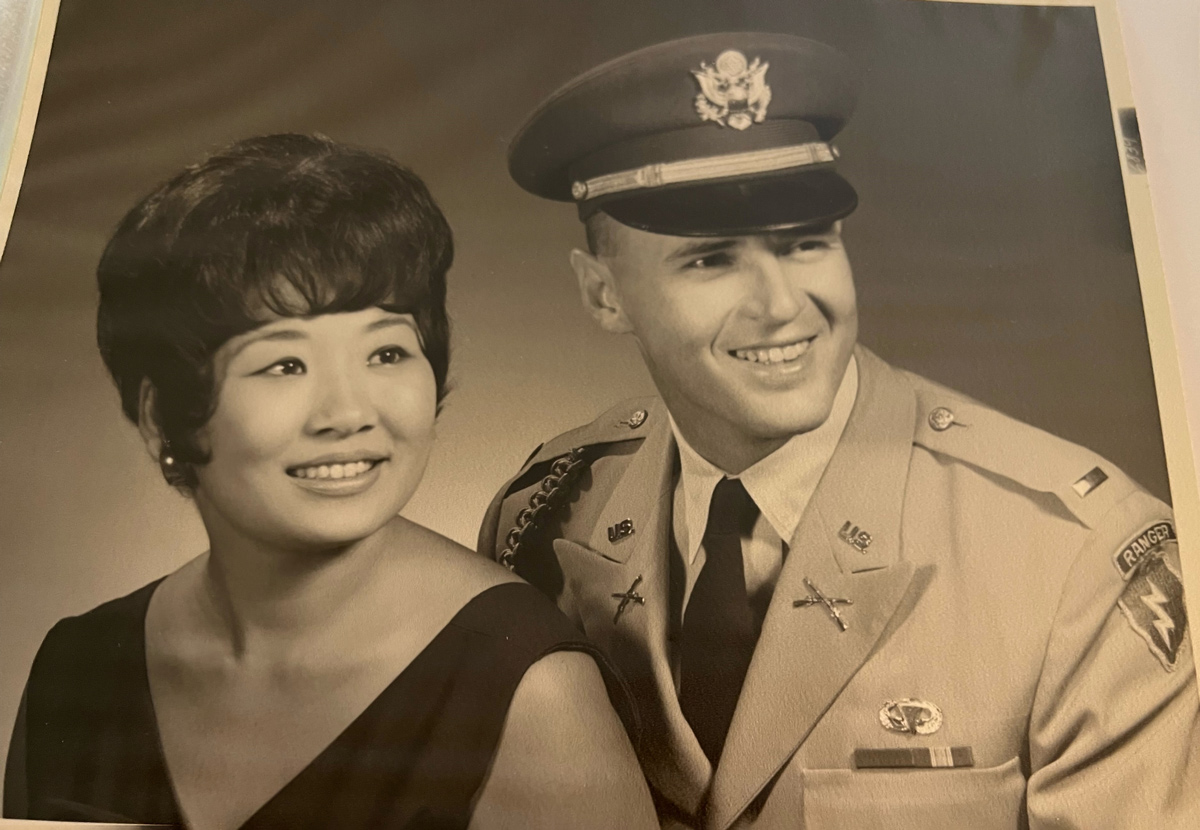 Then, she shared stories with the Gold Star Families and VIPs.
"A father came up to me asking, 'Is your first husband buried at ANC?' 'No,' I answered. 'Being so young my heart wanted to spend the rest of my life at his grave and be able to visit every day.' So, I had him buried near where I lived and worked, each day I took my lunch to the cemetery.' 'Yes,' he said, 'I understand that, my son has been gone for six years and I have coffee with him every morning'," Ms. Norma shared.
She spoke of a mother, whose son was KIA in Iraq. His German wife moved back to Germany with their 2-year-old son. The double loss of her son and grandson was unbearable.
"I suggested she might want to register with Ancestry.com and write her son's story, in case her grandson reached out to her someday. When her grandson turned 17, he sent an email from Germany and they are now connected a world apart," Ms. Norma relayed.
The question Gold Star Families ask her the most is —"How do you get over it?"
Her answer is always the same —"You never get over it but you can get through it. Each person, each family does so in their own good time. It took me three-and-a-half years, but I did finally move on."
Ms. Norma's speech resonated with the Gold Star Families.
It resonated with… Ms. Karen Newman — now the wife of Green Beret SFC (ret) Cliff Newman (DMOR, former Executive Director SFA and Special Ops Association).
"Her brother Dale (SSG Dale Dehnke, 5SFG) was KIA on a recon mission at CCN on 18 May 1971, his 23rd birthday. I knew him there, but he was killed after I left (Da Krong Valley, Thua Thin Province, Vietnam). Karen and I met at a SOAR over 20-years ago. Her family never knew the circumstances of his death until then," Cliff told me.
It resonated with… Ms. Betty Stewart — now the wife of Green Beret LTC (ret) Lee Stewart. Her first husband 1LT John Penman (B-Co, 2nd BN, 35th IN, 4th ID), was KIA MAR 1970, in Binh Dinh Province, Vietnam.