Paying For It With Our Sanity
By Alex Quade, War Reporter, Honorary SFA National Lifetime Member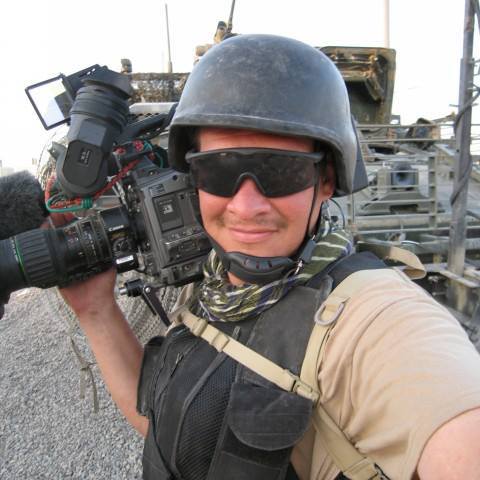 Rare photo of Greg Danilenko smiling. Iraq, June 2007 (Courtesy Alex Quade)
"After so many years and so many wars, the dead and I have come to a certain understanding. If our paths should ever cross, they were to lie still, and I would, in return, give them as much dignity in their tragedy with my pictures as my skills permitted. There are things I wish I were not good at. This is one of them. I feel no joy or pride in that. It is a service that I provide as a member of mankind, paying for it with my sanity.
The world is not always pretty. Some choose to ignore it in fear of seeing the truth and confronting it. And there are those who accept such a cruel reality and do the best they can, if not to change it, then to at least record it for the chronicles of time, for future generations, in the hope that those who will come after us, will look at what we did to one another, and say — 'We will not repeat the sins of our Fathers. We will be different.' It is only a hope. But without faith in humanity and hope for a better world, what else is there to live for?"
THAT… was the letter my late cameraman sent me after our last combat mission together – that "Chinook shootdown op".
Greg Danilenko passed away suddenly, a few years ago. He was my CNN teammate, before I became a one-man-band to continue covering Special Forces.
For me, Greg's shooting was visual poetry.
I'd asked to work with him, specifically (after refusing to work with my former cameraman, whom I could no longer trust – you cannot operate in hostile environments with people who don't have your back – but that's another story).
Greg was difficult – but so am I.
The first time we worked together, we "clicked" professionally. His footage was a joy to edit. Not a frame he shot was wasted energy.
He told me, he came out of "self-imposed war zone retirement", just to work with me — because I was known as "A Photographer's Producer" – who would make his pictures sing. I didn't figure out why he'd imposed this hiatus, until later.
Greg said he was up for the mission. In hindsight, I wonder if he knew it would be his "last hurrah." I knew I could count on him to get great "bang-bang", because he'd covered the Chechen conflict — which had bothered him. I don't know if he ever shared that with anyone other than me — he would cry about "All the dead boys" he'd shot footage of long ago, when he drank vodka.
I thought — because he was as "hard core" as I was, with work and war zones under our belts — that I wouldn't need to worry about him. He said he could handle it — but I've always wondered if I pushed him too far — with that long, last mission with the troops in Afghanistan and Iraq.
Greg was a serious Russian and rarely showed emotion — so the relief on his face when I landed after an F-16 ride-along doing aerobatic maneuvers — was a big surprise.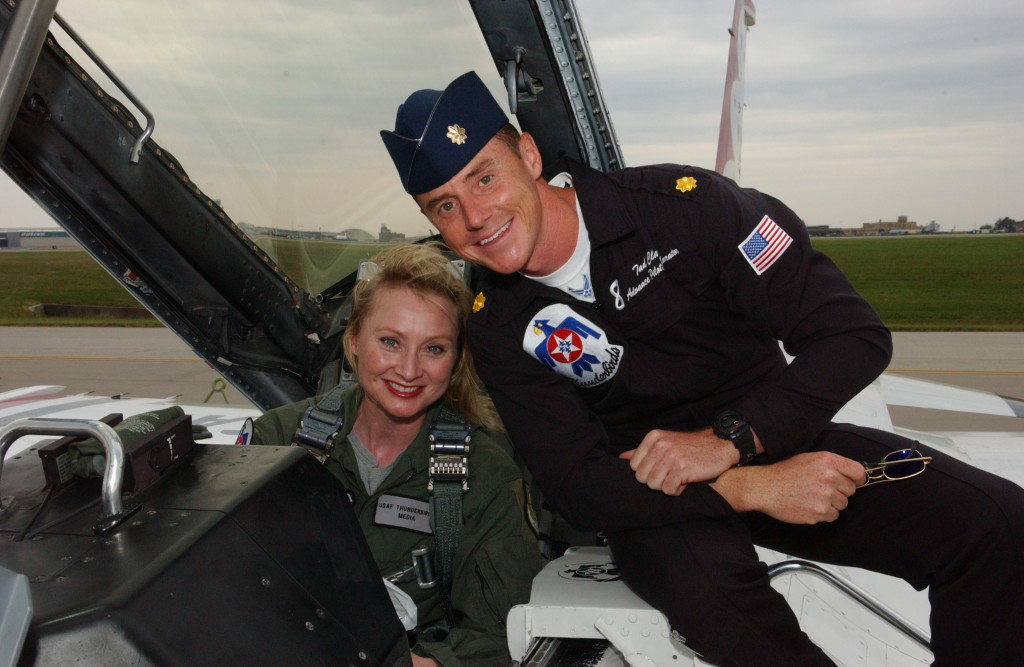 Alex Quade finishes F16 flight — pulled 9.3 Gs! (Photographer, Greg Danilenko, courtesy Alex Quade)
"I thought you were going to die," he said. I was grinning ear-to-ear; he was horrified.
He glared at me — after I dangled from a helicopter with the PJs, then he shot amazing, "you-are-there" footage as we bounded with them in the dark. Even in the action, he "edited in the camera", finding angles and details.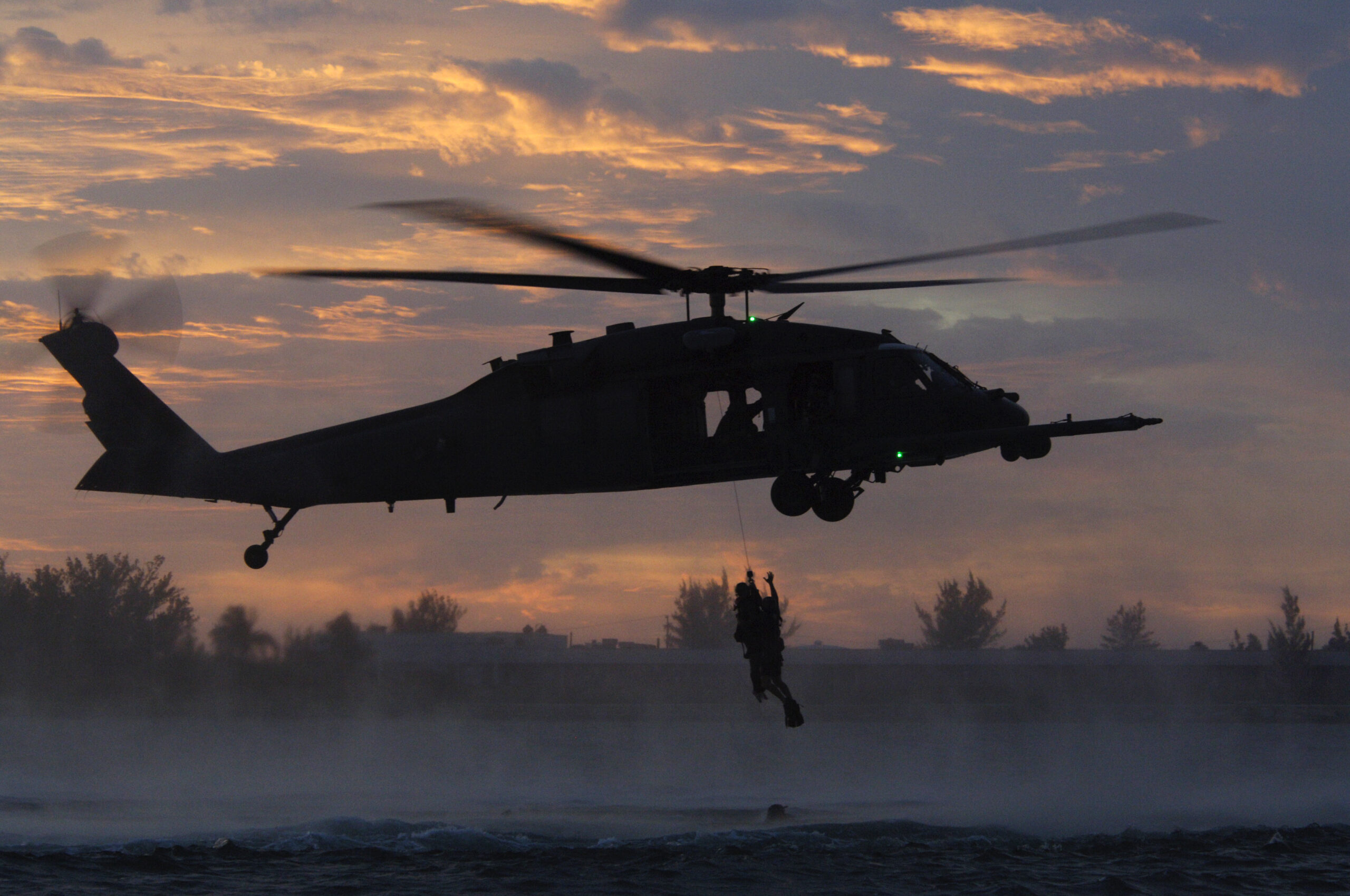 Alex Quade finishes F16 flight — pulled 9.3 Gs! (Photographer, Greg Danilenko, courtesy Alex Quade)
Greg had an "eye" — and a signature, artistic shot — always of a sunset or the sun behind some piece hardware. That's where he found beauty.
We "GOT" each other — though he was not enamored with my plans to fly AF cargo hip-hop (instead of commercial business class with drinks). I figured, if it's good enough for the troops, it's good enough for we who cover the troops.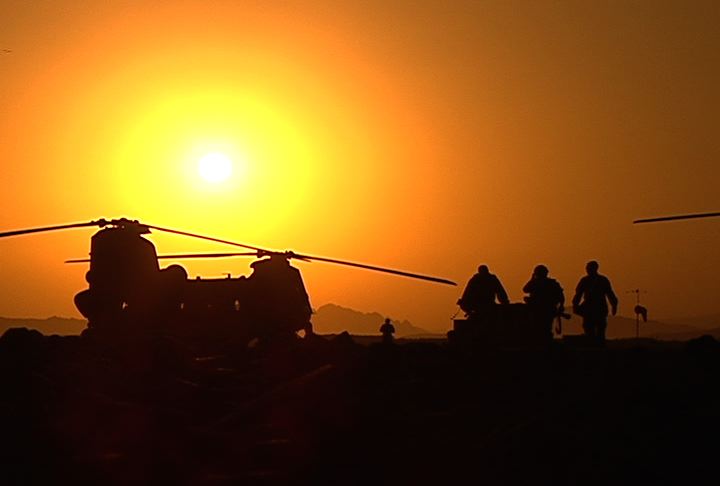 Waiting for sunset to launch fatal air assault, KAF, May 30, 2007. CH-47 'Flipper' unit on tarmac. (Photographer Greg Danilenko, courtesy Alex Quade)