Pat Sajak —
A Belated Merry Christmas from Richard M. Nixon!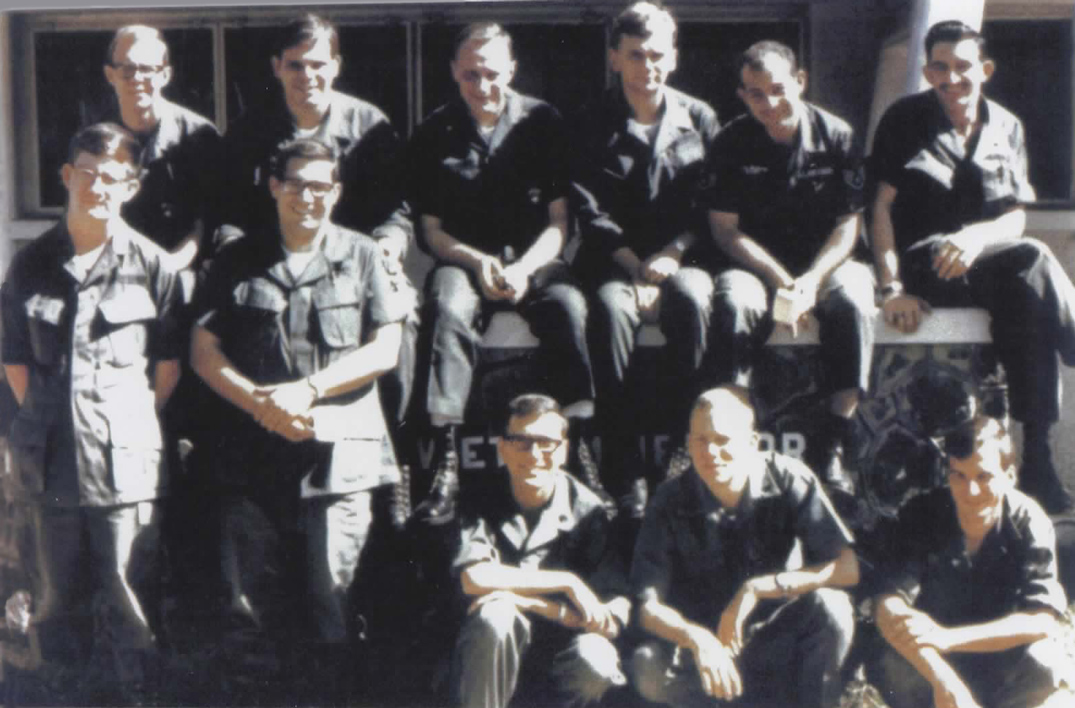 By Marc Phillip Yablonka
From the forthcoming book Hot Mics and TV Lights: The True Story of the American Forces Vietnam Network by Marc Phillip Yablonka with Rick Fredericksen.
I first spoke with Pat Sajak in the spring of 2004, having had the good fortune to interview him for an article I was then writing for American Veteran magazine, the quarterly publication of the AMVETS organization, on the history of the Armed Forces Network. Around that time, there was a contestant on the ABC-TV game show Wheel of Fortune, for which Pat was and still is the MC, who had won a lot of money. Pat, being happy for him, responded in kind with a hug. Not long after that, the contestant sued Pat for bodily injury!
On the day of our appointed interview, the phone rings and it's Pat on the other end of the line. He says, "Let's see, Marc. What are we supposed to be talking about?" I answered, "Don't worry Pat! I'm not gonna sue you!" Pat cracked up and what was supposed to be 15 minutes that Pat's management had allotted out of his valuable time turned into at least 45 unforgettable minutes for me, that resulted in the following story for Vietnam magazine.
When ABC-TV's Wheel of Fortune game show host Pat Sajak joined the U.S. Army back in 1968, he was looking for "that golden experience in broadcasting," having previously gotten his first break in radio on WLS in his native Chicago, where he was asked to be a guest teen disc jockey on the Dick Biondi show. It turned out, however, that the Army had other plans for the Windy City deejay.
Astute as the Army might have been with a broadcaster, it did what Sajak called the "obvious": it trained him to be a clerk typist, shipped him off to Vietnam and made him a finance clerk on the base at Long Binh, about 30 miles outside Saigon.
"And I was a good one too," Sajak insisted. "I took the job seriously. When I got there, the papers were an absolute mess and I straightened them out. Soldiers would come back just to thank me."
Sajak was such a good clerk typist that his request to transfer to AFVN, where there was an opening for a morning man, was turned down four times.
He finally wrote a letter to his Congressman, Roman Pucinski (D-Ill.), who coincidentally owned WEDC, the first radio station to hire Sajak (as a newsman). WEDC was a 250-watt multi-lingual station on which Pucinski's mother had a Polish language show. The Congressman wrote a letter in Sajak's behalf.
"It's amazing the power that politicians have," Sajak said.
Sajak's own paperwork came through this time and soon he was one in a line of AFVN morning men playing Top 40 tunes, leaning into the mic and speaking those three memorable words most often affiliated with Robin Williams: "Goood morning, Vietnam!"
When asked about that, Sajak said that waking the country up (on the Dawnbuster Show) with those words was very much like what happened with perky radio jingles in those days. Like the jingles, Good Morning, Vietnam just went with the morning drive show. In fact, Sajak recalled a time in the beginning of his career when, because stations were always trying to cut financial corners, morning jocks had to take the name of the deejay that had preceded them in that time slot since those names were already on the pre-recorded jingles.
Sajak remained in Vietnam until New Year's Eve 1970, having extended his tour another six months because, he is a little reticent to say, he enjoyed Vietnam. "I mean who wouldn't? There I was living in a hotel, eating in restaurants every night."
He is quick to attempt to put his Vietnam service into personal perspective though. He notes that others' lives hung far more in the balance day after day than his ever did.
But serving in Saigon was not always a cake walk.
Sajak recalled how, owing to the infamous 1968 Tet Offensive, which brought the war into the streets of Saigon, indeed to the U.S. Embassy itself one year later, during Tet `69, all rear echelon personnel were ordered to wear a sidearm and practice the use of it at the firing range.
When Sajak went to the range, he found his weapon wouldn't discharge because the firing pin was broken. Unaccustomed to carrying a gun ("I was not adept at them. Prior to that, I had never carried a weapon in Vietnam"). He was ordered to replace his firing pin. He never did. "I would have been more dangerous to my roommate than any Viet Cong walking the streets of Saigon," he recalled with a laugh.
It is fair to say that the threat of danger was always there to one degree or another for everyone in Vietnam. During the Tet Offensive in 1968, AFVN's entire network was put under alert. The Army Headquarters Area Command advised the Saigon station it might be targeted. Extra security was posted and broadcasters were advised to have their weapons accessible. In fact, an alert had gone out to all AFVN detachments in the country, warning that "our facilities may be a target of enemy attack," and should be prepared to go off the air.