In Memoriam:
John "Jack" N. Tobin
December 29, 1945 – November 16, 2021
Special Forces (DMOR)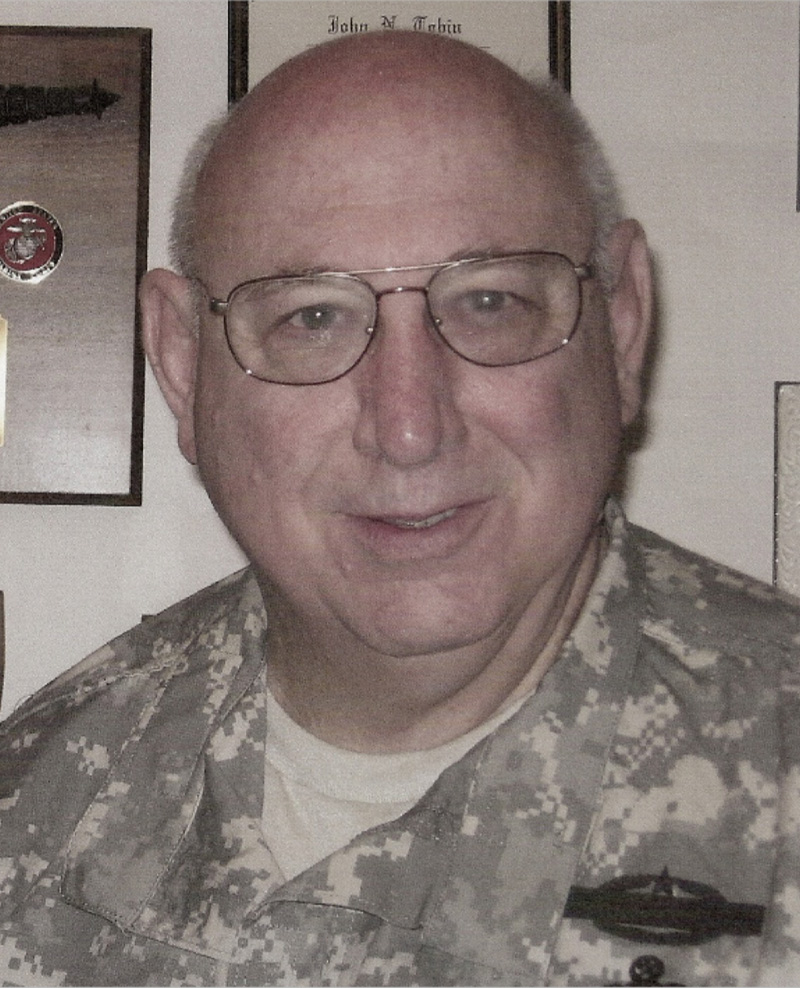 COL John N. "Jack" Tobin was born in 1945 in Norristown, PA. He joined the military in 1967 after graduation from Atlantic Christian College, Wilson, NC. Volunteering for Special Forces, he was first assigned to B/7th Special Forces Group (ABN) (SFG(A)), assigned to A-222 as Communications Supervisor. Volunteering for duty in the Republic of Vietnam with 5th SFG(A), he was assigned to A503 and A-504, B-55, 5th Mobile Strike Force.
Tobin reentered military service in August 1975, after a break in ser-vice of five years, assigned to C/3/11th SFG(A), (US Army Reserves) as Communications Supervisor on A-332. He would subsequently serve as XO, A-333 and Detachment Commander for A-335, and A-331. During his last assignment as the Company Operations and Training Officer, he participated in foreign exchange programs. He also developed and implemented a AIRCREW Survival, Escape and Evasion training program for the U.S. 21st Air Force which resulted in the USAF Commendation Medal.
Moving to North Carolina, he transferred to the 35th Engr Bde (NG) where he had the responsibility of assisting in operations and training preparation for National Training Center rotations. Recalled to active duty during OPERATION DESERT STORM/DESERT SHIELD, he was assigned to the FORSCOM Intelligence Center. He would later serve as the J2, J5 and Force Protection Officer for JTF-105 OPERATION FUERTES CAMlNOS, in Las Delicias and Macora, Honduras.
Remaining on active duty, in 1996, Tobin returned to a Special Forces billet with US Atlantic Command (USACOM) as Project Officer for their newly instituted anti-terrorism/force protection section. His over-all concept, submitted to the Joint Chiefs of Staff as the USACOM submittal for the revision of the DoD 2000.12 Antiterrorism/Force Protection Handbook, was complete enough to be fully integrated into the final documents as well as the JP 3-07 series of publications.
Responsible for developing the follow on methodology that would become DOD's Antiterrorist Vulnerability Assessment Handbook, he then was detailed to teach and execute assessments, traveling throughout the U.S. and OCONUS.
In his next assignment as Director of Instruction – Joint Program for Onward Movement, Ft Benning, Georgia, he instructed all mili-tary and civilian personnel on deployment orders for OPERATION JOINT GUARD/ENDEAVOR, Bosnia in AT/FP.
Released from Active duty, but continuing to work with the military, using his skills in program and doctrine development, he worked in various training, SOF and AT/FP assignments.
COL Tobin returned to active duty as Chief of Plans, Directorate of Strategic Plans and Policy (CJ5) in June 2004, assigned to Combined Forces Command-Afghanistan. In March of 2005, he assumed the position as Chief of the National Military Liaison Team – CFC- A. This position was held concurrently with his CJ5 position held since 2004. Attached to US Embassy in Kabul, Afghanistan, his team assisted the Afghan Reconstruction Group advising the vari-ous ministries of the Afghanistan Government on internal defense and development strategies.
After retirement in January 2006, he was selected by Benchmark International as their Senior Military Analyst – Special Forces. Providing the SF expertise required in the nuclear powered, ballis-tic missile submarine project, he also wrote the Handbook which, as was the case before with USACOM AT/FP Handbook, became the published Operational Manual with its guidance incorporated in all appropriate Joint Pubs supportive of the program. Upon completion of the contract, he accepted position first with Joint Special Operations Command (JSOC) and later the Army Special Operations Concept Integration Center (ARSOIC).
Retiring in 2011 to Mint Hill, North Carolina, he is also active in the Special Forces Association, serving as the president Chapter VI 1996-1997, Special Operations Association, and the Association of Former Intelligence Officers
Military Awards include: Legion of Merit Bronze Star w/OLC; Defense Meritorious Service Medal Meritorious Service Medal w/OLC Joint Service Commendation Medal; Army Commendation Medal w/device & OLC; Air Force Commendation Medal; Combat Infantry Badge w/Star; Special Forces Tab; Master Parachutist Badge and Vietnamese Parachutist Badge.
COL Tobin is survived by his wife, Betsy, and his daughter, Katy, and son, Michael.
A COL Jack Tobin Scholarship fund has been established. ALL funds raised will go to scholarships administered by Chapter 6 with oversight from Jack's wife and their children. Chapter 6 officers will work with Jack's wife and their children to select and award scholar-ships annually. Applications, criteria, and the process are in devel-opment and will be published in the first quarter of 2022.
To make a donation or to learn more visit GoFundMe.com and search for "COL Jack Tobin Scholarship Fund."