"If it's not written,


it didn't happen"
Lonny Holmes, Former SF Medic,

Commits to Printing SF History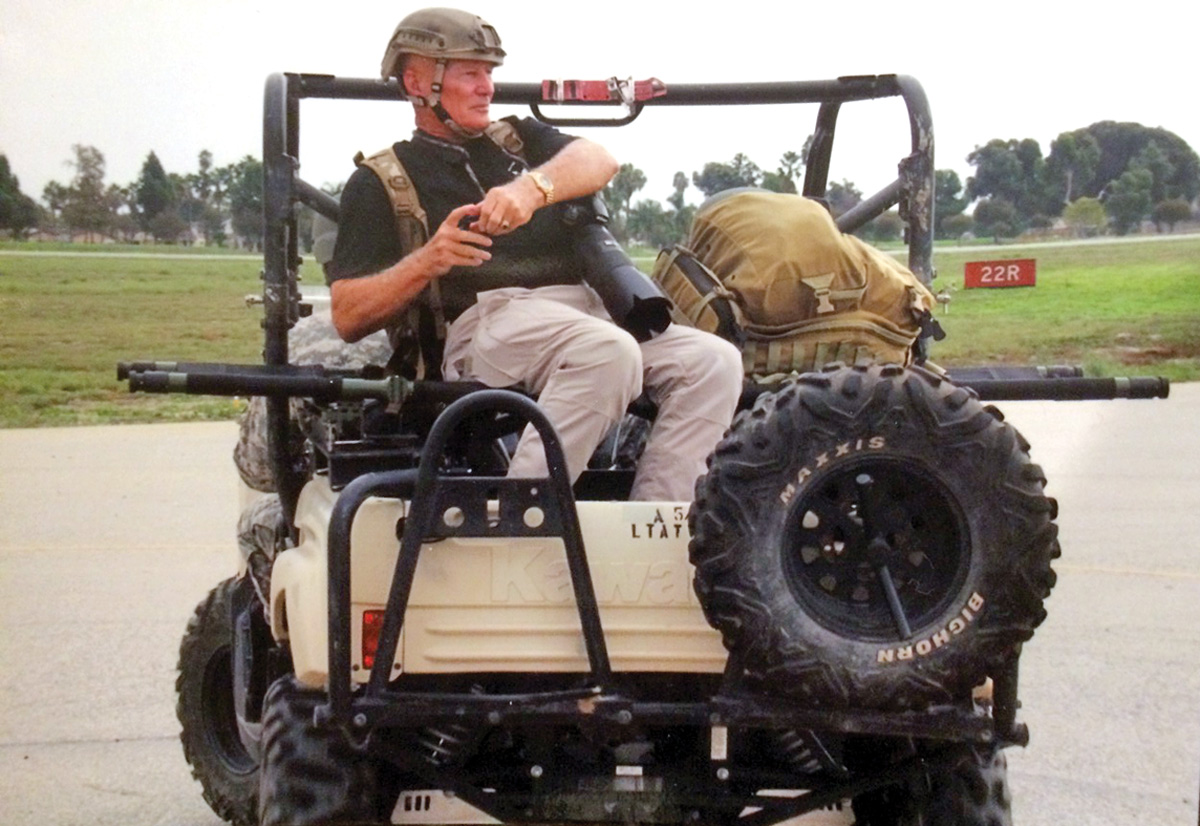 By Debra Holm
If you enjoy reading the Sentinel, with its articles featuring various aspects of Army Special Forces history and topics of interest to the community, you really have one person to thank for that pleasure: Lonny Holmes.
The Sentinel was originally edited, designed, and published by Chapter member John Joyce from October 2010 to August 2011. Lonny Holmes, who at the time was Chapter President, made contributions to each issue. John's business obligations forced him to stop his work on the Sentinel.
Lonny, who was still the Chapter president at the time, made the decision to become the Sentinel's editor in February 2012. Having previously held positions as editor of the newsletter for the Association of Physician's Assistants in Cardiovascular Surgery and on the editorial board of a few peer-reviewed journals, he continued with confidence. His confidence was well-founded because he had won accolades and recognition for his efforts in that field.
About Lonny Holmes
Louis (Lonny) Holmes was born in Los Angeles, California. Growing up in Southern California, he surfed the waves of the South Bay in the 1950s and 1960s. On weekends and summers, he spent time at his father's ranch in the Anza Borrego Desert, where he developed a lifelong love of the natural world while observing the wide variety of plants and wildlife of the area.
After two years of college, Lonny enlisted in the United States Army. He completed the Q-course in 1964, becoming qualified as a SF medic 91B/18D, and continuing to maintain the MOS of 05B/18E.
Lonny was initially assigned to Company A, ODA 5, 3rd Special Forces Group as a junior medic. He was headed to Nigeria in 1966 when he received orders for reassignment to D Company, 1st Special Forces Group, Airborne, ODA 432, which deployed to Thailand in October 1966. While there, he began training at the SFOB. The mission was to build a base camp and begin counterinsurgency training of the Royal Thai Army Infantry, and one of Lonny's jobs as senior medic was to train the RTA medics. He also held daily sick call and patrolled in the mountainous rain forest with the training companies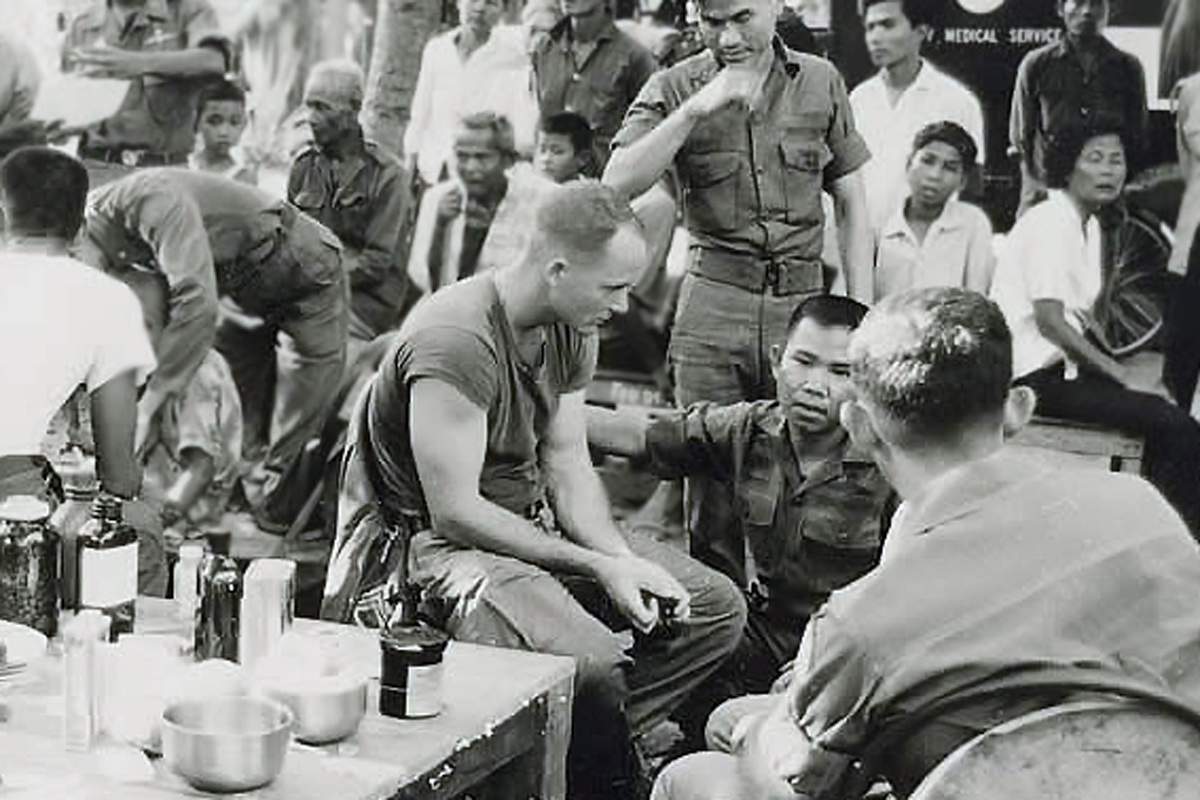 In early 1967, the team redeployed to the SFOB in Lopburi to begin training the Queen's Cobras Battalions, destined for action in South Vietnam. He also helped staff the HQ dispensary awaiting assignment to Jumpmaster school and the 8-week Special Forces Professional Course (recon), which he completed in the summer.
Later that year, he was assigned to ODA 4624 in North Central Thailand to start a counterinsurgency course for the Royal Thai Police.
After nearly two years of Thai mission training and deployment, he was reassigned to ODA 251, Company B, 5th Special Forces Group. Their SF A-Camp, Plei Djereng, was located in II Corps, due west of Pleiku, adjacent to the Laotian border. There he served as medical supervisor of the team, which included providing medical care to all members of the CIDG (5 companies), their families, and local villagers. In camp defense, he manned a .50 cal machine gun, and did combat patrols in our TAOR with the CIDG troops.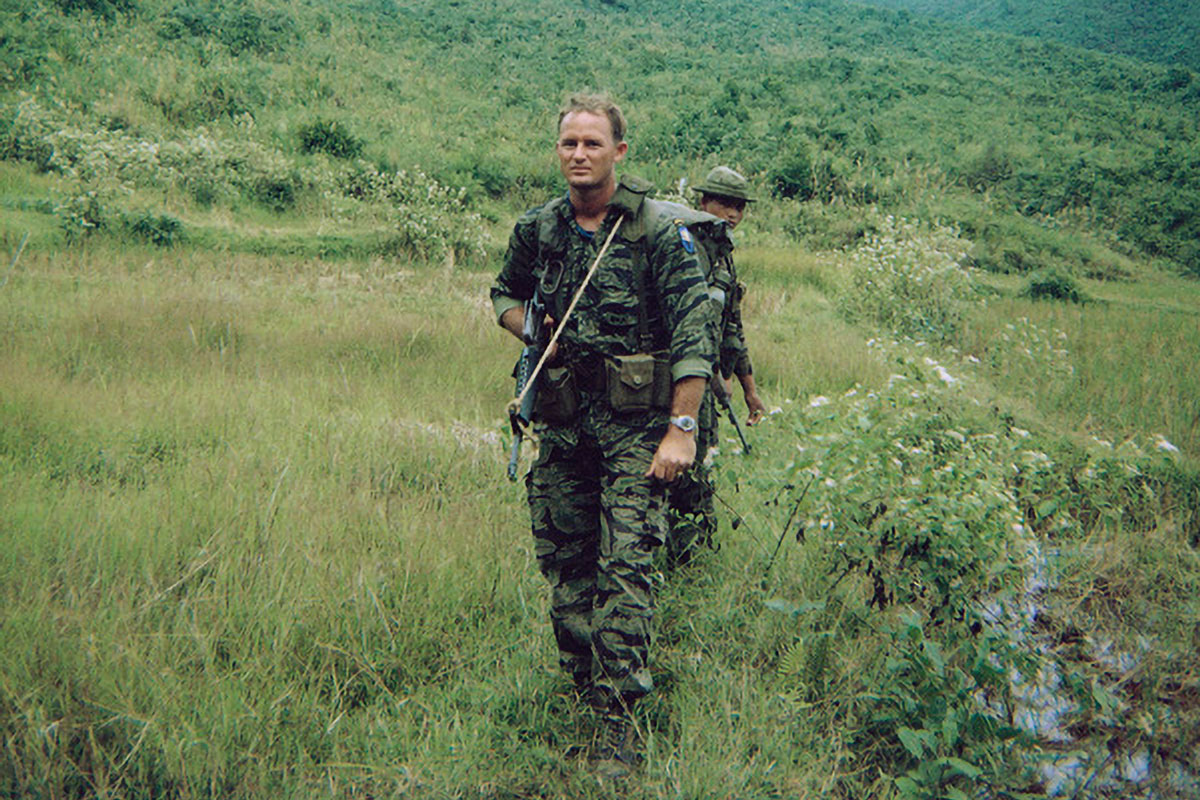 In late 1968, he was assigned to II Corps MIKE Force in Kontum as combat operation platoon leader and senior battalion medic. He ran combat missions with companies in Kontum, Pleiku and Bon Son provinces. At the end of this tour, he received the coveted Combat Infantry Badge.
Returning to Thailand, he was assigned to several ODAs working with the Royal Thai Border Police. One of the ODAs established a five-week advanced medical training school at the Royal Thai Police General Hospital. While on this assignment, he worked with and became friends with SF Medic Gary Rose, later serving as the best man at his wedding. When Gary Rose received the Medal of Honor in 2017, Lonny, along with John Stryker Meyer, attended the ceremony at the White House.