He Wore the Medal
ALL THE WAY HOME
By Alex Quade
War Reporter & Honorary SFA Natl. Lifetime Member
The look on Richard Simonian's face — SF Original, Chapter 78 Treasurer, former Chapter 78 Chaplain, and newly minted St.Philip Neri Award recipient — was like a kid's face in a candy shop. This reporter chased him down — briefly blocking him as he was rushed away to his private jet after the SFACON 2022 Banquet — and finagled a photo to capture the moment. (The usual looks of annoyance at this reporter by some, was well worth it.) Richard Simonian beamed as though on a sugar high.
He had, after all, delivered an impromptu acceptance speech in which he not only thanked SFACON 2022 organizers, his Chapter 78 colleagues, and the Brotherhood — but also managed to expound upon — The Value of SF Training on His Career; Unconventional Warfare in Business Practice; and Unconventional Warfare in Business Isn't For Everyone.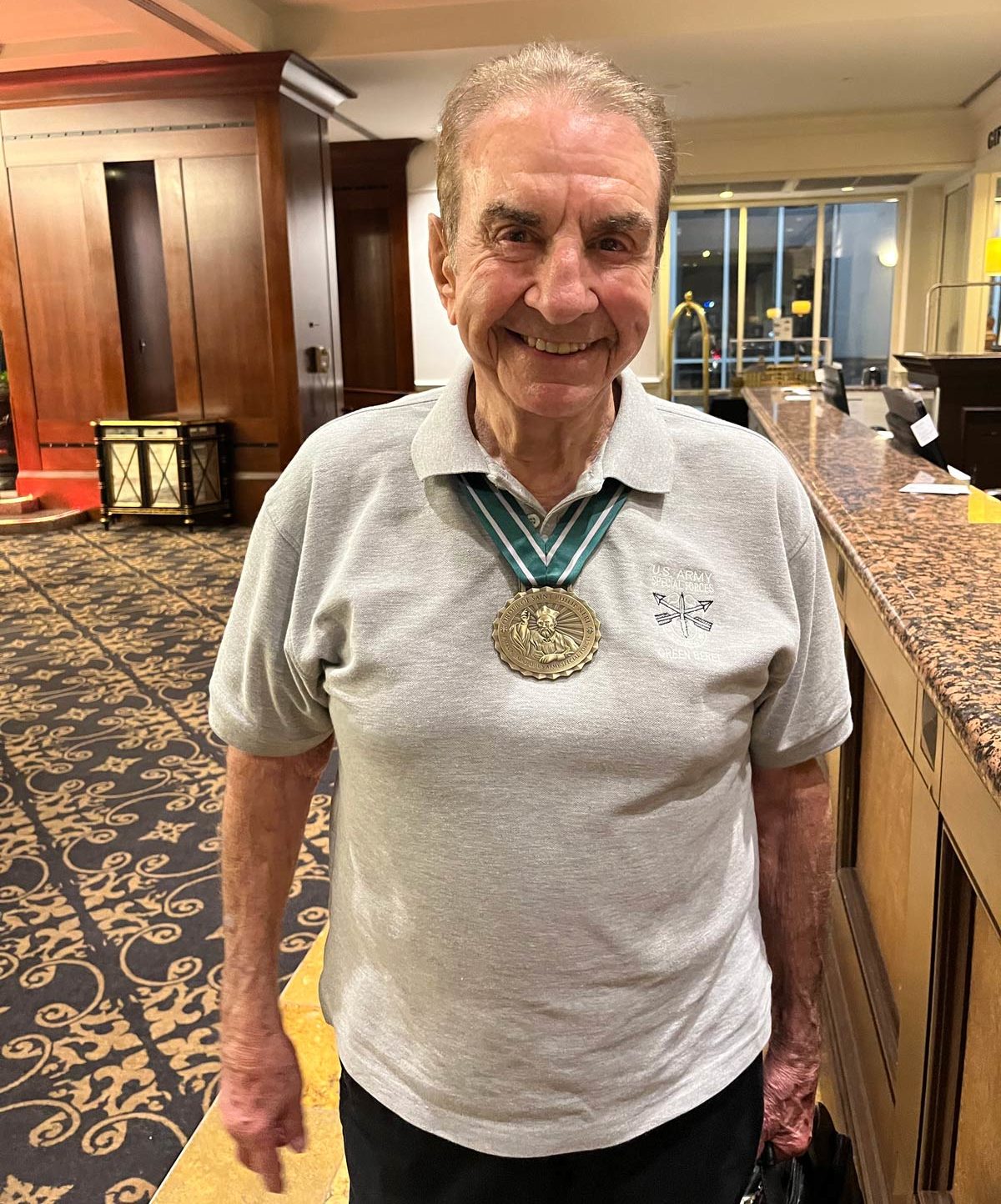 "I wore the medal all the way home," he would tell me during our follow-up interview later.
Meanwhile, I reached out to two Green Berets who know him well, former Chapter 78 President John "Tilt" Meyer, and current Chapter 78 President Greg Horton — who, along with SFA National President Kevin Harry — delivered a terrific introduction.
"During the SFA banquet when Richard received his award, they failed to mention how he has helped fellow Green Berets over the last few decades, in addition to helping the SFA," John Meyer said.
"Hey, I wasn't supposed to do the intro because I thought Tilt was going to do it. I didn't have any prepared notes and just shot from the hip," Greg Horton said.
"Richard Simonian has been an inspiration to me and many other Green Berets over the years through his 'Quiet Professional' work ethic, his Christian bearings, and leadership qualities. I've had the privilege of working with Richard for more than 10-years through non-profits that helped veterans obtain affordable housing and many other benefits. He's also quietly assisted dozens of Green Berets privately through counseling, work-related advice based on his 60+ years of being a successful businessman," Meyer shared.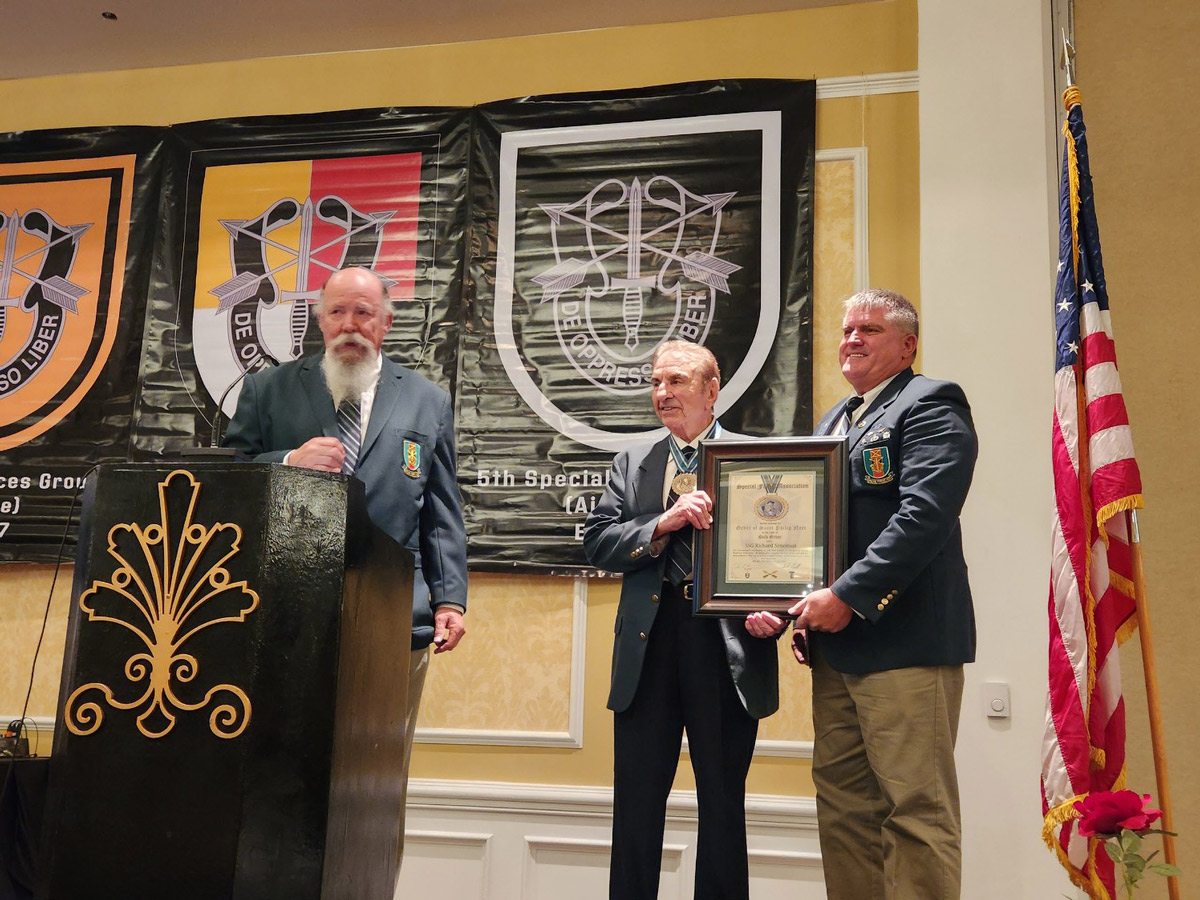 Greg Horton seconded that.
"When I first met Richard, like I said — a warm welcoming smile and very pleasant guy. Very low key. But then I was talking to another member and he started telling me about Richard, how he was one of the Original Green Berets, got out and became the CEO of a large network of affordable housing communities, was a major factor in helping Green Berets and other Vets, rescued Afghan Commandos and their families and on and on. But the thing that really struck me was the fact that Richard is the epitome of 'The Quiet Professional'. Not once have I ever heard him brag about or take credit for all of the wonderful things he has done. And this just scratches the surface of what he has done for Special Forces, the Association, and Chapter 78. Richard is truly a man among men," Horton added.
Well said, Gentlemen!
It took a time to work around Richard's always busy schedule, but he kindly agreed to allow me to call him at home, for an official follow-up interview. I decided to share it, verbatim — so folks might learn a little more, glean a different insight, or just enjoy Richard in his own words:

Alex Quade: Congrats, Richard! Did you have any clue this St.Philip Neri Award was happening? Because the look on your face was priceless.
Richard Simonian: Actually, no. But I had a hint.
Alex Quade: A little bird perhaps, or because it was listed in the Banquet Program? Greg Horton, the current Chapter 78 President, mentioned that former Chapter 78 President Bruce Long put this honor in for you, before he passed away.
Richard Simonian: I didn't know what he was doing or anything about it. I did find out later during Greg's introduction, that Bruce had a lot to do with it, but I didn't know that.
(Earlier, I'd asked Greg about the behind-the-scene process of Bruce submitting Richard for the award.
"It was a completely solo project, with no notice other than he [Bruce] was in the process of completing the paperwork by himself. He didn't consult me at all, other than to say he was completing the paperwork by himself," Greg confided.)
Alex Quade: Greg did a very nice