Ground Truth

for Commanders
— the Special Operations Forces Integration Detachment
By Greg Walker (ret)
USA Special Forces
"Ground Truth was simply being able to accurately and quickly tell a commander exactly where his units were and what they were doing…Colonel Kraus saw to it that every American and Coalition battalion had SF personnel attached as ground-truth assets. General Schwarzkopf's staff could pinpoint exactly what was going on with his forces simply by making a call. It was a brilliant manner of utilizing Special Forces on the air-land battlefield, and the first time such a concept was implemented with the assistance of Special Forces." – "At the Hurricane's Eye", Greg Walker, 1994
Ramp up to the ground war in Iraq
In the aftermath of Operation Desert Storm one of the lessons learned by U.S. and Coalition commanders was the importance of "ground truth" and how to best use Special Forces, in specific, to provide it.
The Special Operations Forces Integration Detachment, or SOFID, was developed as a concept to accomplish this in preparation for the next major conflict, to include the creation of a mobile early entry command post, or EECP. The EECP consisted of six heavy trucks, each fitted with a specially constructed pod featuring sophisticated communications equipment that linked the EECP to the war-fighting Command in the rear. In the case of Operation Iraqi Freedom, the EECP was subordinate to the Coalition Forces Land Component (CFLCC) Main located at Camp Doha, Kuwait.
SOFID team members were responsible to daily update LTG David McKiernan and BG Webster at CFLCC Main on U.S. and Coalition SOF status and efforts to date. The SOCCENT LNO was likewise charged to keep BG Harrell in Qatar / MacDill AFB, Florida, abreast of all SOF activities taking place in the CFLCC Area of Operations as well as the CENTCOM AOR. This included integrating other SOF representatives with the other US and Coalition LNOs. This to ensure they knew and could report in real-time the status of SOF including combat operations in Afghanistan, Yemen, and the Horn of Africa.
The SOFID team was therefore selected for each member's high attention to detail, coupled with an extensive knowledge of Special Operations.
SOFID Priorities
The primary tasks assigned and expected of the SOFID were these.
Implement the Friendly Forces Combat Identification System to monitor fratricide prevention of Coalition SOF (CSOF) in the CFLCC battle space

Gain and sustain real-time situational awareness of CSOF stance, vulnerabilities, and options

Detect, confirm/deny, monitor and inform the CFLCC Commander of changes in both the enemy and friendly situation(s) across the battle space that could affect CSOF missions and units / teams to include preventing friendly fire to be used in those grid squares where CSOF was conducting operations

Balance the security of CSOF operations through synchronization with CFLCC maneuvers in the battle space

Provide support for the CFLCC Information Warfare (IO) campaign in Iraq. This in anticipation and controlling the intended psychological effect of the campaign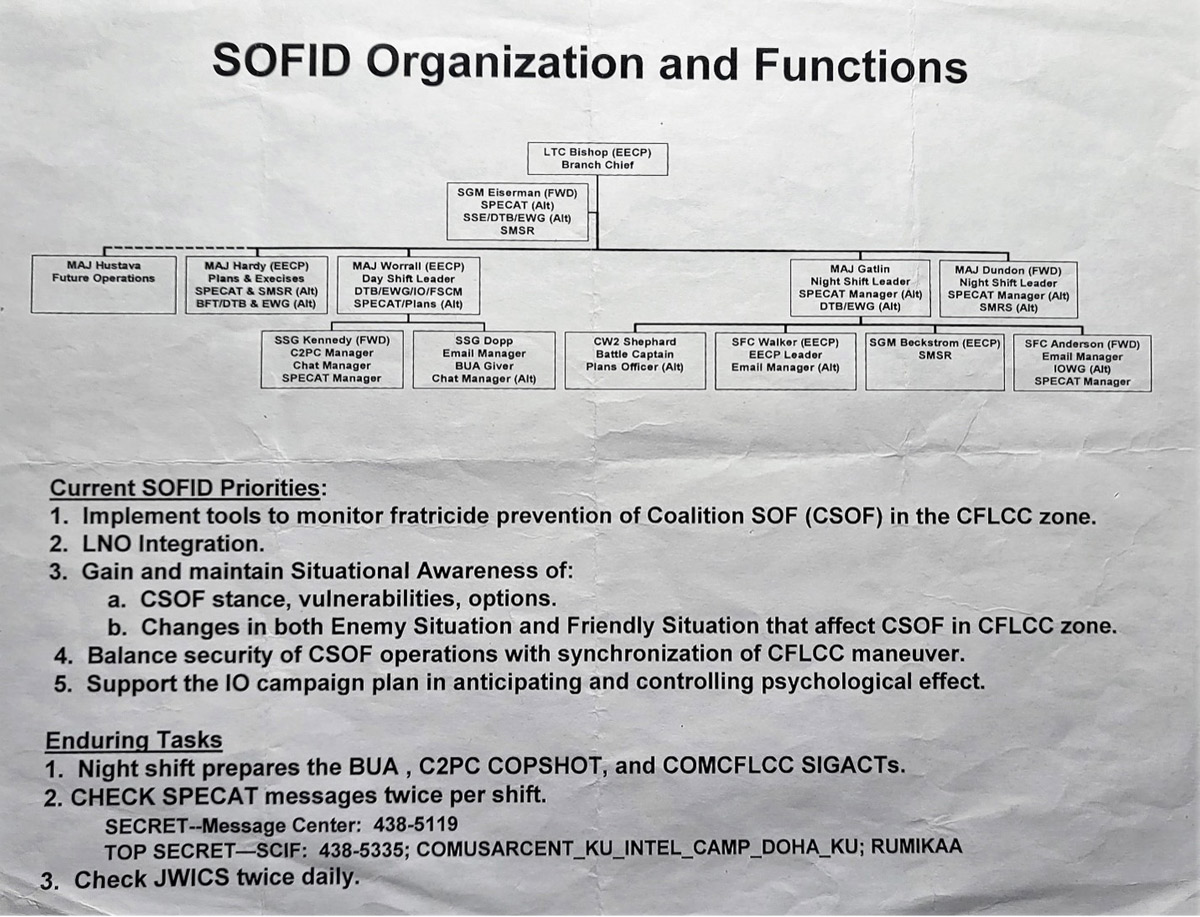 Enduring Tasks – New tools in the SOF toolbox
The SOFID operated within the 365-person battle staff at CFLCC Main and was co-located within steps of the war-fighting commander, LTG McKiernan, and his senior staff. Assigned 12-hour shifts, 7 days a week, the SOFID night shift was responsible for preparing the next morning's Battle Update Briefing (BUA), the C2PC COPSHOT, and COMCFLCC SIGACTs. These tasks ensured real-time evolutions and updates of Coalition and U.S. ground forces both inside Kuwait during the 2002 ramp up to the impending ground war, but likewise reported regarding ongoing CSOF preparations and operations in Jordan, Turkey, Kuwait, Saudi Arabia, and Afghanistan.
Likewise, aspects of the air campaign against Iraq, which began in mid-2002, were monitored via live feeds viewed in the command center at CFLCC Main were monitored and reported as was monitoring of individual U.S. SOF teams using Blue Force Tracking devices on their team vehicles. This was an especially critical tasking once U.S. SOF entered the ground war and began making their way toward Baghdad from the north, south, and west.
At the same time, due to terrorist as well as SCUD attacks in Kuwait, the SOFID began monitoring and reporting on such attacks where U.S. SOF conducting training offsite were concerned. For example, a terrorist attack on Faylaka Island, a site used by AOB 910 SF teams for multi-skill training, resulted in daily accountability reporting through the SOFID and for the situational awareness of the sponsoring SOF units as well as the seniormost commanders at CFLCC Main.
The key program in accomplishing this was the Common Operational Picture, or COP/C2PC. The C2PC, a Windows-based program developed for the U.S. military, allowed SOFID personnel to produce overlays and operational graphics for the war-fighting staff at CFLCC Main. It also provides a tactical data base of friendly and enemy unit locations as provided by multiple reconnaissance collection methods. This data base information can and was shared instantly with key conventional and SOF/CSOF commanders.
The SOFID also had access to highly classified live feeds coming in from the battlespace. This included air strikes throughout the CFLCC AOR as well as real time feeds coming from Task Force 20 operators as they conducted their WMD searches. Perhaps the most emotional as well as long-awaited operation was the rescue of PFC Jessica Lynch. Lynch, captured along with several others from her unit, became a theatre-wide topic as well as mission. Once located in an Iraqi hospital in the town of Nasiriyah a rescue mission involving elements of SF AOB 910, now forward deployed, elements of the 5th Special Forces Group, the 1st Marine Expeditionary Force, and Task Force 20 was mounted.
The successful rescue of Lynch and the sad recovery of her deceased fellow soldiers from a mass grave on the hospital's grounds was sent in real time back to CFLCC Main and the SOFID. The feed was then downloaded to two secure laptop computers and then relayed to the Pentagon and White House, where the news of her rescue was announced to the nation. Afterward, the momentum of the ground war surged as U.S. forces learned of her treatment at the hands of her captors and of the murder of her friends. It was a stunning psychological boost for all.
"Prove to the world"
The priority targets had been formally identified by the UN inspection teams who had previously traveled Iraq in search of just such sites. In late 2002, the SOFID had participated in internal exercises Lucky Warrior I and II. Scenarios were played out involving reported WMD discoveries or suspected locations with U.S. SOF elements directed to these locations in real time. What became readily apparent was this. There were potentially more sites and spur-of-the-moment reports of possible discovered locations than there were SOF teams to exploit such sites.
In addition, CSOF overall was charged with communicating back to CFLCC Main as well as SOCCENT under General Gary Harrell, based out of Qatar, the discovery of any suspected WMD site to avoid the unintentional bombing/contamination of the site by Coalition forces.
Still, the overall mission remained the same. Remove all TBM (tactical ballistic missile) as swiftly as possible; locate and confirm all WMD. The removal of Saddam's TBM threat was meant to ensure Israel did not enter the war should Iraq strike that country with a WMD munition.
Per directives from General Tommy Franks and President George W. Bush the TBM fight was Mission #1 and all SOFID team members as well as assigned liaison officers (LNOs) were reminded of this constantly.
"Recon Pull" – Communication must hold up!
With over 50 Special Forces operational detachments to monitor and track, first and foremost to mitigate the chances of conventional force "friendly fire" resulting in fratricide and/or mission failure, SOFID team members worked tirelessly 24/7 to make sure they were constantly aware of each team's status and whereabouts.
During both SOF/CSOF conferences at Camp Doha it was made clear it would be SOF's far-ranging mobile reconnaissance efforts in the west, south, and north, dubbed "Recon Pull", that would determine an appropriate conventional force response. This became especially true when 26 possible WMD sites were located in Baghdad itself, a priority game-changer that saw SF ODAs re-tasked from their original missions in the west and south to heading for Baghdad to start the WMD hunt there.
Additional SOF missions included the Polish GROM and U.S. SEAL seizure of Iraq's gas and oil platforms; the continued holding and expansion of the H2 launch site in western Iraq; and area denial/ the seizure of Iraq's southern oil fields. SOF and CSOF assets were in short supply by this time and the 10th and 3rd Special Forces Groups' fight in northern Iraq was proving fierce.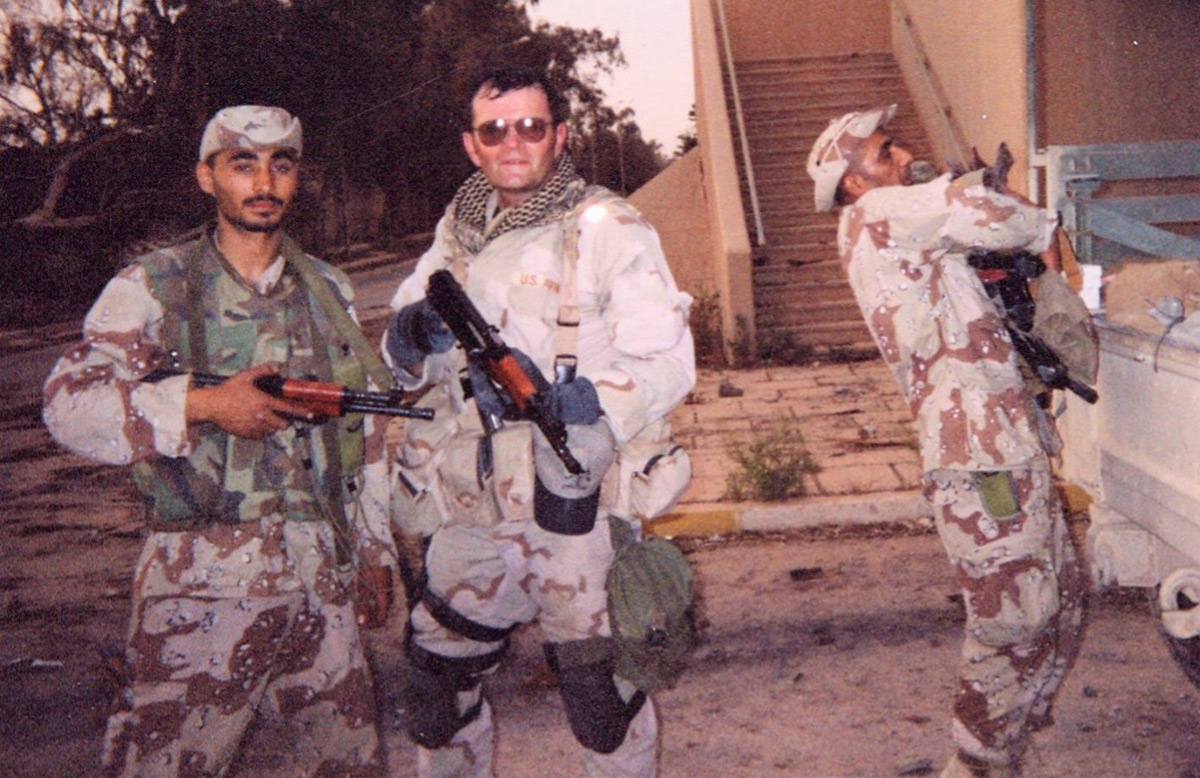 SOFID in Baghdad – Mobile reconnaissance, arms caches, VIP escort
Only two Special Forces NCOs were specifically chosen to accompany LTG McKiernan and his Early Entry Command Team to Baghdad. Sergeant Major John Beckstrom, with nearly 40 years in Special Forces possessed an exceptional knowledge of SOF operations and was highly respected by, among others, both LTG McKiernan and BG Webster.
The other was this author as I was the liaison officer (LNO) between SOCCENT and CFLCC Main and had overseen the set-up of the EECP Combined Effects function prior to the ground war. Once on the ground SGM Beckstrom and I were tasked to locate and then secure the "SOF House" on what would become known as Camp Victory; and to conduct reconnaissance/escort duties into Baghdad for the emerging Civil Affairs, PSYOPs, Medical and VIP Presence that LTG McKiernan was establishing even as the fight for the city continued.
Significant reconnaissance and escort locations included:
Iraqi military armories

Saddam's palace in the Green Zone – soon to become the Coalition Provisional Authority

The Palestine – Sheraton Hotel complex

Baghdad's International Airport and its facilities

Designated "locations of interest" as determined by the EECP