By Colonel John Gargus (USAF, Retired)
Originally published in the January 2019 Sentinel
Early in 1949 the family started talking seriously about going to the USA. We always had an open invitation from grandmother Julia, but father's position had always been that we would have America in Czechoslovakia during our own lifetimes. However, after the Communist seizure of power, life in the USA became very attractive.
Mother acquired her U.S. citizenship by being born in Pennsylvania and her children inherited a claim to full American citizenship provided they established permanent residence in the USA before their sixteenth birthday. That was in accordance with then existing McCaran Act sponsored by one Nevada Senator. I was already completing my fifteenth year and Milan with Vierka were almost ten years old. After the war it was possible for all of us, including our father, to travel to the USA. As a husband of an American citizen, with citizenship eligible children, he could have immigrated to the USA with his family.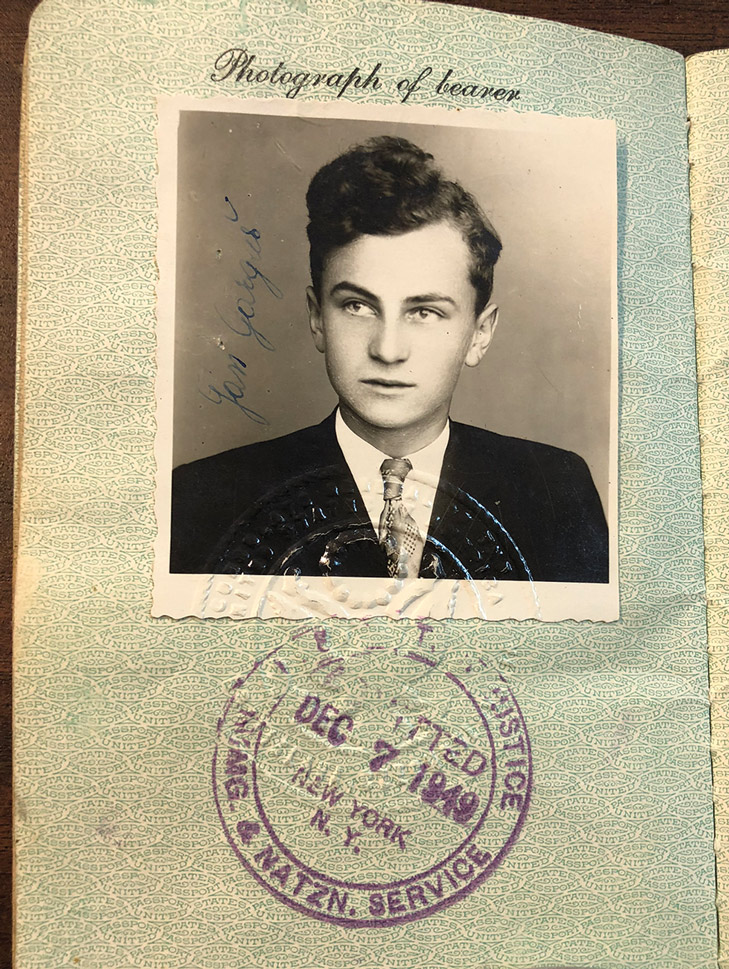 But now, with the new communist regime, father's political past, and the worsening relationship with the USA, our hopes for a departure as a family were gone. We would have to get out of the country illegally and seek political asylum in the West, behind what became known as the Iron Curtain. We learned from listening to broadcasts from exiles in London, Paris, and Munich that West Germany was full of displaced persons camps for people who either escaped to the West or opted not to return to their homes because they came from lands occupied by the Soviet Red Army. Most of them wanted to immigrate to the USA. Many, just like us, had some legal claims to become American citizens. The United States had a problem absorbing all those who wanted to come. Many other countries, Canada, Australia, and places in South America, opened up their gates to ease the demand for passages to the USA. We must keep in mind that commercial trans-Atlantic air travel had not yet been established and passages on ships were fully booked. People had to wait months to get out of West Germany and the number of escapees from the east side of the Iron Curtain kept increasing.
Passports
Our parents understood this, so the first decision became to have all three children get U.S. passports and leave together without stopping in a displaced persons camp in Germany. Then, at a later date our parents would find some way out that could include a stay in one of those camps. We went to a photo studio and had a group passport photo made. Parents cautioned us not to say a word to anyone about our plans because we could face certain repercussions if something went wrong. We all understood that. I don't know how father communicated with the U.S. consulate in Bratislava, but he learned that the best course of action would be to send me to the USA first because as the summer passed, I had less than one year to get out before my sixteenth birthday. With that decision, we had a new passport photo made just for me. Then grandmother Julia, with some financial assistance from grandfather's half-brother Steve Mihok from Lorain, Ohio, prepaid my travel to the USA on any available ship. As I learned later, with that done, the consulate in Bratislava became obligated to issue me a passport valid only for direct travel to the United States.
When the 1949-1950 school year began in September, we already had a firm decision to have me travel alone as soon as my transatlantic passage could be arranged. Father and I went to Bratislava and obtained my passport on November 8, 1949. Father had a long private discussion with the U.S. Consul Mr. Carey White. The thing I remember the most was his cautioning me about not telling anyone that I had an American passport. This was to prevent anyone from creating roadblocks to my departure before my time to get to the USA would expire. My passport was good for only four months. If I didn't make it out in that time, it would have to be renewed, but never past my sixteenth birthday on June 18, 1950.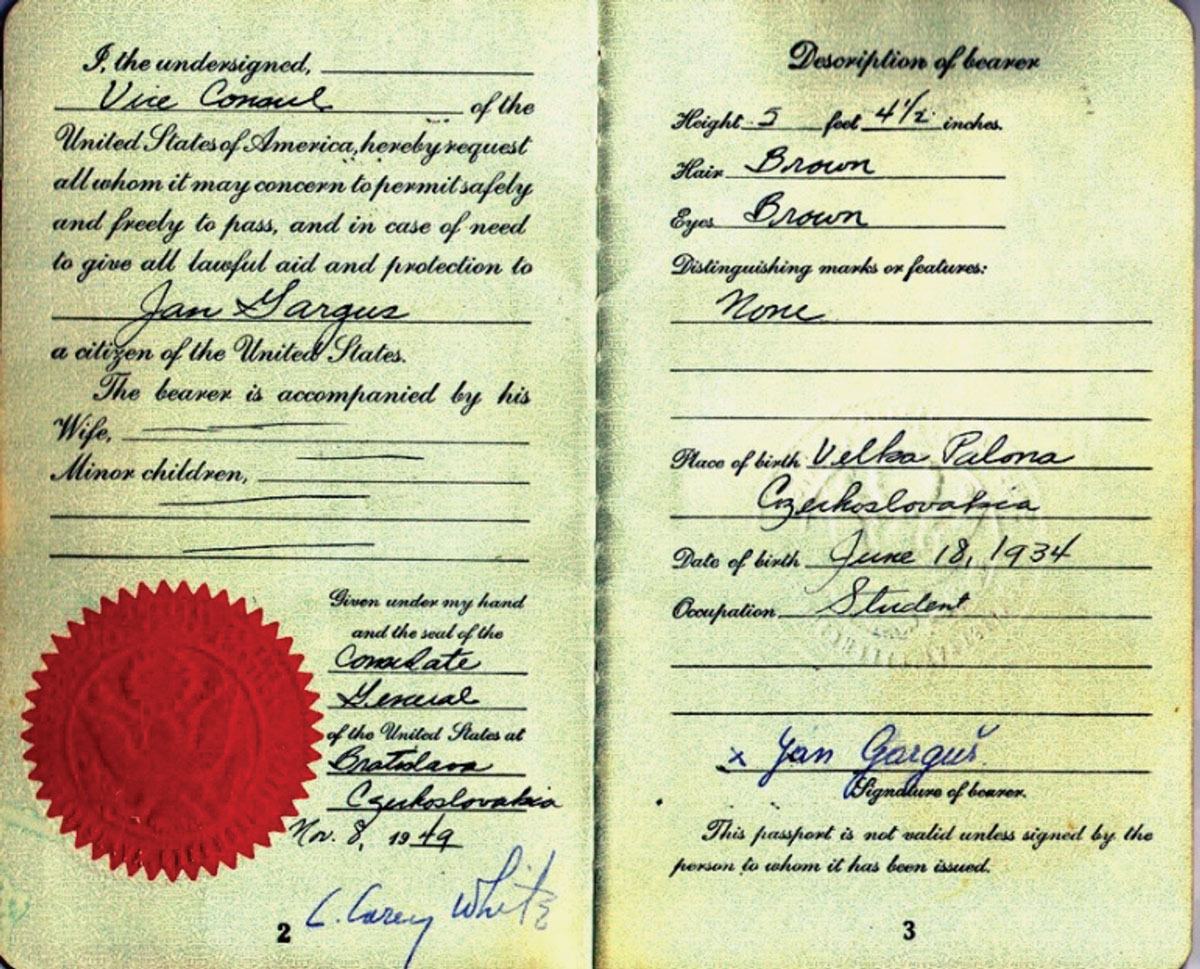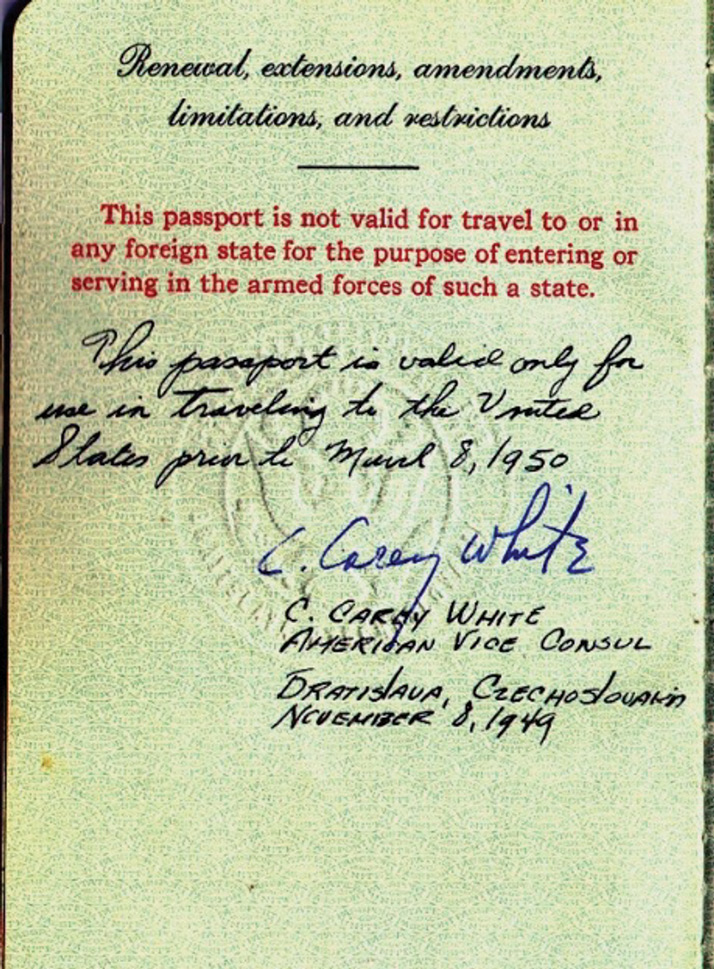 Pages from young John's one-way passport to the USA.
In Bratislava we stayed with a Poloma native, a former classmate friend of father, who worked in one of the banks. The story father told him was that we came to the American Consulate because grandmother Julia was signing over some of the family property as my inheritance. Obviously he was not trustworthy enough to be told the truth.
On the way home the train had a long lay over at a station in Zvolen. I toured the station alone and ran into two of my professors who were killing time just as I was. I used the same story about the inheritance to explain why I was not at home in school. I learned from them that they were coming back to Rožč on the same train after getting married in her family's home village. She was my French professor and he taught history and Slovak literature. When I told my father about this encounter, we decided that I would not get a sick excuse for missing two class days and tell my homeroom teacher the same story. As it turned out, it was not necessary. Our first class was with our homeroom professor Gunda, a good friend of the newlyweds, who proclaimed to the whole class that Mr. Gargus was absent for couple of days because he was inheriting an estate from his American grandmother.
Life in the interim
After that our life returned to normal. We did not expect an early departure for me. Winter was coming and I was already looking forward to skiing and ice skating with friends after school and especially during the three week Christmas school holiday. But on November 15 we received a telegram instructing my parents to have me come to Prague on November 28 ready to travel to the USA. Wow, all of a sudden I had only 10 days of school left and then I'd be gone.
A couple of interesting things happened in school just before that. Comrade Andrejkovičá came to our class with a short briefing on a new student club that was just forming. It was for young people who showed support for and solidarity with the youth of the Soviet Union. She distributed membership identification cards and showed us how to fill them out. She also began collecting a 2 crown annual membership fee from everyone. Two crowns bought a small stamp that was then pasted into a dated square showing that annual membership fee had been paid. Before that we had several communist front organizations for students and membership in each had been voluntary. She did not ask for volunteers here. I had never joined any group before and I hesitated here. Three classmates borrowed money from me and I had four crowns in change coming back to me. She gave me a stamp and 2 crowns back in change. I took it and joined the crowd for a 100 percent classroom participation. What could be wrong with joining a club that professed friendship for the Russian youth?
Next event, on Monday, November 21, was our classroom Russian essay for that month. We expected that its theme would have something to do with the Bolshevik October Revolution, but we got something unexpectedly tougher. Professor Bellavina passed out our essay notebooks and wrote the following topic on the blackboard: "The USSR was victorious in the war for peace and the USSR will be victorious in the fight for freedom." We all cringed and many voiced their surprised displeasure at such a difficult theme that had to be completed in the remaining 40 minutes of class time. But I got a sudden inspiration. Somehow my thoughts focused on the lyrics of the Russian national anthem. That frequently heard song had most of the theme for our assignment. There was also the Communist International with more appropriate lyrics and a few other Russian songs that celebrated Russian victories, and make glowing predictions for a glorious global future from which I could borrow other theme fitting phrases. All I had to do was to pick out the appropriate lyrics and expand them with phrases containing quotes and slogans we were taught to recite in our well received tribute to Lenin. There wasn't much originality in the collage that came to my mind, but I thought that it would be a good satirical joke to regurgitate many of the exhortations to which we had been exposed.