An Uncle With A Few Dollars
By Ron Sokol
Originally published in South Bay Cities, featuring the weekly newspapers of Hawthorne, Inglewood and Lawndale (Herald Publications) on February 16, 2023, reprinted with permission.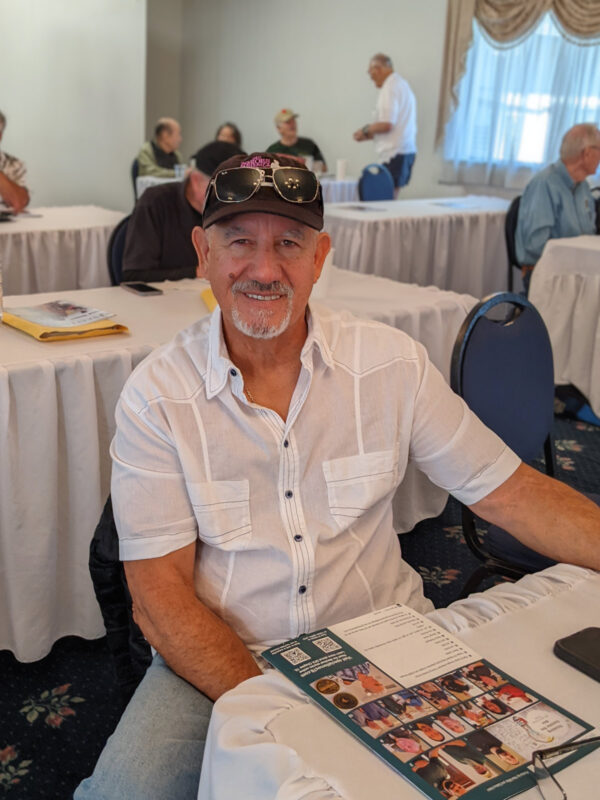 Mike Talleda was nine years young. He, his mother (who was then 8-1/2 months pregnant), his father, and his siblings boarded a plane and flew out of Cuba. They came to Southern California, specifically Alhambra, California. "We were, and we remain, anti-Castro. We have a deep pride in being Americans. This country is the last best hope. So much good can be done here for so many."
I am sitting with Mike at his real estate office in Hawthorne.
The family eventually moved to the South Bay. By age 23, Mike had a real estate license and came to work in the Hawthorne-Lawndale area. By 25, he was the manager of a real estate office, and at 27 obtained his real estate broker's license. He was then the youngest broker here. There were good, good times, and Mike's business grew, including quite a few agents. However, the economy took its toll, and by the early 1990s, Mike tells me, with a wry smile, "All the help left. Many went back from where they had been, such as Northrop Grumman."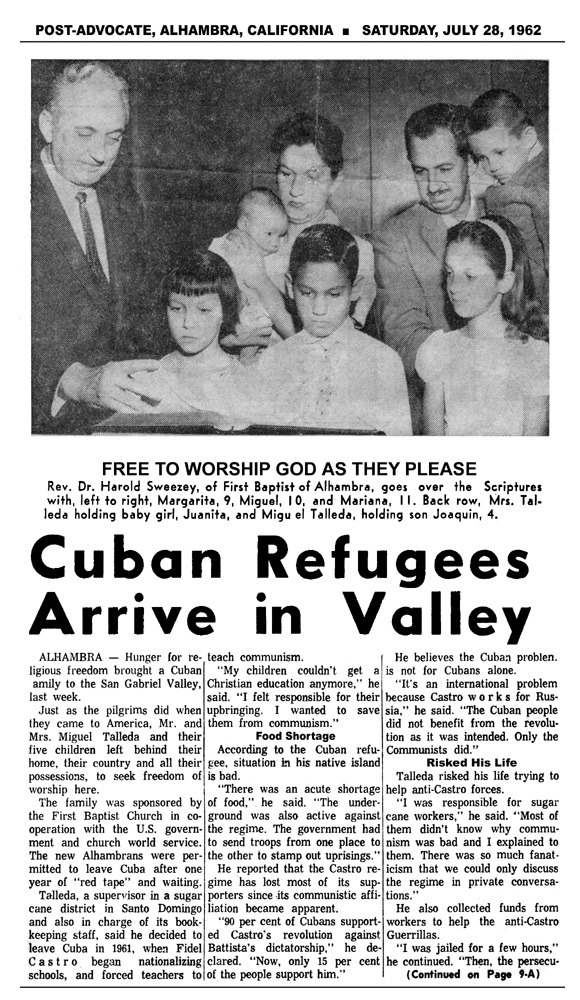 Undaunted, Mike continued in the real estate field until so much changed on that fateful, infamous day: September 11, 2001. At that historical moment, he wondered how he could help a family who had lost a loved one. "If by some miracle we could pull it off, maybe we could show others – with real resources – what was possible, and maybe we could motivate them to help as well."
Mike was introduced to a family: Cheryl McDonnell, the widow of Michael McDonnell, who perished in one of the towers. "We explained what we planned to do, and she was on board. I think she understood that we needed to do this for our own mental state too.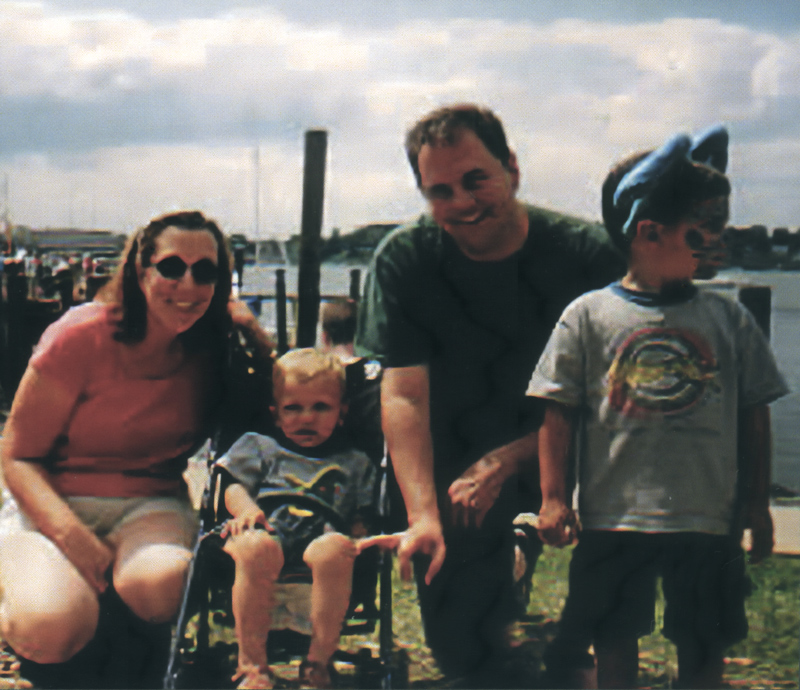 A golf tournament was held on November 29, 2001, and $10,000 was raised.
"We gave $7,500 to Cheryl, and $2,500 to Windows of Hope, a fund created to help the families of the culinary and maintenance workers who died that terrible day.
A few days later, we received a beautiful letter from Cheryl. Let me show you; I have it here, framed on the wall. We thought if we can have this impact on a person whose world has been shattered, what else is possible?" It is now been going on for 22 years. Walking around Mike's office, I realize it is not a real estate office at all. It is the home of Wounded Heroes of America (abbreviated WHOA), and he is the ship's captain.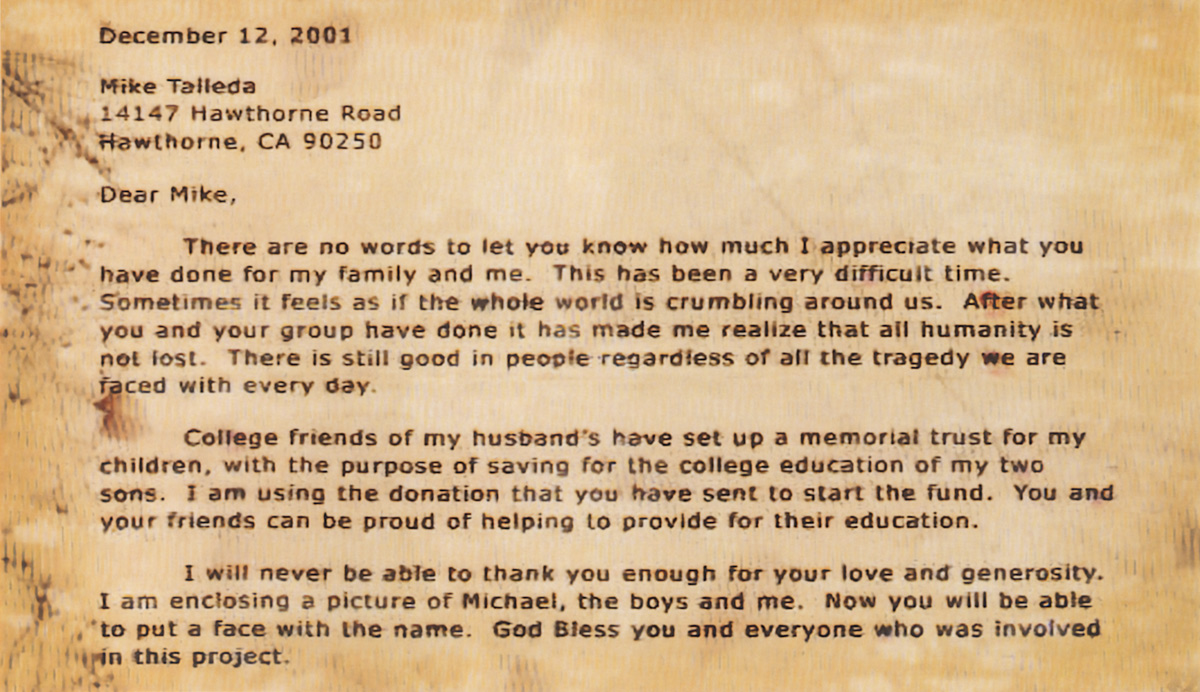 Mike puts in, on average, 50 to 60 hours a week. The walls are filled with photos, accolades, certificates of appreciation, and paddles (from Navy Seals, no less), among other items, to commemorate this man's and WHOA's devotion to helping those who have lost a loved one, or suffered a serious injury, be it physical, psychological or both, while serving the country.
(Note to the readers: If I step out briefly from the role of communicating a story. I want to share with you that Mike Talleda has been on a mission since the Fall of 2001.
He is not slowing down. I have to focus on what he tells me and take down what I am hearing and learning, but I am getting lost in my admiration and emotion about what he is sharing. Ok, back to the column.)
The work Mike and his helpers have done evolved. It began with assisting those adversely impacted by 911. Soon the group raised funds for those who lost loved ones serving in special forces and those who lost limbs or suffered trauma, illness, or serious injury. Since 2004, Mike's group has officially held non-profit 501 status. The focus has become assistance to conventional service members. One of the programs provides a monthly stipend, for example, to a young widow whose husband was killed in Afghanistan.
"Since we were helping surviving spouses, we wondered who was going to send these women flowers on Mother's Day. We did that as well, and then we thought about the kids. We began sending money and gifts to them on Christmas and for their birthdays." There is indeed a Christmas program. Through the efforts of Mike, the volunteers, and the staff, Santa delivers toys to homes in many Southern California cities and ships toys to quite a few states (including Puerto Rico and the Navajo Reservation).