By Greg Walker (ret)
Alpha Company, 1/19th Special Forces Group (ABN) had just completed its recertification requirement at JRTC, Fort Polk, Louisiana, when the Twin Towers came down in New York City. At the time the largest company in 19th Group, with most of its fully qualified members coming from the 1st Special Forces Group, 2/75th Ranger Battalion, and long-time members representing 7th Group as well as 5th Group, A-Co was uniquely positioned to participate in what would become known as Operation Iraqi Freedom.
Commanding the unit was then major, Greg Allen. Allen, a West Point graduate, had served in the 2nd Ranger Battalion and at 1st Group. He had strong ties with CAG, as well. "I knew what a good company looked like," Allen told me. "And A-Co was a good company."
At Group Headquarters in Utah, Allen approached the Group Commander and requested to take his company to Kuwait. Operation Desert Spring, an ongoing post Operation Desert Storm mission, required a 6-month commitment even as U.S. and Coalition forces were ramping up and deploying to Kuwait. Major Allen figured if he could get his unit in-country he could then begin working on seeing them participate in what most knew was the coming ground war with Iraq.
Allen's greatest challenge was convincing "Big Army" as well as the active-duty SOF unit commanders in Kuwait and elsewhere that his National Guard unit was every bit as capable as companies from the 5th and 10th Special Forces Groups, already positioning themselves in Jordan, Kuwait, and Turkey for the push into Iraq.
As their commander was making his case, his teams were hard at work training, making their vehicles ready, and capitalizing on their accumulated years of Special Forces service to include calling on their Vietnam veterans' experience and "lessons learned". Many of them had served in the 12th Special Forces Group, transitioning over to the 19th Group post Desert Storm when the 11th and 12th Groups were deactivated. If there was ever a Band of Brothers it was A-Co, 1/19th.
On the morning the ground war began A-Co was in position.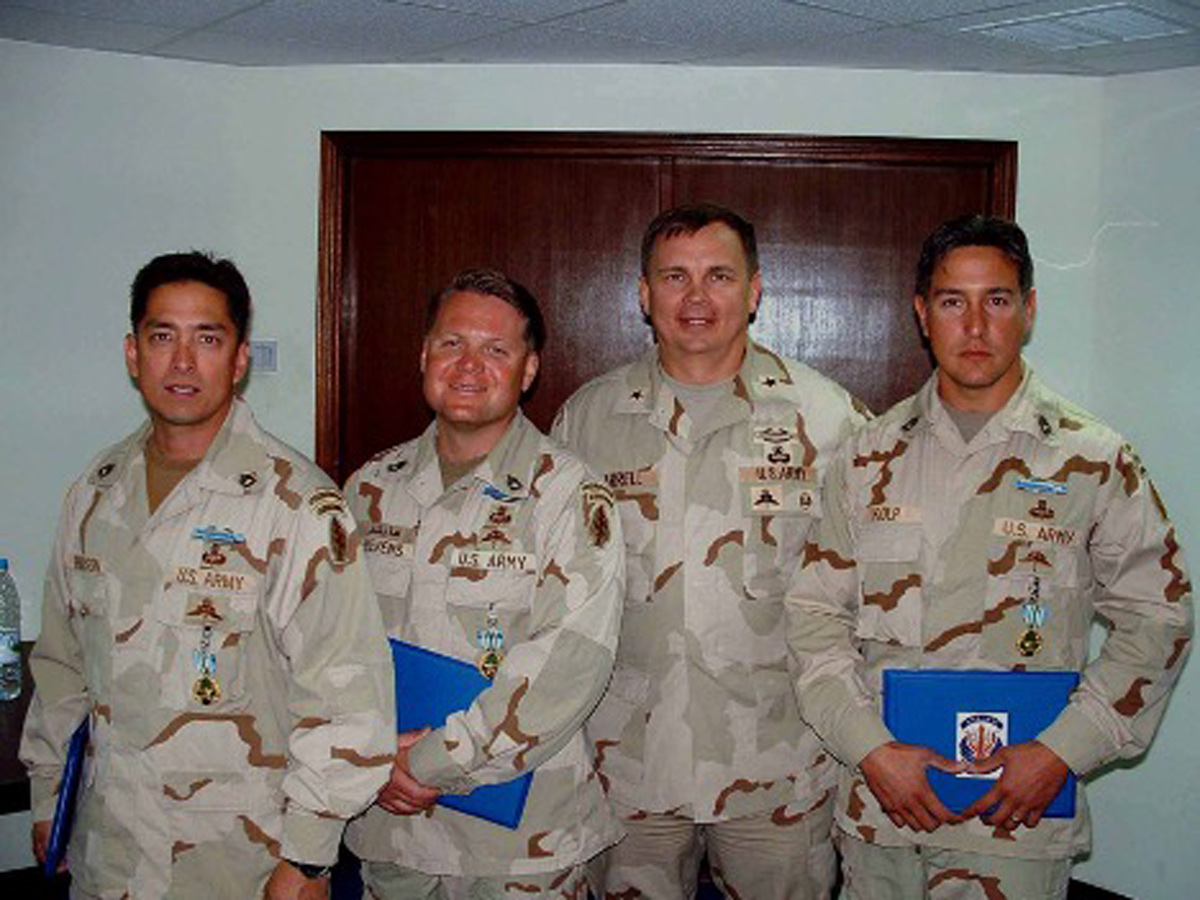 ODA 911 was the liaison team for the 3/5th Special Forces Group and was one of the first A-Co teams to airland at the newly captured Baghdad International Airport; ODA 912, after a fierce competition with several 5th Group teams, was selected to act as the SOCCENT commander (General Gary Harrell) PSD once in Iraq; ODA 913 provided passage of lines escort for U.S. / Coalition forces leaving Kuwait and entering Iraq; ODA 914 was the SF liaison supporting the 3rd Infantry Division with ODA 915 accompanied the British Forces; and ODA 916 was attached to the 101st Airborne Division.
Five A-Co operators were assigned to the Combined Forces Land Component Command (CFLCC Main) and its Special Operations Forces Integration Detachment (SOFID). Ultimately a 15-man detachment, the SOFID oversaw all U.S. and Coalition SOF operations pre-invasion and war and during the ground war, to include real-time deconfliction of friendly fires into areas where SOF units were conducting their missions unknown to U.S. and Coalition ground force commanders. Two SOFID members deployed with LTG Frank McKiernan, CFLCC CDR, to Baghdad with the Early Entry Command Post (EECP).
One officer was sent to Saudi Arabia to assist in coordination of air assets for the SOF war in Afghanistan.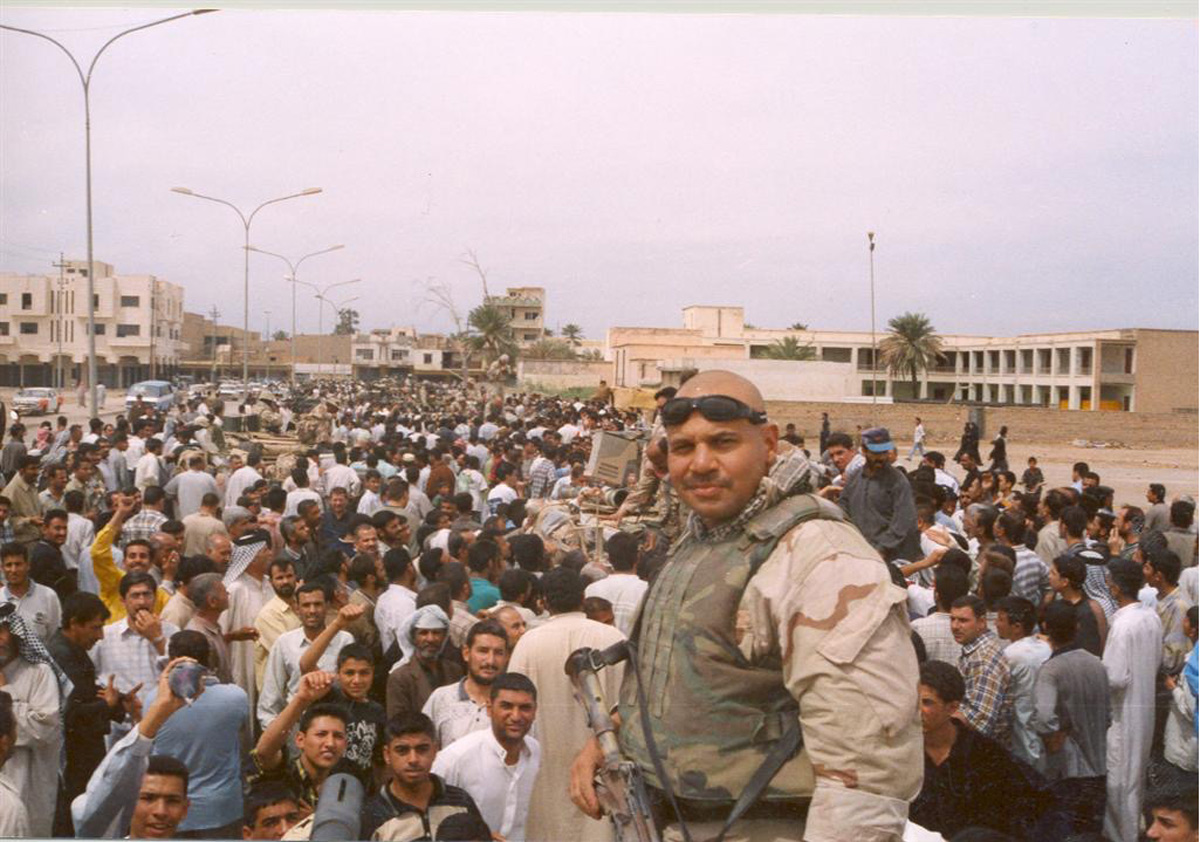 AOB 910, commanded by Greg Allen, deployed all units forward and then went forward itself. It would provide intelligence assistance in al Nasseryia during the work-up for the rescue of PFC Jessica Lynch, and then participate in the liberation of Al Kut, Iraq. In support of Task Force Tarawa, Allen and his team acted as the SOF link with AC-130 gunships in support of Marine combat missions. "The AC-130s were SOF assets," recalls Allen today. "We called them in when the Marines needed their support."
Upon the unit's return stateside the Group commander and a member from A-Co traveled to Fort Bragg to brief the USASFC Commander, now retired Major General Geoffrey Lambert. At the conclusion of the private meeting at USASFC, General Lambert exclaimed "I had no idea your company was doing all of this. We really need to learn more about our National Guard units' capabilities and skills!"
ABOUT THE AUTHOR — An author and Special Forces historian, Greg Walker served with the 10th, 7th, and 19th Special Forces Groups (ABN). He retired in 2005. He is a Life member of the Special Operations and Special Forces Associations.
Today, Mr. Walker lives and writes from his home in Sisters, Oregon, along with his service pup, Tommy.