Afghanistan to Arlington —
We Are Sentinels of History & Our Fallen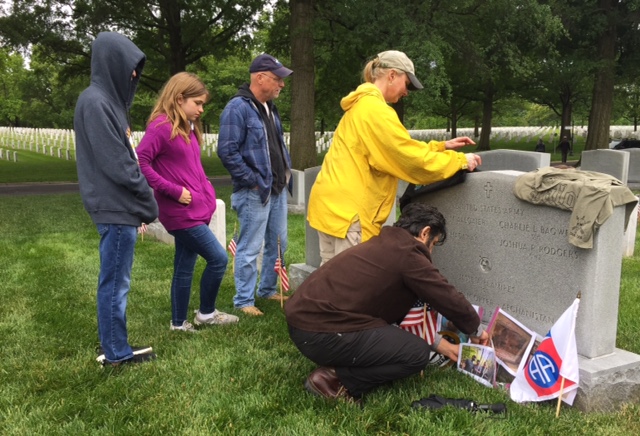 Photo: Alex Quade and 7SFG ODA team members pay tribute at the grave of the Flipper-75 crew lost in Afghanistan.
By Alex Quade, War Reporter, Honorary SFA National Lifetime Member
Photos courtesy Alex Quade (unless otherwise noted)
Sentinel – ['sent(?)n?l]
(noun) – Protector, defender, guardian. A person or thing watching or standing as if watching.
(roots) – Sentina, meaning "vigilance," and sentire, "to hear or perceive."
At Arlington National Cemetery, battle buddies from "that Chinook shootdown op in Afghanistan" – Special Forces ODA-726 teammates, an Apache Longbow helicopter pilot, and a blonde pony-tailed war reporter gal in a baseball cap — honored those taken too soon.
"A nation can be judged in part by how well it honors its heroes," President George H.W. Bush – who I interned for – once said. And that's what our motley crew was there to do.
We thanked them for their service and sacrifice. We shared memories and stories. We left SFA Chapter 78 Sentinel magazines, notes, photos, flowers, and flags.
But for the 400,000-plus heroes resting around us, we were virtually alone in the sporadically pissing rain.
We paid tribute to…
OGA friends who'd worked alongside our SF brothers… such as Johnny Micheal "Mike" Spann, the first American KIA in Afghanistan after 9/11. The CIA Special Activities Division paramilitary ops officer was with 5SFG "Horse Soldiers" at the fortress of Qala-i-Jangi. Taliban and Al Qaeda fighters assassinated Spann during a prisoner uprising.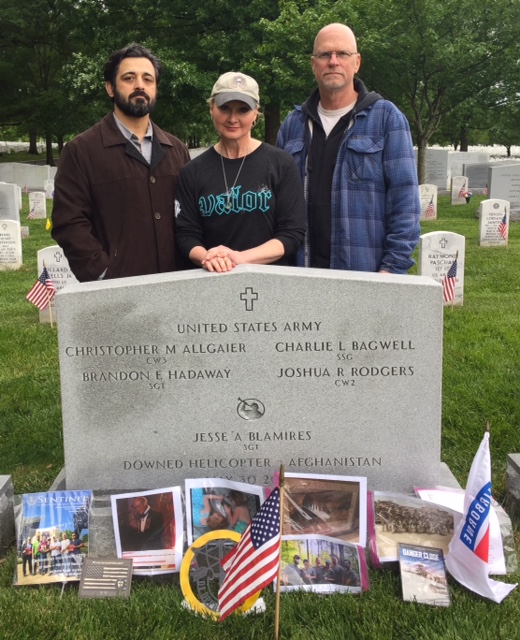 Photo: Irv, Alex and Stu at the grave the Flipper-75 crew.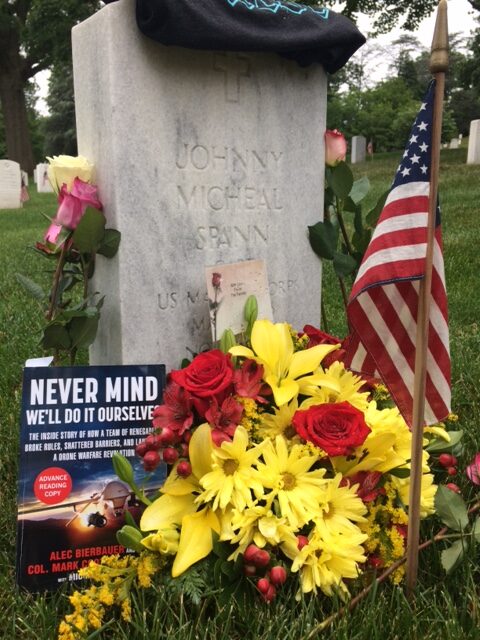 Photo: The grave of Johnny Michael Spann.
We paid tribute to…
SF Medal of Honor recipient friends no longer with us… such as SGM Jon Cavaiani, who I last saw at SOAR (Special Operations Assoc. Reunion) wearing a Harley Davidson t-shirt, drink in hand. He always gave me a huge smile and hug. And, my mentor COL Robert L. Howard — who I called "Ranger Bob." He emailed me advice at 0430 almost daily. He taught me everything that mattered.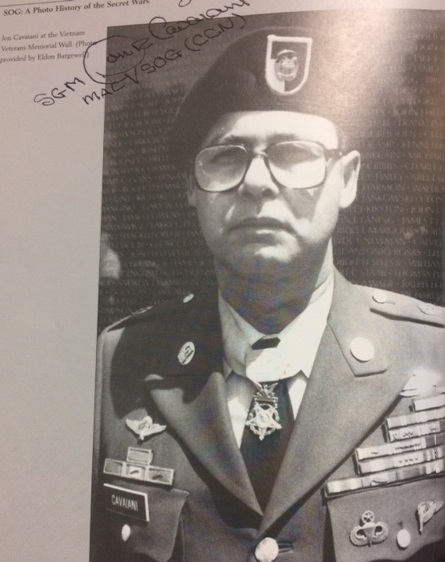 Photo: SGM Jon Cavaiani MOH recipient autograph to Alex