By How Miller
Charlie Mike is phonetic for "CM," which in army lingo is Continue Mission. Lew Chapman served as a Commo man at my A Camp and left a little before I became a Medic there. After spending the better part of the day touring the JSOCM training center and giving our fun lunchtime presentation on what it was like back in the day when we were called 91Bs and 05Bs, it seemed only fitting we should CM at Charlie Mike's Pub a little outside of Fort Bragg. We were joined by Mike Jones who had been our host for the tour and presentation.
It was a happy coincidence that, while planning my trip to Fort Bragg, I noticed a link on SOF.NEWS that brought me to an article published by CoffeeorDie.com. It mentioned that a couple of instructors from JSOCM were mentoring willing students on Wednesday nights at this pub. So, while talking with Mike Jones, he enthusiastically agreed to introduce us to them.
I had read an excellent article at CoffeeorDie.com "'We Didn't Know Jack' — With Beers and Jokes, 2 Retired Green Berets Mentor a New Generation" by Jenna Biter. It made me want to see the process myself, and Lew agreed. Mike Jones met us there and introduced us to Mike Jackson. His partner, Rick Hines, had been pulled away for another engagement.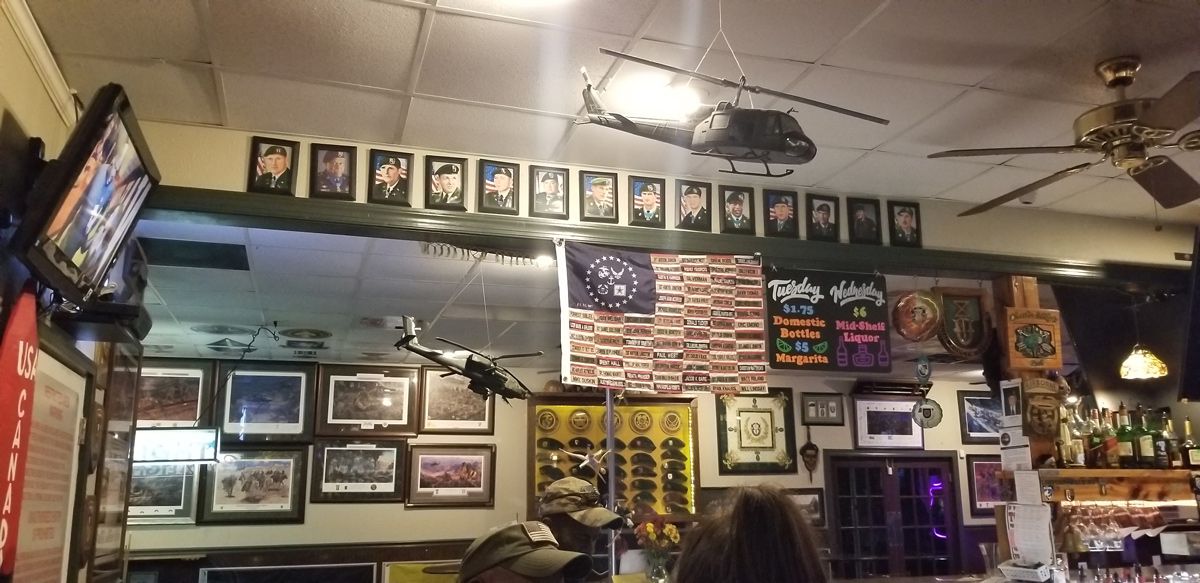 Mike and Rick have some topics to highlight at each evening get-together. They are designed to cover what can be the difference between success and failure. The mentoring can range from challenges in the training process to how to fit in with a new team or how a difficult combat medical situation was handled. It has been described as no B***S***. Just telling it how it is, or was.
This night, it turned out, Lew and I were the topic. We didn't have any visual aids, other than a few Sentinels, but sitting face to face around a big table, drinking beers, invited both jovial and meaningful dialogue. We were again treated royally, reprising some of our lunch lecture and fielding many questions about situations we ran into and how we handled them.
It was a great bunch of guys, all going the extra mile to succeed at the school and their chosen profession — Special Operations Combat Medic. There were both Navy and Army personnel there, including an NSOIDC candidate, Green Beret candidates, and others. Their attitudes made it obvious that they felt they were getting something good out of coming there on Wednesday nights.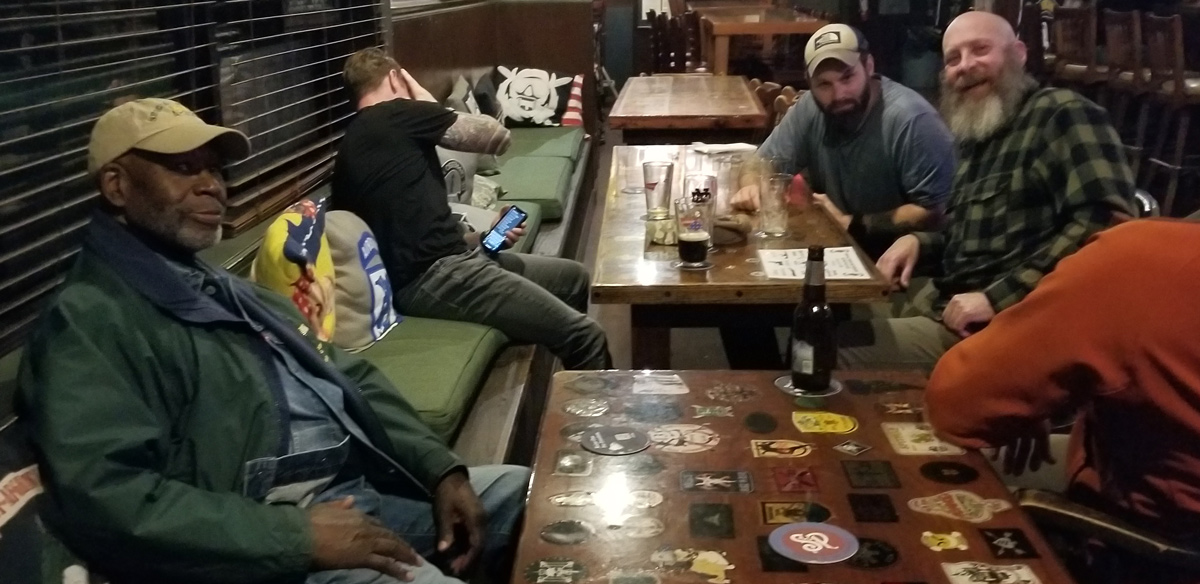 The ambiance probably has something to do with that as well. The side of the bar we gathered in had some large tables that had SOF logos "lacquered" into the tabletops. It was hard to find a piece of wall, or even ceiling, that was not covered with SOF — mostly SF displays. There were pictures of units, of missions, famous Green Berets, and even one of John Wayne. There is a display case filled with different berets and models of aircraft hanging from above. Many of the pictures have signatures. Each item could start a long conversation about the past, and frequently did. People were anxious to point out different favorite pictures.