A Christmas Bond Formed On A Fiery Overseas Hill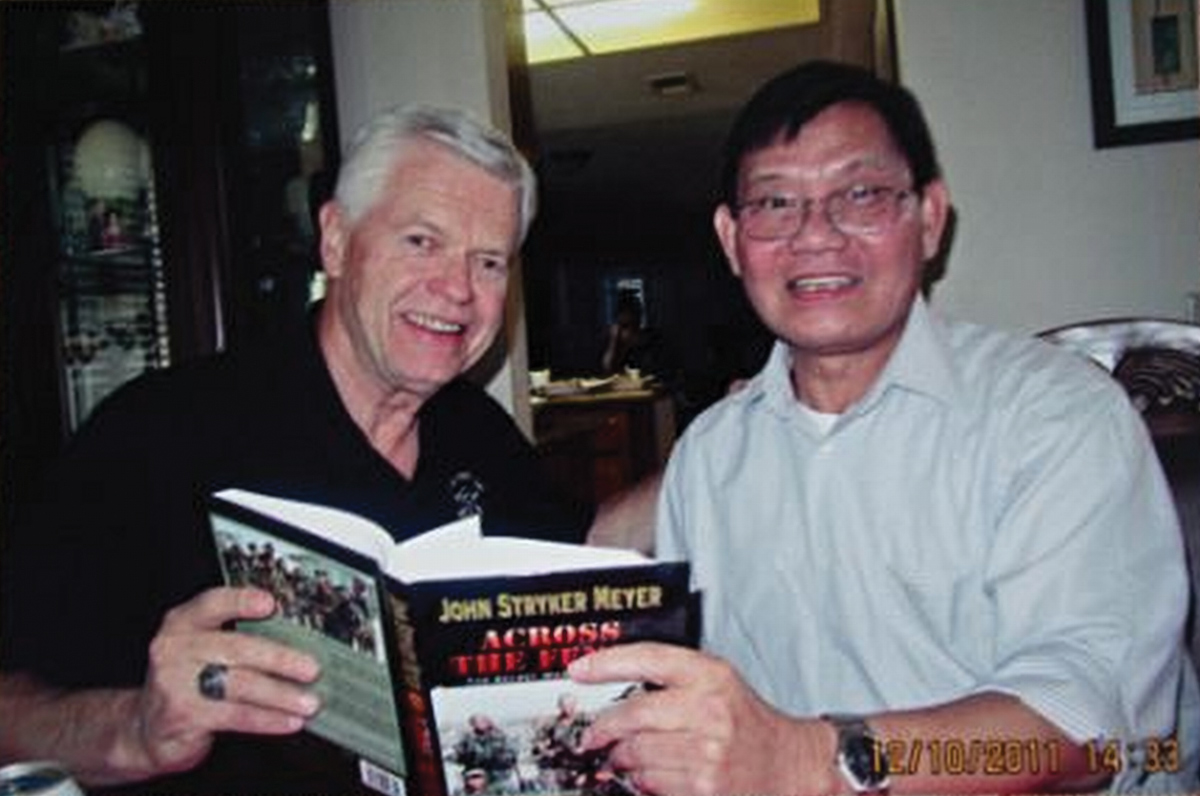 By Jeff Rowe
December 26, 2013 | Article reposted with permission from Orange County Register
As they have every Christmas for 45 years, the thoughts of two men from different sides of the Pacific will converge on a hill on the Laos-Vietnam border.
It's where one saved the life of the other and forged a lifetime bond; brothers in a twilight struggle destined to go wrong for both of their countries.
Then Capt. Nguyen Tuong was a helicopter pilot for the South Vietnamese Air Force; a normal day was ferrying squads of special forces operatives on secret missions and out of hostile areas, including over the Vietnam border into Laos. Getting shot at was a daily occupational hazard.
In late 1968, Tuong was hauling a squad of six commandos – three South Vietnamese and three Americans, one of them Spc. 4th Class John Meyer. Their mission: To find and destroy fuel pipelines supplying North Vietnamese and Viet Cong troops.
That's what they were doing on Christmas Day in 1968. Tuong had dropped off Meyer and the rest of his squad. They did not find any fuel lines but a North Vietnamese Army unit did find Meyer's squad on a mountain knoll and surrounded them.
North Vietnamese Army soldiers began to set fire to the head-high elephant grass on the hill and were spraying bullets at Meyer and the five others in his squad. A wall of flame was advancing up the hill. If they stayed on the hill, they would be incinerated; if they left the hill, they would be shredded with gunfire.
Just then, Tuong swooped in, practically flying sideways against the mountain, Meyer recalls. He set his Sikorsky CH-34 helicopter down on the knoll, the rotor downdraft holding back the flames but NVA bullets riddling the fuselage. Within seconds, all six had jumped in; Meyer says as they lifted off, the top of the hill burst into flames.
When Tuong returned to base, he counted 30 bullet holes in his helicopter. It was repaired and he flew it again.
As did many friendships born in the Vietnam war, the Tuong-Meyer comradeship seemed unlikely to survive the American withdrawal. North Vietnam's army had overwhelmed the south; American service men and woman came home to a sullen citizenry. Many American Vietnam-era servicemen and women mentally filed away their wartime experiences and memories; few wanted to know about their experience, nor could they understand friendships forged when life seemed most fragile.
And yet every Christmas, Meyer's thoughts drift back to that knoll on the Vietnam-Laos border, where Tuong saved him and the others.
Tuong came to the United States in 1990, part of the great exodus of South Vietnamese to America after the South fell. But he and Meyer had no idea of each other's whereabouts – or if the other man was still alive.
Through a friend, he found Meyer, who was living in Oceanside. When they finally met again, Tuong says he "almost cried;" Meyer acknowledges coming "pretty close."
"Meyer is really a good guy," Tuong says. "So kind to everyone around him."
Meyer works for Veterans Affordable Housing in Orange; Tuong is an electrical technician who lives in Santa Ana. The two old comrades see each other a few times a year.
Of that Christmas 1968, Tuong says: "I think if my friend is down I have to pick them up." Christmas 1968 was his best ever, he said, because he saved lives that day. On every Christmas since he "always thinks" about that hill in Laos.
On every Christmas since 1968, Meyer says his thoughts "automatically" return to that fiery day on the hill in Laos. "If it had not been for Capt. Tuong, I'm not here," Meyer says. "How do you thank a man for that?"
Editors note: Kingbee pilot Nguyen Van Tuong died from a heart attack on July 23, 2020 in Orange County, CA. More than a dozen Kingbee pilots/crew members and other South Vietnamese Air Force aviators attended Tuong's funeral in Westminster, CA, to pay homage to one of their heroic comrades. After the fall of Saigon, Tuong spent more than five years in a communist "re-education" camp until he was able to escape, come to America and reunite with his loving wife.