9/11 – 20th Anniversary with SF & FDNY
By Alex Quade, War Reporter, Honorary SFA National Lifetime Member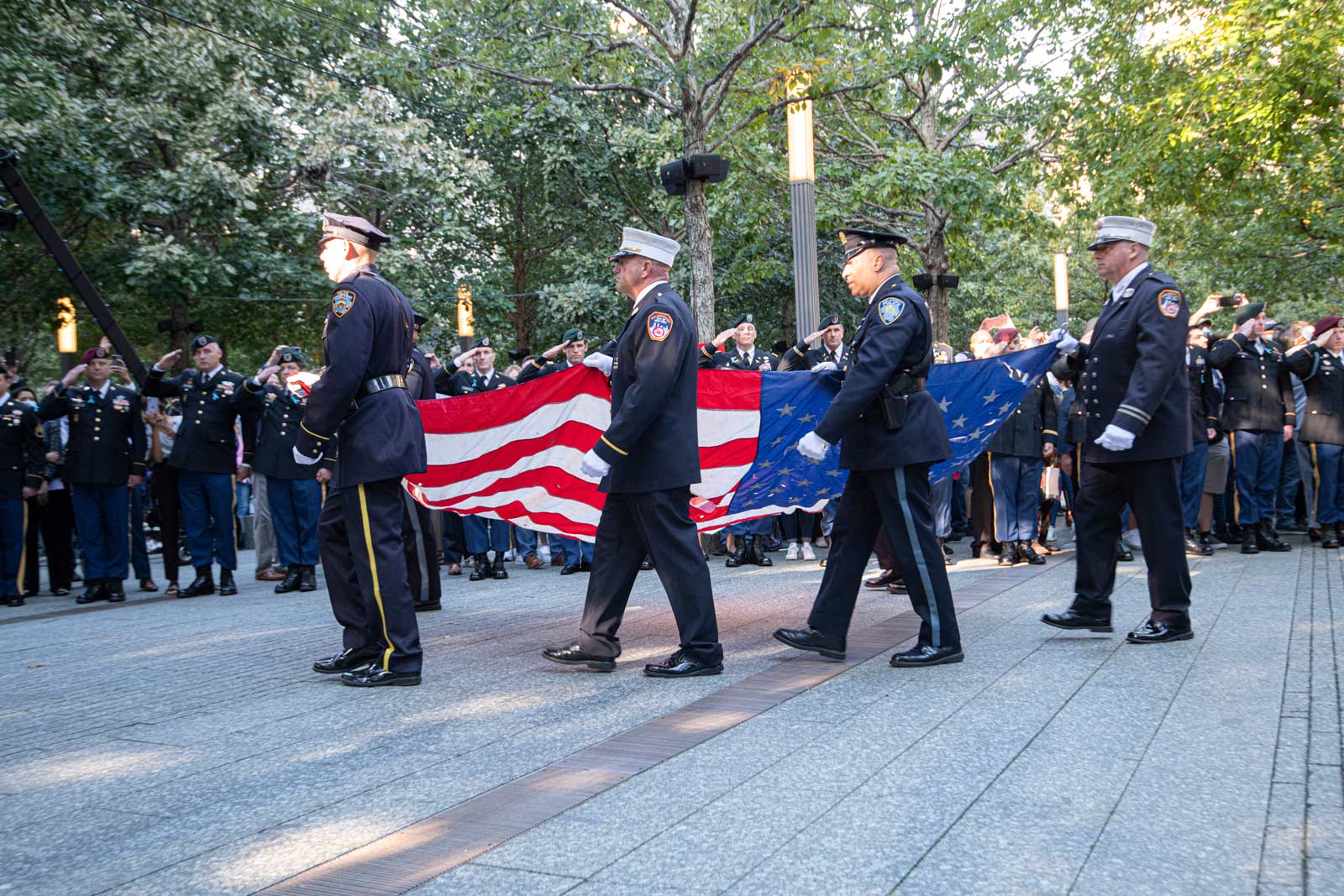 FDNY and NYPD open 9/11 ceremony carrying US flag, flanked by SF Honor Guard, NYC. (Photo by: William Hauser)
Honored that my friend, SOTF-71 CDR, SF COL (R) Pat Mahaney — from "that Chinook shoot-down op in Afghanistan" — invited me to join his extended SF and FDNY family at the World Trade Center Memorial for the 9/11 – 20th Anniversary ceremony (and to share with Sentinel magazine readers).
Our special group supported 20SFG MSG Ron Bucca and his family. His father, 11SFG WO1 Ronald Bucca — served in Vietnam, then DIA, then became FDNY Fire Marshal and sole FDNY member of the Joint Terrorism Task Force. After being only one of two firefighters to climb all the way to the 78th floor Sky Lobby, Ronald Bucca was killed in the south tower on 9/11. But, not before wrapping his firefighter turnout coat around civilian victims in the tower, later found. Camp Bucca, Iraq, is named for him — a place SF GWOT combat veterans know.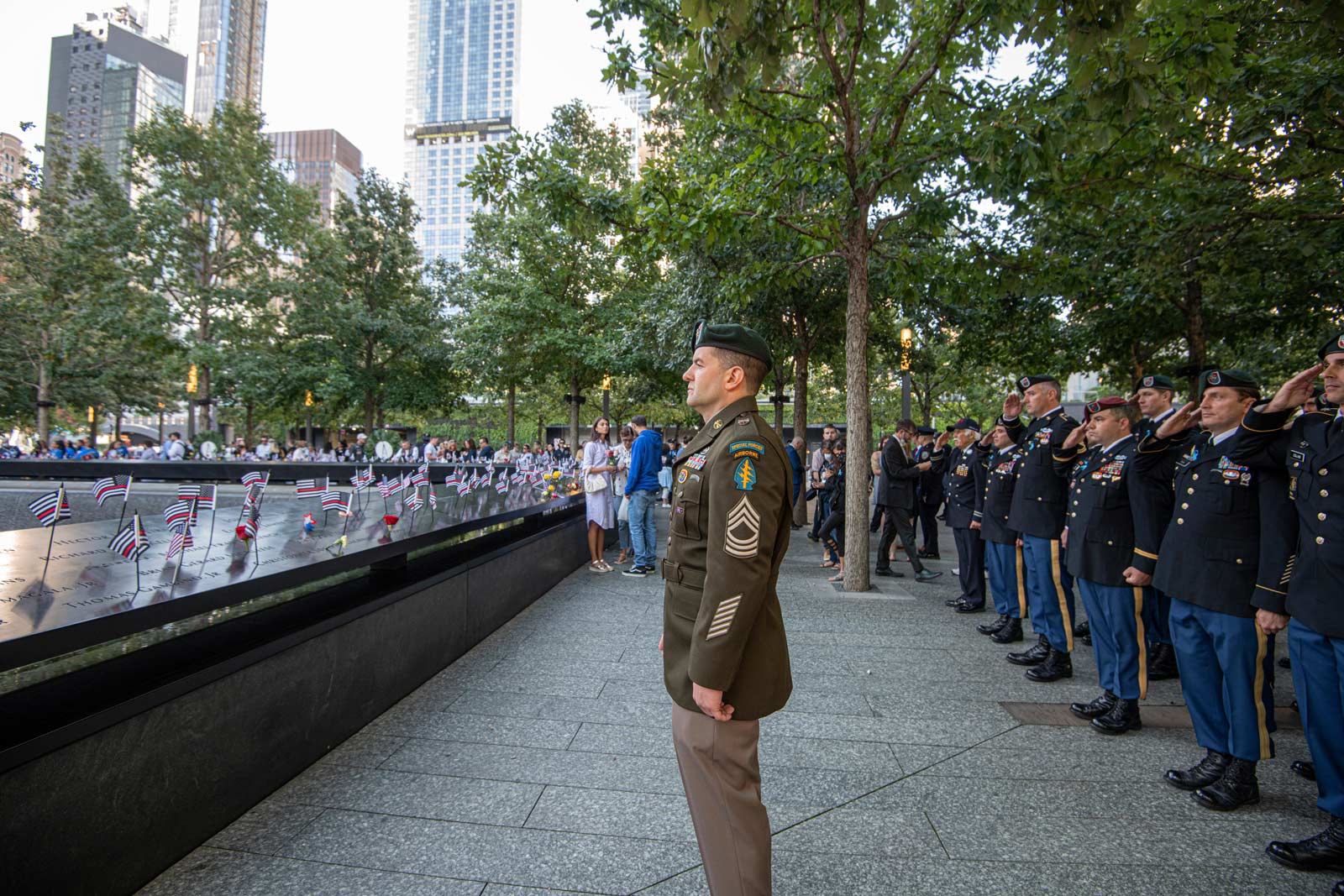 MSG Ron Bucca honors his father W01 Ron Bucca, at his engraved name at Memorial, during official ceremonial reading of names. His SF teammates and our special group in formation, have his back. (Photo by: William Hauser, Producer: Alex Quade)
"I joined SF to follow in my dad's footsteps. And to prevent more sons from losing their dads," MSG Ron Bucca told me. We were part of the Honor Guard, along with his SF teammates.
President Joe Biden attended the ceremony. As Vice President, Biden dedicated the "Horse Soldier Statue". (He sent me a challenge coin and kind note after he shared my "Horse Soldiers of 9/11" stories, while I was downrange.) Our special group included an original "Horse Soldier" — CSM Josh King — and 5SFG CDR Brent Lindeman, as MSG Ron Bucca served in 5th Group prior to 20th.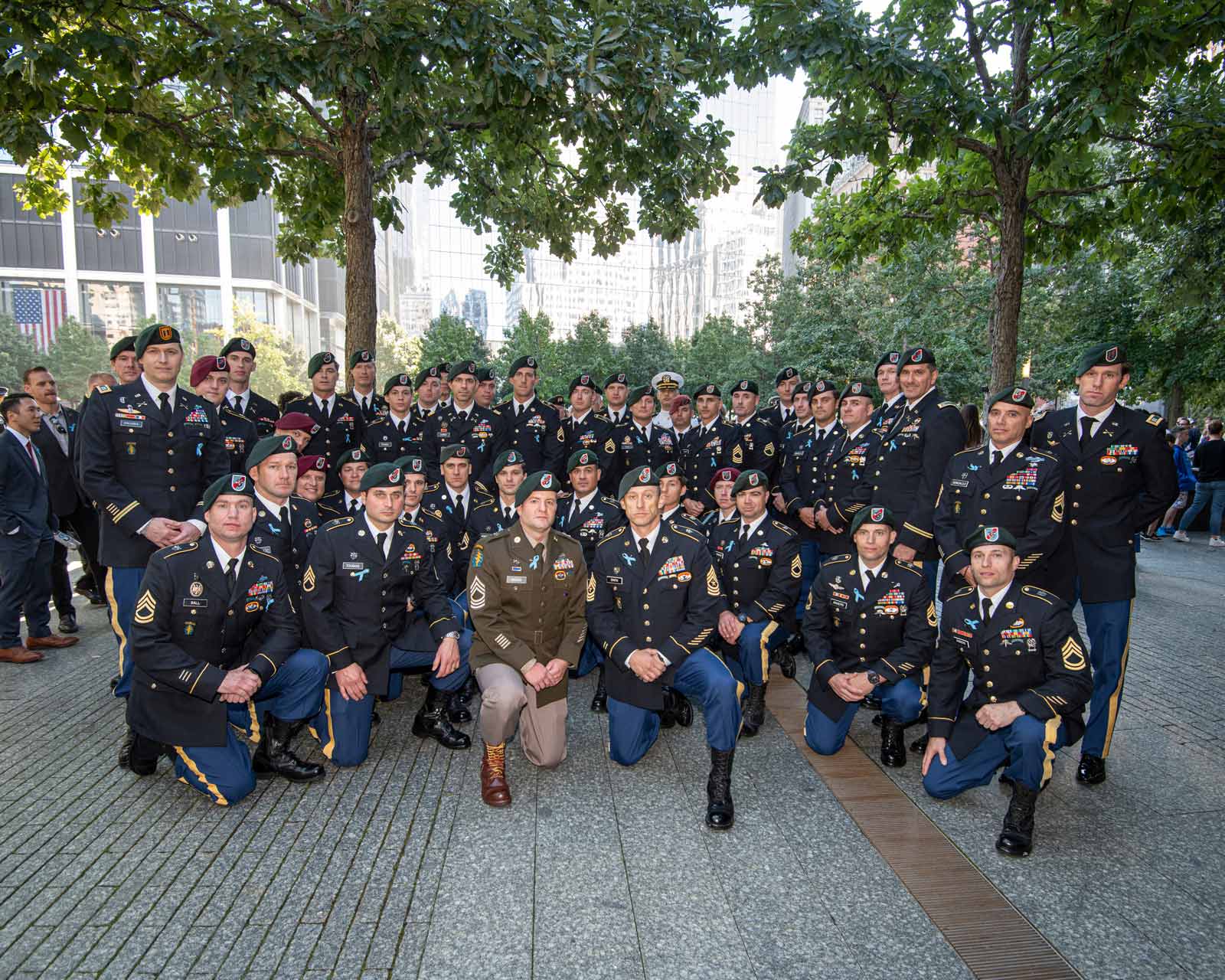 MSG Ron Bucca (center) flanked by his 20th SFG teammates, former 5SFG teammates, and our special SF-FDNY family group
Also with us — SF COL Justin Sapp, military advisor and chief of staff to the U.S. Ambassador to the United Nations. As a CPT, Justin Sapp was detailed to the CIA's paramilitary component of the Special Activities Division and joined CIA Team Alpha. He was one of eight CIA officers dropped into the mountains of northern Afghanistan on 17 OCT 2021 — the very first Americans to operate inside Taliban territory. And, SF Major General (R) Robert Karmazin — former director, J-7/9, USSOCOM — who worked with COL Mahaney at Asymmetric Warfare Group.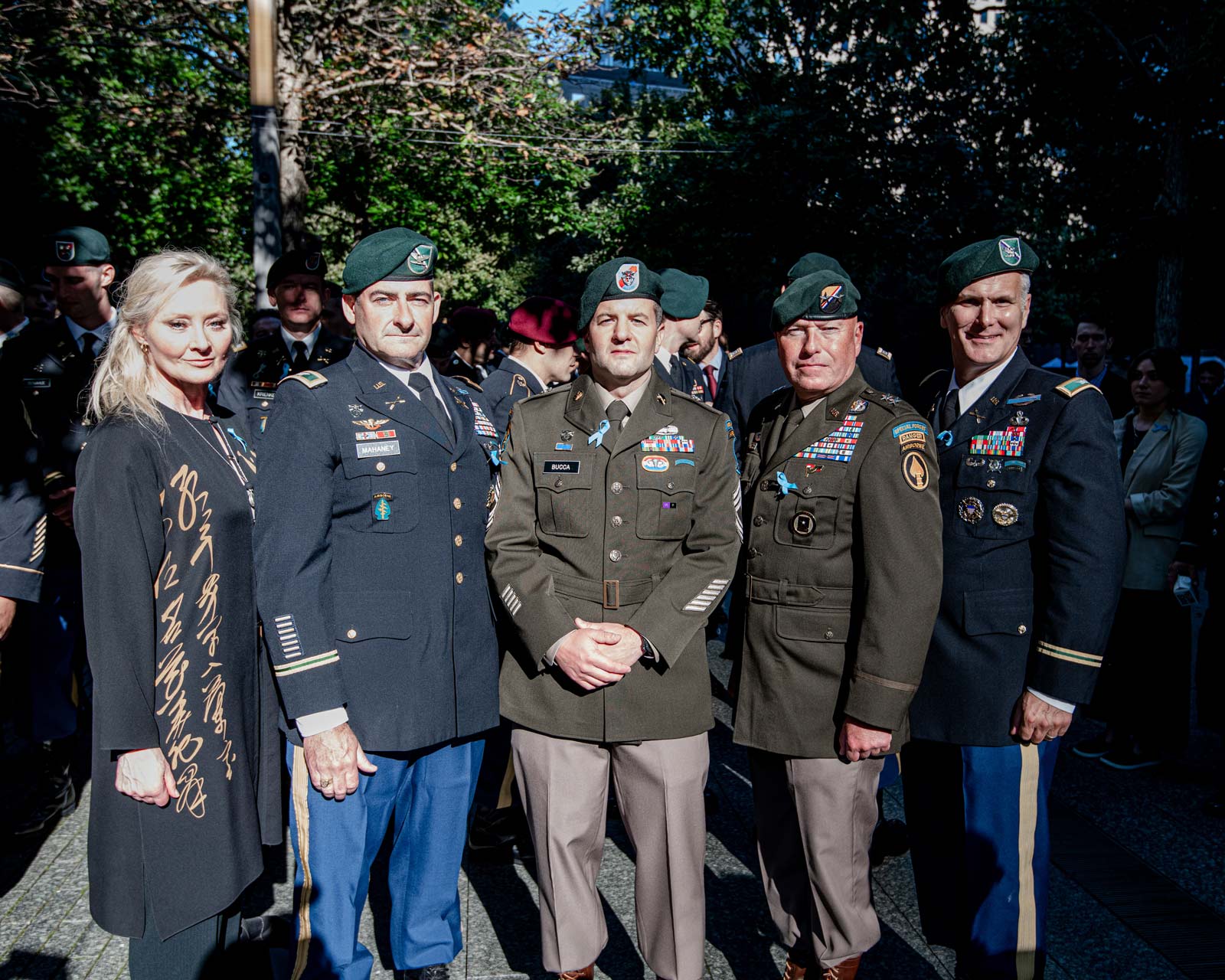 L-R: War Reporter Alex Quade, COL Pat Mahaney, MSG Ron Bucca, MG Robert Karmazin, COL Justin Sapp. (Photo by: William Hauser, Producer: Alex Quade)
Later, we gathered at the NYC Fire Museum for a private ceremony with dignitaries, visited the 9/11 Museum, a Firehouse, and the Horse Soldier Statue. Speaking of that statue, visited it again when I spent time with COL Pat Mahaney's NCUO — National Center for Urban Operations' team (more on NCUO later). SGM Joe Vega, SFOD-Delta (R) and MSG Jose Gordon (R) — who worked with COL Mahaney at AWG — loved the Sentinel Magazines. As did former. Ambassador Johnnie Carson, former Coast Guard Commandant Admiral Thad Allen, former Dep.Cmdt Installations/Logistics Lt.Gen Mark Faulkner (R), and others.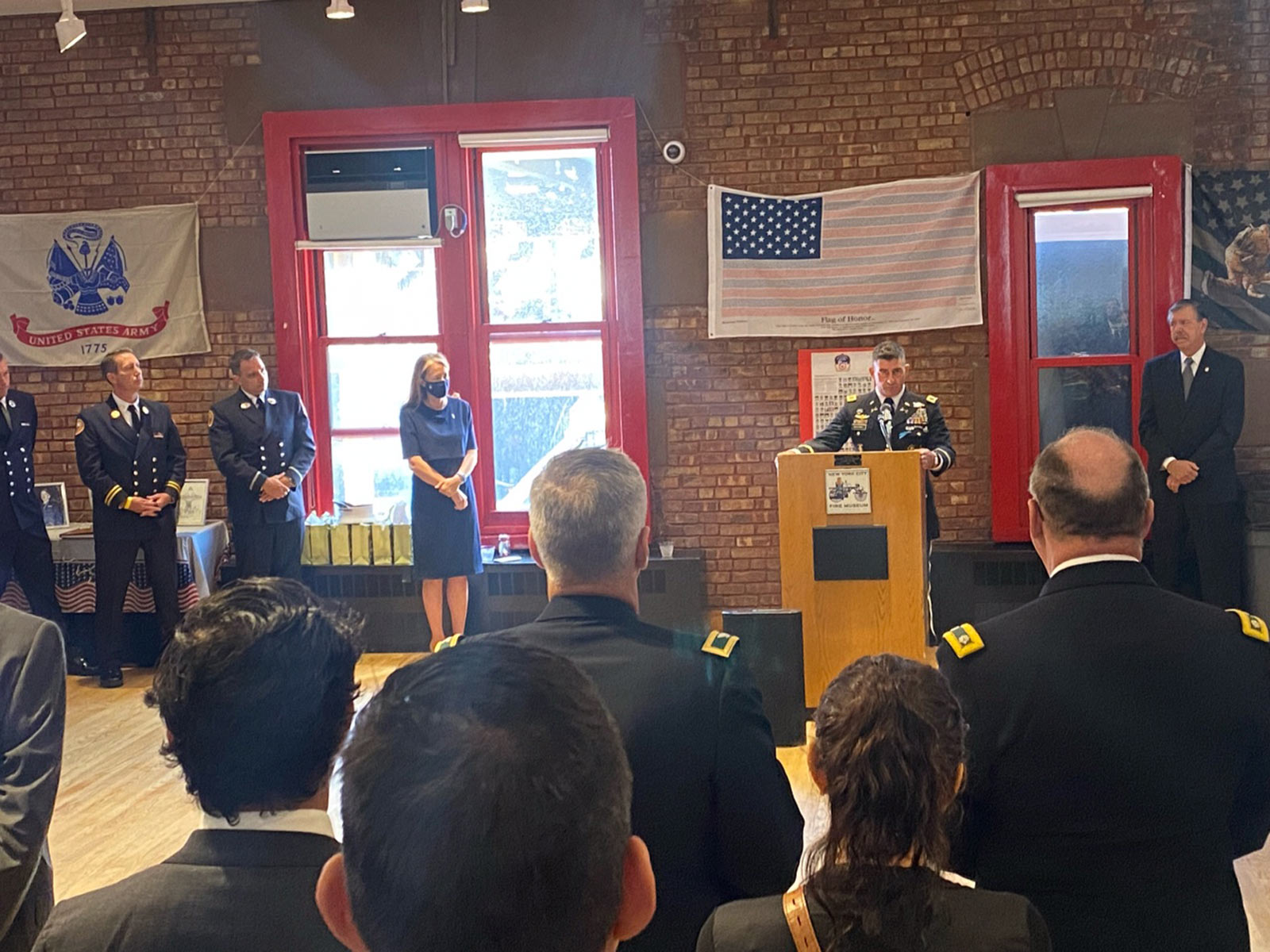 COL Mahaney speaks at speaks at private ceremony at NYC Fire Museum. (Photo: Alex Quade)