[headline h="2″] STAFF SGT. KYLE R.WARREN[sub_title]Died on July 29, 2010 – Operation Enduring Freedom[/sub_title] [/headline]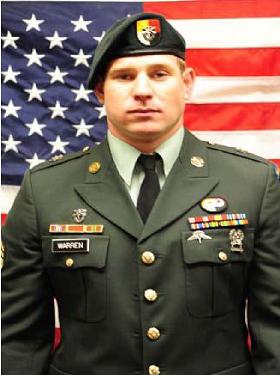 Staff Sgt. Kyle R. Warren, 28, died of wounds sustained from an IED blast during a combat reconnaissance patrol. He was a Special Forces Operational Detachment-Alpha team medical sergeant assigned to Company C, 1st Battalion, 3rd Special Forces Group (Airborne). He deployed in support of Operation Enduring Freedom in July 2010 as a member of the Combined Joint Special Operations Task Force – Afghanistan. This was his second deployment.
SSgt. Warren, a native of Huntington Beach, Calif., volunteered for military service and entered the Army in October 2004 as a Special Forces trainee. After basic and advanced individual training at Fort Benning, Ga., he was assigned to the John F. Kennedy Special Warfare Center and School at Fort Bragg, N.C., in May 2005 for Special Forces training. His medical training was with John F. Kennedy Special Warfare Center and School at the Joint Special Operation Medical Training Center. He earned the coveted "Green Beret" in 2007 and was assigned to 1st Battalion, 3rd SFG (A) at Fort Bragg, as a Special Forces medical sergeant.
[headline h="4″]Military education:[/headline] Basic Airborne Course
Survival, Evasion, Resistance and Escape Course
Basic Noncommissioned Officer Course
Warrior Leaders Course
Special Forces Qualification Course
Special Forces Advanced Urban Combat Course
Military Freefall Course [headline h="4″]Awards and Decorations:[/headline] Bronze Star Medal
Army Achievement Medal
Good Conduct Medal
National Defense Service Medal
Afghanistan Campaign Medal
Global War on Terrorism Service Medal
Noncommissioned Officer Professional Development Ribbon
Army Service Ribbon
NATO Medal
Parachutist Badge
Military Freefall Parachutist badge
Combat Infantry Badge
Special Forces Tab
He was posthumously awarded a second Bronze Star Medal, Purple Heart, The NATO Medal, and Meritorious Service Medal.
SSgt. Warren is survived by his wife Sandra Warren of Hope Mills, N.C.; his mother Lynn Warren of Bedford, N.H. and his father Del Warren of Long Beach, Calif.
Psalm 138:7
Though I walk in the midst of trouble, you preserve my life; you stretch out your hand against the anger of my foes, with your right hand you save me.