[headline h="2″] STAFF SGT. JOSHUA WHITAKER[sub_title]Died on May 15, 2007 – Operation Enduring Freedom[/sub_title] [/headline]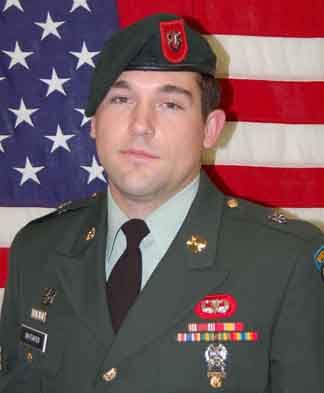 SSgt Joshua Whitaker, a 23-year-old Engineer Sergeant was deployed with 1st Battalion 7th Special Forces Group (Airborne)
in support of Operation Enduring Freedom in March, 2007. His first mission since completing his Special Forces training. Whitaker died in action on 15 May 2007 near Qalat, Afghanistan, from wounds he suffered in a firefight.
According to the Department of Defense, Whitaker manned a .50-caliber gun turret, killing five militants in a firefight as he provided cover for two vehicles behind him. He was mortally wounded by a shot to the underarm that struck behind his protective vest. He had saved nine fellow soldiers' lives during the engagement.
SSgt. Whitaker "willingly put his life on the line and made the ultimate sacrifice while bravely serving our country abroad," Gov. Arnold Schwarzenegger said in a statement.
The former Millikan High School linebacker joined the Army in 2003 after finishing his education at Opportunities for Learning, an alternative high school. He completed Special Forces training in August 2006.
[headline h="4″]Awards and Decorations:[/headline] Good Conduct Medal,
National Defense Service Medal,
Global War on Terrorism Expeditionary Medal,
Global War on Terrorism Service Medal,
NCO Professional Development Ribbon,
Army Service Ribbon,
Parachutist Badge,
Special Forces Tab
He is survived by his mother, Catherine Whitaker of Long Beach, Calif., his uncle, Robb Whitaker of Signal Hill, Calif. and his father, Frank Dougherty of El Monte, Calif. His aunt, Debra Whitaker and his cousins Rachel and Laura Whitaker, all from Signal Hill, Calif., also survive him.
Psalm 71:20-21
Though you have made me see troubles, many and bitter, you will restore my life again; from the depths of the earth you will again bring me up. You will increase my honor and comfort me once again.