[headline h="2″] STAFF SGT. JOSEPH F. CURRERI[sub_title]Died – Operation Enduring Freedom, Philippines[/sub_title] [/headline]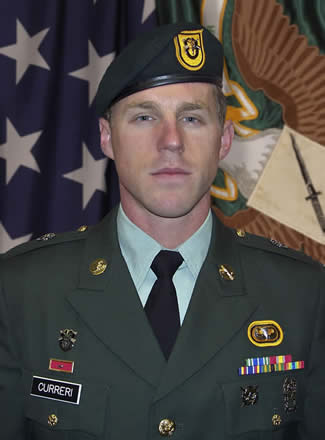 Staff Sgt. Joseph F. Curreri, 27, a Special Forces communications Sergeant assigned to the 2nd Battalion, 1st Special Forces Group (Airborne) at Fort Lewis, Wash., died in an accidental drowning incident at Siet Lake while deployed to the Southern Philippines region near Panamao, Republic of the Philippines.
He was deployed in support of Operation Enduring Freedom – Philippines. This was his first deployment in support of the Global War on Terrorism. The Team was helping to train Philippine army soldiers in their fight against an insurgency.
His death occurred at the conclusion of an arduous, 11-hour scuba training mission. A powerful and expert swimmer, he had "grabbed a snorkel" and jumped back into the water to retrieve some items he had accidentally dropped. He somehow misjudged his position relative to his Team mates, and as he was trying to resurface he suffered from shallow water blackout, faded back down, and drowned.
Curreri was born and raised in the suburbs of Baltimore. He was a four year varsity letter winner in swimming and founded his high school water polo team. Upon graduation from high school, Curreri attended the University of Southern California.
While at USC he earned a Bachelor of Arts in History, was a four year varsity letter winner in swimming, and was the captain of the Trojans swim team during his senior year. Additionally, he served as the Executive Vice President of USC's Student Athlete Academic Council in 2000/2001.
After graduating from USC, Curreri worked as a history tutor, swim coach, and recruiting coordinator for a recruiting agency in El Segundo, Calif.
[headline h="4″]Awards and Decorations:[/headline] Army Achievement Medal,
National Defense Service Medal,
Global War on Terrorism Service Medal,
Noncommissioned Officer Professional Development Ribbon,
Army Service Ribbon,
Parachutist Badge,
Special Forces Tab,
Special Operations Divers Badge
[headline h="4″]Posthumous awards:[/headline] Global War on Terror Expeditionary Medal,
Army Commendation Medal,
Meritorious Service Medal
[headline h="4″]His military education:[/headline] Warrior Leader Course,
Basic Noncommissioned Officer Course,
Basic Airborne Course,
Survival, Evasion, Resistance, and Escape Course,
Special Forces Qualification Course,
Combat Diver Qualification Course
He is survived by his wife, Athena, of Los Angeles, Calif.; mother, Karen, and sister, Shannon, of Redondo Beach, Calif.; father, Frank, stepmother, Tricia, and stepsister Angelia of Parkville, Md.
Psalm 55:22
Cast your cares on the LORD and he will sustain you; he will never let the righteous fall.