[headline h="2″] STAFF SGT. EDWIN H. DAZACHACON[sub_title]Died on February 13, 2007 – Operation Enduring Freedom[/sub_title] [/headline]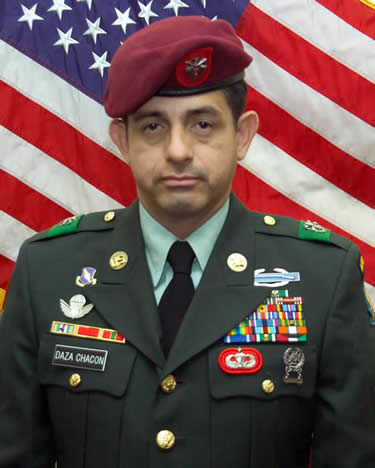 RELEASE NUMBER: 060216-01
DATE POSTED: FEBRUARY 17, 2006
PRESS RELEASE: Special Operations Soldiers killed in Afghanistan
U.S. Army Special Operations Command
FORT BRAGG, N.C. (USASOC News Service, Feb. 17, 2006) — Four Army Special Operations Soldiers died Feb. 13 north of Deh Rawod in central Afghanistan, when the vehicle they were traveling in struck an improvised explosive device.
Killed were Staff Sgt. Edwin DazaChacon, Sgt. 1st Class Chad Gonsalves, both of 3rd Battalion, 7th Special Forces Group (Airborne), and Sgt. Alberto Montrond of Group Support Battalion, 7th SFG (A) here along with Staff Sgt. Clinton T. Newman from the 321st Civil Affairs Brigade, San Antonio, Texas.
STAFF SGT. EDWIN H. DAZACHACON
DazaChachon, 38, was a native of Diamondbar, Calif. He joined the Army in November 1997. After a break in service, he reenlisted in the Army in 2005 and was assigned to 3rd Battalion, 7th SFG (A) as a senior cryptologic linguist in April. He spoke Spanish and was a college graduate.
He served with the 508th Infantry Regiment (Airborne) in Vincenza, Italy and participated in deployments in Southwest Asia, Bosnia, Rwanda, and the Sanai. He also served with 1st Battalion, 504th Parachute Infantry Regiment, Fort Bragg, N.C., during Desert Shield/Desert Storm.
[headline h="4″]Awards and decorations:[/headline] Bronze Star with "V" device,
Purple Heart,
Meritorious Service Medal,
Army Commendation Medal with two oak leaf clusters,
Army Achievement Medal,
Good Conduct Medal,
National Defense Service Medal,
Armed Forces Expeditionary Medal,
Global War on Terrorism Expeditionary Medal,
Global War on Terrorism Service Medal,
Armed Forces Service Medal,
Humanitarian Service Medal,
Noncommissioned Officer Professional Development Ribbon,
Army Service Ribbon,
Overseas Service Ribbon,
Multinational Force and Observers Medal,
NATO Medal,
Kuwait Liberation Medal (Saudi Arabia),
Kuwait Liberation Medal (Kuwait),
Senior Parachutist Badge,
Tunisian Parachutist Badge,
Expert Infantryman Badge,
Combat Infantryman Badge,
Combat Action Badge.
[headline h="4″]DazaChachon's military education:[/headline] Basic Combat Training,
Advanced Individual Training for Infantrymen,
Basic Noncommissioned Officer Course,
Primary Leadership Development Course,
Basic Airborne Course,
Jumpmaster Course.
He is survived by his mother, Smila Franks of Brea, Calif., his father Edison DazaArana of Palmira Valle, Colombia, South America and his sisters, Monique Francesca DazaChacon of Brea, Calif., and Jessica DazaChacon of Laguna Niguel, Calif.
Psalm 18:2
The LORD is my rock, my fortress and my deliverer; my God is my rock, in whom I take refuge. He is my shield and the horn of my salvation, my stronghold.