[headline h="2″] SFC David Nunez[sub_title]Died on May 29, 2008 – Operation Enduring Freedom[/sub_title] [/headline]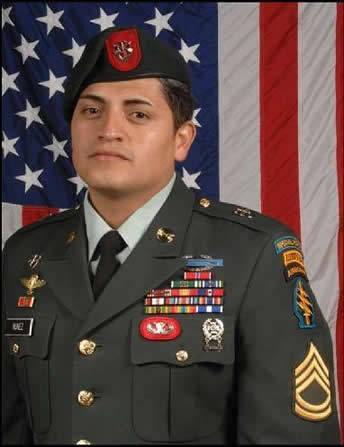 Sergeant First Class David Nunez, 27, of Los Angeles was killed in action on May 29, 2008, of wounds sustained when he encountered small-arms fire while conducting combat operations in south-west Farah Province, Afghanistan, while serving with ODA 7326 of Company B, 3rd Battalion, 7th Special Forces Group (A).
He had deployed in support of Operation Enduring Freedom in May 2008 as a member of the Combined Joint Special Operations Task Force- Afghanistan. This was his third deployment in support of the Global War on Terror and his second deployment to Afghanistan.
Nunez, a native of Mexico, volunteered for military service and entered the Army in February 1999 as an Airborne Infantryman. He was initially assigned as an assistant team leader with 3rd Bn, 504th Parachute Infantry Regiment, 82nd Airborne Division, Ft. Bragg, N.C., then as a team leader with Company D, 519th Military Intelligience Company's Long Range Surveillance Detachment. In 2005 he earned the coveted "Green Beret" and was assigned to 3rd Bn., 7th SFG(A) at Fort Bragg, N.C., in August 2005.
[headline h="4″]Nunez's military education includes:[/headline] Advanced Non-Commissioned Officer Course,
Survival, Evasion, Resistance and Escape Course,
Basic Airborne Course,
Jumpmaster Course,
Ranger Course,
Warrior Leaders Course,
Basic Non-Commissioned Officers Course,
Long Range Reconnaissance Course,
Special Forces Qualification Course.
[headline h="4″]His awards and decorations include:[/headline] Bronze Star Medal,
Army Commendation Medal (x3),
Army Achievement Medal (x3),
Army Good Conduct Medal (x3),
National Defense Service Medal,
Kosovo Campaign Medal with Bronze Service Star,
Afghanistan Campaign Medal,
Iraq Campaign Medal,
Global War on Terrorism Expeditionary Medal,
Global War on Terrorism Service Medal,
Noncommissioned Officer Professional Development Ribbon (x2),
Army Service Ribbon,
NATO Medal,
Combat Infantryman Badge,
Expert Infantryman Badge,
Parachutist Badge,
Ranger Tab,
Special Forces Tab.
SFC. Nunez is survived by his sons, David Jr., and Julian, of Raeford, N.C.: father, Julian Nunez, of Raeford, N.C.: and mother, Silvia Nunez, of Los Angeles, California.
Psalm 9:9
The LORD is a refuge for the oppressed, a stronghold in times of trouble.