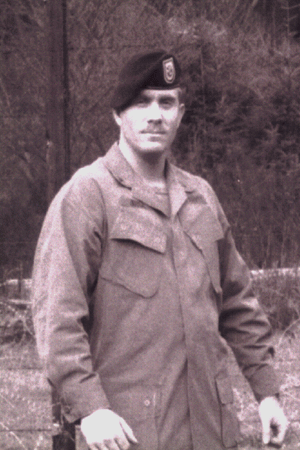 I am honored to be a member of Special Forces Association Chapter 78, surrounded by so many heroes. My career has little excitement compared to them.
I was born and raised in Southern California, coming from a military family. My father served in the US Army in Korea, and my Grandfather on my father's side was a World War I fighter pilot in France and retired at the rank of Colonel. My Grandfather on his mother's side was a Canadian Army Artillery Commander in World War I.
After college I was bored with civilian life. Wanting to carry on the family military tradition I enlisted in the Army at 21 years old in 1984. I wanted to go Special Forces but at this time they did not take direct enlistments. The recruiter found me an unassigned Airborne slot for radio operator (05B/C) and told me to keep volunteering. After Basic Training, AIT and Airborne I found myself assigned to the 2/75th Ranger Battalion at Ft. Lewis, WA.
I did about 5 months at the 2/75th and then the Special Forces recruiter came a calling. They were reactivating the 1st Special Forces Group on North Ft. Lewis and were looking for Radio Operators, my lucky day. I volunteered for this and was assigned to the Military Intelligence Company, 1st Special Forces Group.
I remember sitting down with my new First Sergeant and having him tell me to relax, to lose my high and tight and get ready to go to schools. I was the 11th person to arrive in this reactivated company and they had nothing to do yet. The next weekend I went TDY to Phoenix, Arizona to attend a Jump Fest with the SF reserve unit there. We made a lot of Hollywood jumps that day in a perfect desert sky. Special Forces was GREAT!
Then I was sent TDY to Hawaii to attend Air Assault School at Schofield Barracks. That was a fun two weeks in Hawaii. There was no room on base to stay so we were put up on a beachfront hotel on Waikiki. My first year was a whirlwind of training and schools.
My first real mission was a training FTX in which I inserted with one of 1st Groups new ODA's as the radio operator to Eastern Washington State, Yakima Valley. We were to infiltrate the 9th ID's base camp and steal whatever we could. It was winter and we were dropped into about 2 feet of snow. After a good ruck we ran the operation and ended up with the base commanders coffee cup. This was a nice present for the 1st Group Commander, Colonel Barratto.
We deployed on numerous FTX's, one to Oregon and one to Ft. Smith Arkansas. Then there were the international FTX's Foal Eagle to Korea and Cobra Gold to Thailand. We spent more time in the field than on post.
One of my highlights, I remember going to Ft. Bragg TDY and reading Five Years to Freedom by Nick Rowe on the airplane there, and then meeting him a short time later in his office.
I worked numerous positions, Radio Operator, SOT-A Team, Company Training Officer , did some intel work and I worked for the Company Commander and XO. I made the rank of E-5 Sergeant.
I left 1st Group in 1988, did a short stint with the 12th SFG and went right into Law Enforcement. I spent 10 years as a Police Officer for the City of Newport Beach, CA. I am now the CEO of a private investigation and security company based in Southern California operating in California, Nevada and Arizona.
I am proud to have spent time in the army and even more proud to be associated with so many great men of Special Forces.