[headline h="3″]LTC (R) WILLIAM L. TAYLOR[sub_title]1941 – 2009[/sub_title] [/headline]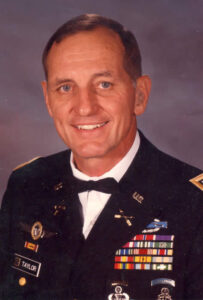 LTC (R) William L. Taylor, a good friend and associate to the members of Chapter 78, died of a long illness January 23, 2009. A Memorial service was held on Saturday February 7, 2009, and burial with Full Military Honors was held at 9am Tuesday, March 10, 2009, in Arlington National Cemetery. "Wild Bill" Taylor was a Founding Member of our chapter and served as vice president on the initial Board of Directors. Bill was very active in recruiting new members and a strong supporter of the ROTC Awards Program.
Born December 19, 1941, in Takoma Park, MD, he enlisted in the Army in 1960, serving in Airborne Units. After his first tour in Vietnam as an enlisted soldier he returned to the 82nd Airborne Division at Fort Bragg, NC. He then volunteered for OCS at Fort Benning GA. "Bill" subsequently served as an officer in the 5th, 7th, 11th, and 12th Special Forces Groups, (A). He was a Company Commander in the 5th SFGA. During his long career he also served with the USAIMA.
LTC Taylor received his Bachelor of Arts Degree from California State University Long Beach and two Masters Degrees from Webster University. After his retirement from military service "Bill" taught mathematics and JROTC at Loran High School in Anaheim, CA. He was a referee for the South Eastern Athletic Association, West Coast Official Association, and Florida High School Athletic Association. "Bill" was a Decade (L) Member of the Special Forces Association and a Life Member of the 82nd Airborne Association.
LTC Taylors awards included the Combat Infantry Badge, Legion of Merit, Bronze Star, Purple Heart with 1st Oak Leaf Cluster, Meritorious Service Medal, Army Commendation Medal, National Defense Service Medal, Republic of Vietnam Campaign Medal with Bronze Stars, Master Parachutist and Halo Wings, Special Forces and Ranger Tabs.
LTC (R) William L. Taylor's name is being added to the Vietnam Veterans Memorial Wall and the Special Operations Memorial at Mac Dill Air Force Base, Florida. He is survived by his wife; and three children, Jennifer and husband, Dr. Phil Zurowsky and son Trent Taylor, all of Fayetteville, NC; and his son William Taylor II, of Tampa, Florida.