[headline h="3″]COLONEL AARON BANK[sub_title]Father of Special Forces
Honorary Colonel of the Regimentr[/sub_title][/headline]
RELEASE NUMBER: 040408-02
DATE POSTED: APRIL 08, 2004
Special Forces founder remembered as warfare 'visionary'
By Sgt. Kyle J. Cosner
U.S. Army Special Operations Command
RIVERSIDE, Calif. (USASOC News Service, April 8, 2004) — Special operations Soldiers from the Army's past and present, mostly retired Green Berets, came together at Riverside National Cemetery here April 5 to remember the man most often credited with creating the U.S. Army Special Forces. During a funeral service for retired Col. Aaron Bank, the "Father of Special Forces," hundreds mourned his loss while celebrating his many achievements, both as an unconventional warrior behind enemy lines during World War II with the Office of Strategic Services and later as a modern special warfare visionary.
Bank died April 1 at his home in Dana Point, Calif. He was 101.
In part because of his personal campaign to create it, Bank became in 1952 the initial commander of the 10th Special Forces Group (Airborne) at Fort Bragg, N.C., the Army's first such unit.
"We are … here to celebrate the life of an extraordinary man, Colonel Aaron Bank," said retired Col. Roger C. Donlon during his delivery of the eulogy. "Even though his passing has taken him out of our future, he will never be taken out of our past. He will forever remain … the 'Father of Special Forces.'"
Donlon, a Green Beret who earned the Medal of Honor in 1964 while serving in Vietnam with the 7th Special Forces Group (Airborne), was among a number of distinguished guests at the funeral, including fellow Medal of Honor recipient and Ranger legend retired Col. Lewis Millett and top special operations leaders like Lt. Gen Philip R. Kensinger Jr. and Brig. Gen. Gary M. Jones, commanders of the U.S. Army Special Operations and Special Forces commands, respectively.
"He was an icon to the (special operations) community," said Col. Joseph Smith, commander of the 1st Special Forces Group (Airborne), based at Fort Lewis, Wash. Smith's Soldiers had the task of assisting the Bank family with the funeral, including pallbearer and family escort duties.
"Even as a young officer in the (Special Forces Qualification Course), I had become aware of who Colonel Aaron Bank was," Smith said. "Now, we see within the special operations community the proof that he was a visionary in unconventional warfare. His life was a testament to that vision he had — special operations and Special Forces seem to be very en vogue now, but I can tell you that when he was in it, it wasn't."
"Only through his persistence, and individuals like him, do we have the special operations forces we have today," said Smith. "The funeral was a fitting tribute to an individual that is truly a legend, and I think it was also a fitting honor to his family and the sacrifices he made on their behalf," Smith said.
During the eulogy, Donlon concentrated on the historical significance of Bank's accomplishments and how his vision of the future of warfare has helped the United States continue to succeed on the modern battlefield.
"His conviction that the U.S. Army needed a dedicated unconventional warfare organization within the force structure has been validated over the past several years," he said. "Special operations forces have been in the lead in our efforts to take down … international terrorists."
Mike Johnston, a retired Special Forces Soldier who served a pallbearer during the funeral, said Bank's drive to create the Army's first special warfare unit was inseparably tied to his unique personality and desire to succeed.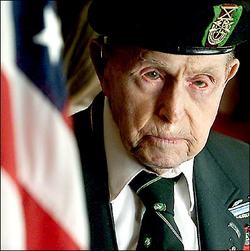 "At his 100th birthday, he lectured everybody on proper diet and exercise, and up until three weeks ago he was still lifting weights," he said. "He just has a legacy that will continue to live on."
Donlon also highlighted how Bank's original vision of Special Forces, and bits of that legendary personality, have continued to stay with the Green Berets, even to the present day.
"Colonel Aaron Bank was a quiet professional; so too are these modern day warriors," Donlon said. "Like Aaron, and the men of the original (Special Forces) manifest, they do not fight for headlines or glory — only to free the oppressed."
"An old recruiting poster with a simple message that spoke to the hearts of the kind of men Special Forces seeks, said it best: 'People don't join us because we are different, they join us because they are different,'" Donlon said. "These men, our future Aaron Banks, continue to flock to Special Forces in part because the unconventional side (of the Army) offers them the opportunity to achieve consequences far beyond the size of the unit."
"Colonel Aaron Bank's experience, his mentorship, (and) his spirit had an absolute direct hand in (the Special Forces') creation," Donlon continued. "He succeeded against insurmountable odds, both in war and in peace."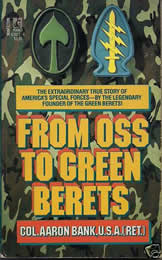 "He inspired us to always place the mission first, to never quit, to never leave an American behind, and above all, to have faith in ourselves and our team members."
Donlon concluded his words at the funeral with those uttered years ago by Bank himself, in which he reflected on the historical significance of having been the conduit between the OSS and modern day special operations forces: "'I felt honored for having been instrumental in delivering the symbolic flaming torch lighted by General Bill Donavan in 1941 to the capable, powerful hands of Special Forces, whose generations of Green Berets proudly will carry it forward to immortality.'"
And then, passing the memory of Bank on to history, "Aaron, God bless you. May you rest in eternal peace."
Bank is survived by his wife, Catherine; his two daughters, Linda Ballantine and Alexandra Elliott; and a granddaughter.
– usasoc –