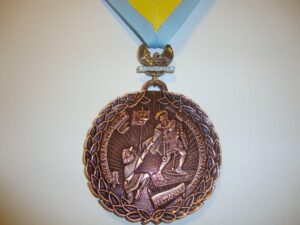 History of Saint Maurice
Saint Maurice was Primicerius of the Theban Legion. In 287 AD it marched in service of the Roman Empire fighting against the revolt in the Berguadae Gauls. His men were composed entirely of Christians recruited from upper Egypt, near the Valley of the Kings. The Legion marched to the Mediterranean Sea, was transported across, and traveled across Italy to an area in Switzerland. Serving under Augustus Maximian Hercules, Maurice was ordered to have his legionnaires offer pagan sacrifices before battle near the Rhone at Martigny. The Theban Legion refused to participate, and also refused to kill innocent civilians in the conduct of their duty, and withdrew to the town of Agaunum. Enraged, Maximian ordered every tenth man killed, yet they still refused. A second time the General ordered Maurice's men to participate and again they refused. Maurice declared his earnest desire to obey every order lawful in the eyes of God. "We have seen our comrades killed," came the reply. "Rather than sorrow, we rejoice at the honor done to them." At this Maximian ordered the butchery of the Thebans and the martyrdom of Saint Maurice. September 22 is the traditional feast day.
THE ORDER OF SAINT MAURICE has five levels. A nominee for the Order of Saint Maurice must have served the Infantry community with distinction; must have demonstrated a significant contribution in support of the Infantry; and must represent the highest standards of integrity, moral character, professional competence, and dedication to duty.
Legionnaire Outstanding or conspicuous contribution to the Infantry. Infantrymen and Soldiers of other branches and other US Armed Services are eligible for this level.
Chapter 78 Recipients
Ramon Rodriguez
Richard Simonian
2009[/one_fourth_last]
2009[/one_fourth_last]
Jim Duffy
2010[/one_fourth_last]
Brad Welker
2010[/one_fourth_last]
Terry Cagnolatti
2010[/one_fourth_last]
Ed Barrett
2010[/one_fourth_last]
CSM Robert Crebbs
2011[/one_fourth_last]
Mark Miller
2011[/one_fourth_last]
Tom Redfern
2011[/one_fourth_last]
Steve Cowan
2011[/one_fourth_last]
Bruce Long
2012[/one_fourth_last]
Christopher Martin
2012[/one_fourth_last]
John Joyce
2012[/one_fourth_last]
John "Tilt" Meyer
2012[/one_fourth_last]
Louis (Lonny) Holmes
2012[/one_fourth_last]